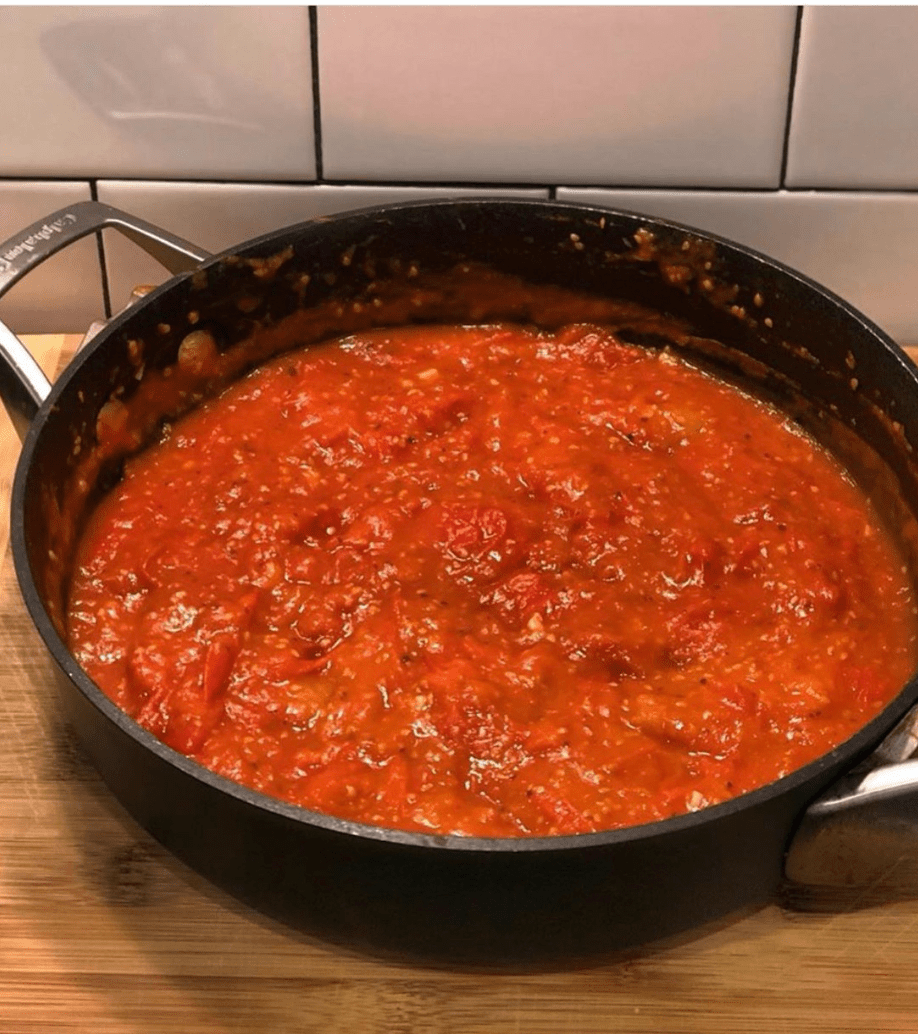 All about Marinara Sauce
Marinara sauce: the most simple, traditional, tomato sauce. Marinara sauce doesn't need much, just let the tomatoes shine.
This sauce is an Italian staple, but a lot of people are intimidated by the idea of making their own and resort to buying pre-made jars of marinara for convenience. I am all about making things easier in the kitchen, but jarred sauces often have hidden sugar and ingredients that marinara sauce does not traditionally have.
I can promise you, marinara sauce also only takes 20 minutes (tops) to make from start to finish and requires under 5 ingredients. You can use canned crushed tomatoes, or you can use fresh tomatoes. I have made marinara sauce with cherry tomatoes that were about to go bad in my fridge and it came out great also!
My in-laws canned tomatoes
Since I am Italian-American, my family has been in America for a while now. When they make marinara sauce, they use canned crushed tomatoes (like these) and add other ingredients. When I met my husband in 2006, I was introduced to a different world of tomato sauce. My in-laws are from towns outside of Avellino, Italy (near Naples). They came here in the 1970s and brought with them all of the traditions of Italy.
I met my husband in July, so a month later it was time for my in-laws to "do the tomatoes." Of course, I had no idea what that meant. Every year, they take fresh tomatoes by the bushel, wash them, boil them, run them through a press to separate the juice from the skin and pulp. This makes homemade crushed tomatoes. They jar them with salt and fresh basil, and then boil the jars to preserve them for years to come. Their entire basement is filled with jars of these tomatoes from years past. These tomatoes blow store-bought crushed tomatoes away, which is why my marinara recipe is so simple. These tomatoes really don't need anything! Just some fresh garlic, oil, and salt.
Here's a video of us making the crushed tomatoes this past summer.
Making Marinara with Crushed Tomatoes
To make marinara, it's very simple. Just sauté some garlic in olive oil spray or a teaspoon of olive oil for a minute or until fragrant. Add the crushed tomatoes and salt. Bring to a boil. Simmer for 20 minutes. Add some fresh basil. Taste for seasoning.
You can also sauté onion before the garlic for some extra flavor. You can add dried herbs like oregano, basil and parsley, or you can skip them altogether.
Before I wrote this recipe I called my mother in law and said, "how do you make marinara?" She was confused as to why I was asking her! And this method was confirmed by her. So it's the real deal.
Making Marinara with Cherry Tomatoes
The process is similar with this method. You start off by sautéing some garlic in olive oil. Next, you add in cherry tomatoes. As the tomatoes cook, they begin to burst and break down, releasing their juices. I have a video showing step by step on how to make sauce this way.
This results in a thicker, chunkier sauce with texture. If you don't like the idea of that, you can use an immersion blender to make it smoother.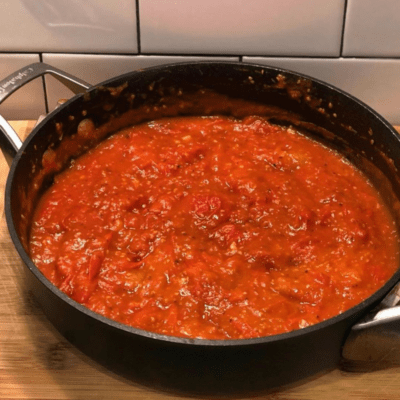 Marinara Sauce
Simple, classic, and traditional tomato sauce.
Print
Pin
Rate
Ingredients
28

oz

jar or can of crushed tomatoes

3

cloves

of garlic

minced

kosher salt to taste

fresh basil

chopped

1

tablespoon

olive oil

1/4

cup

fresh basil
Instructions
In a saucepan, add olive oil and minced garlic.

After the garlic is in the pan, turn the heat on the burner to medium. (This is key to not burning garlic).

Once the garlic starts to cook, it will become fragrant and start to turn a golden color (about 1 minute).

Add the crushed tomatoes. Stir to combine and add salt.

Let it come to a boil and then reduce the heat so its on a low boil or simmer, stir in fresh basil.

Cook for about 20 minutes. Taste for seasoning.
Nutrition
Serving:
0.25
cup
|
Calories:
49
kcal
|
Carbohydrates:
8
g
|
Protein:
2
g
|
Fat:
2
g
|
Saturated Fat:
1
g
|
Sodium:
131
mg
|
Potassium:
295
mg
|
Fiber:
2
g
|
Sugar:
4
g
|
Vitamin A:
253
IU
|
Vitamin C:
10
mg
|
Calcium:
37
mg
|
Iron:
1
mg