Spaghetti Carbonara: Simply Delicious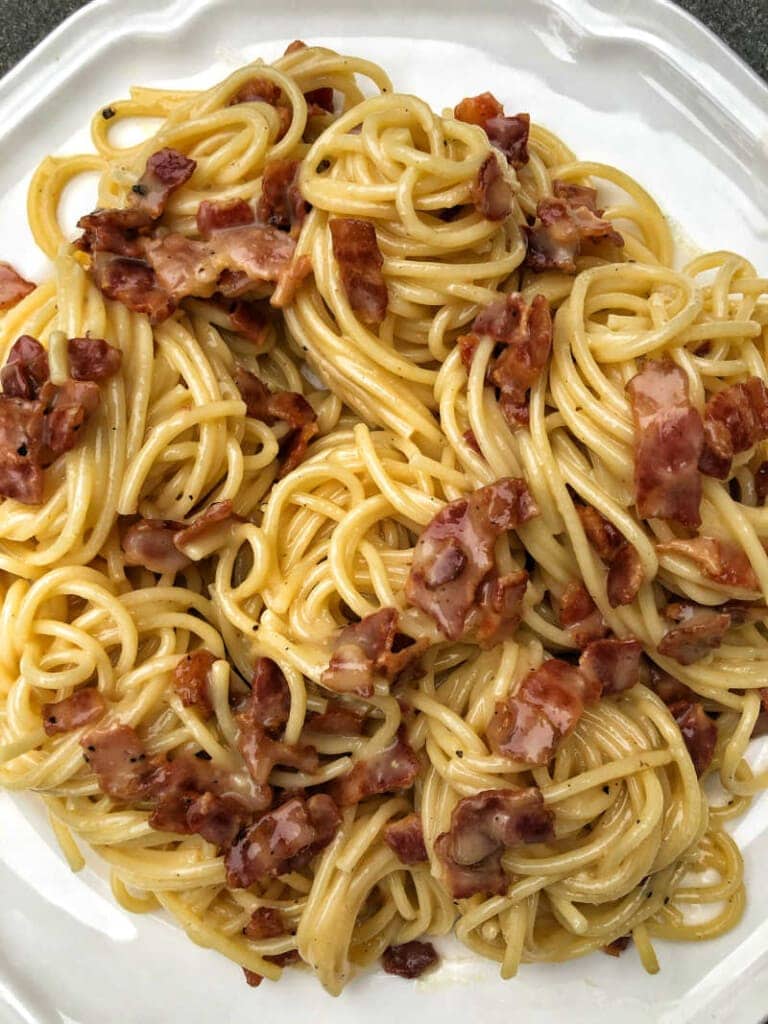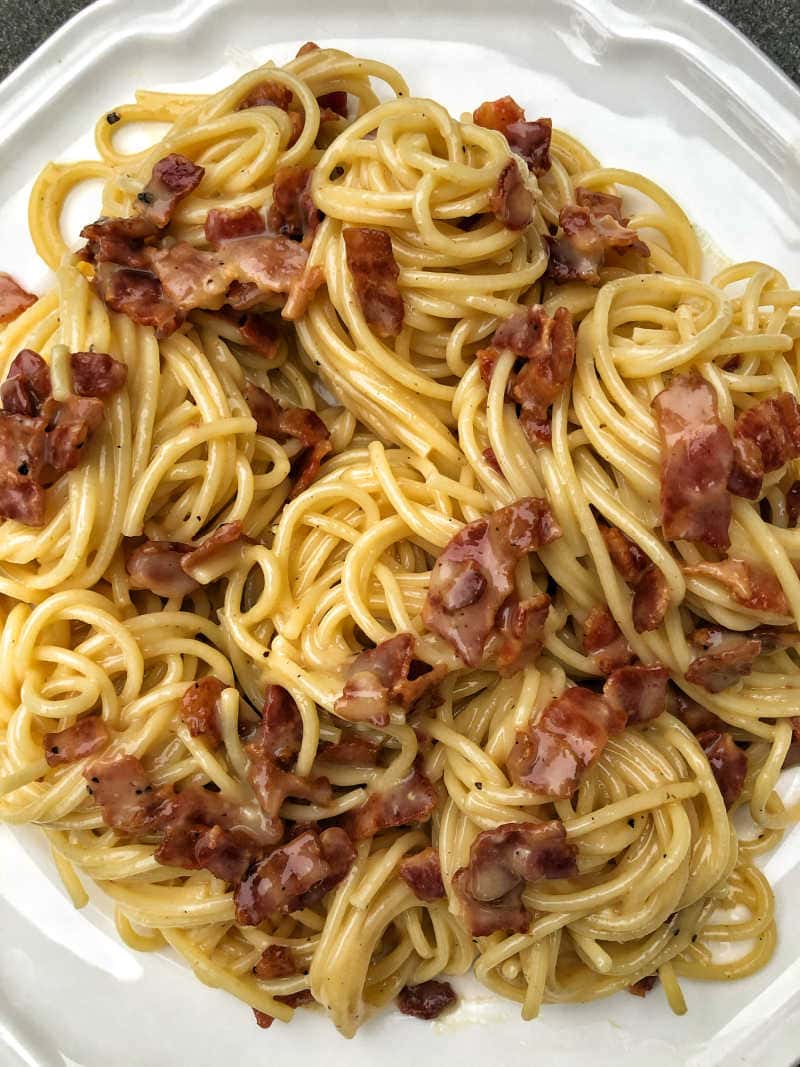 Background of this Spaghetti Carbonara recipe
Spaghetti Carbonara: Simply Delicious. All inspiration from this recipe comes from Chef Marc Murphy. I met him in 2016 at the New York City Food and Wine Festival where he was doing a cookbook signing. He also did a live cooking demonstration that day, and showcased his recipe for Spaghetti Carbonara.
When Marc demonstrated this recipe, he explained how a traditional carbonara recipe requires minimal ingredients: bacon, cheese, pasta, eggs. A lot of carbonara recipes out there call for other ingredients, like peas or cream. Those recipes are delicious too, but his recipe is the simple, authentic way to prepare this dish. When Marc demonstrated how to make this dish, it changed my life! Ok, maybe that's a bit dramatic. But it changed the way I viewed carbonara.
I took the liberty of lightening up this recipe. It didn't require much to lighten up. This recipe uses all real ingredients, too – I just use scaled down versions of them. I promise you won't miss any flavor in this recipe, and it will become a family favorite.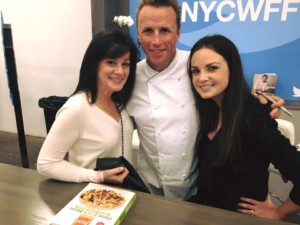 What you'll need for this spaghetti carbonara recipe
Ready for the shortest ingredient list in history? Here it goes:
bacon (I use center cut, and I explain why below)
eggs
grated parmiggiano reggiano or pecorino romano cheese
salt and pepper
Yep. That's it folks. Now let's walk through the steps.
About the pasta
I just regular, boxed spaghetti for this recipe. You can definitely use whole wheat, and any brand you enjoy. I personally don't use whole wheat pasta because my family prefers the original.
For this recipe, you're just going to cook the spaghetti according to package directions in boiling, salted water. While it's cooking, you will prepare the other ingredients.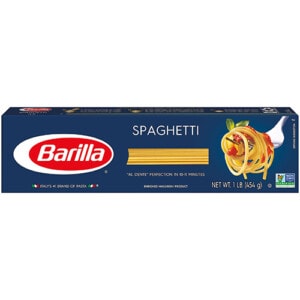 About the bacon
For this recipe (and many other of my recipes), I use center cut bacon. Center cut bacon is cut from the center of the pork belly, so it's naturally leaner than regular bacon. It has about 25% less fat than regular bacon, and as a result, is naturally lower in calories. You'll find that you can use a good amount of center cut bacon for fewer calories than standard bacon.
The raw bacon is chopped up, and then simply cooked in a frying pan until it gets super crispy. You don't need any oil, because the natural fat on the bacon will cook off and help grease the pan as it cooks. The bacon will cook for about ten minutes or so, until it becomes deliciously crisp. At this point, keep the bacon in the pan but remove the pan from the heat to stop the cooking process.
Combine the bacon (along with the rendered bacon fat) with the cooked pasta and toss to coat in the frying pan.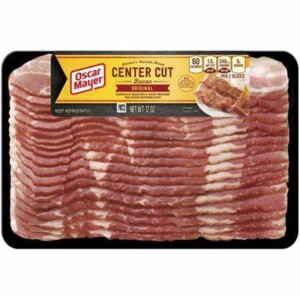 About the sauce
So, you're wondering, how do we make this creamy sauce? You won't believe how easy this method is. Take the room temperature eggs and cheese, and combine them in a large mixing bowl with some salt and pepper to taste. Whisk them together, and then set aside as you wait for all of the other ingredients to finish cooking.
Once you're ready, whisk the eggs and cheese quickly, and at the same time, pour the pasta and bacon mixture into the mixing bowl. Keep whisking. WHISK WHISK WHISK. This process creates the creamy sauce. The hot pasta and bacon cooks the raw eggs. It is important to make sure you don't stop whisking until everything is combined. Adding anything hot to raw eggs will scramble them, unless you keep the ingredients in constant motion.
Serving
This recipe makes four servings, at one heaping cup each. This recipe is meant to be eaten right away, it should not be prepared in advance. This spaghetti carbonara is simply delicious.
Frequently asked questions
Can I use turkey bacon?
No! Please no.
Sorry for yelling, but no. This recipe needs the real deal. The bacon gives off that fat and flavor that totally makes the dish.
Are you sure the eggs are safe to eat?
Absolutely. The warm pasta and bacon cook the eggs, its called tempering. I promise this is as safe to eat as an over-easy egg.
Can I use egg substitute or egg whites?
No. This recipe is intended for real eggs, the others won't work.
Here are links to some of my other favorite creamy pasta recipes: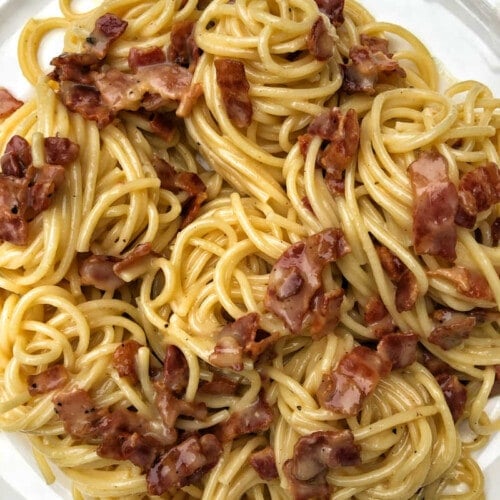 Equipment
pasta pot

frying pan

mixing bowl
Ingredients
8

oz

measured dry spaghetti

,

weighed uncooked

8

slices

center cut bacon

,

chopped

2

eggs

,

room temperature

½

cup

parmesan cheese

,

room temperature

kosher salt and pepper

,

to taste
Instructions
In a large bowl, whisk the two eggs together with the parmesan cheese, salt and pepper, and set aside. Make sure this bowl is big enough to hold the entire batch of pasta that you cook.

Cook the bacon in a frying pan until crispy and all the fat has rendered off, about 10 minutes. Remove from the heat, but keep the bacon in the pan.

At the same time, cook the pasta according to package directions.

When the pasta is done, remove it from the pot using tongs and add it to the pan with the bacon and the bacon grease.

Using one hand, quickly whisk the egg and cheese mixture while simultaneously pouring the bacon and pasta into the bowl. Make sure to continuously whisk, otherwise the eggs will scramble.

Do not stop whisking, keep the momentum up until the contents of the pan are in the bowl, and then continue whisking until everything is combined.

This whisking action is what cooks the raw egg – the heat of the pasta and bacon combined with the rapid whisking motion will cook it.
Nutrition
Serving:
1
cup
|
Calories:
351
kcal
|
Carbohydrates:
43
g
|
Protein:
21
g
|
Fat:
10
g
|
Saturated Fat:
4
g
|
Cholesterol:
105
mg
|
Sodium:
445
mg
|
Potassium:
168
mg
|
Fiber:
2
g
|
Sugar:
2
g
|
Vitamin A:
216
IU
|
Calcium:
172
mg
|
Iron:
1
mg