Classic Stuffed Shells are pasta shells stuffed with cheesy ricotta and mozzarella, topped with marinara and baked until bubbly.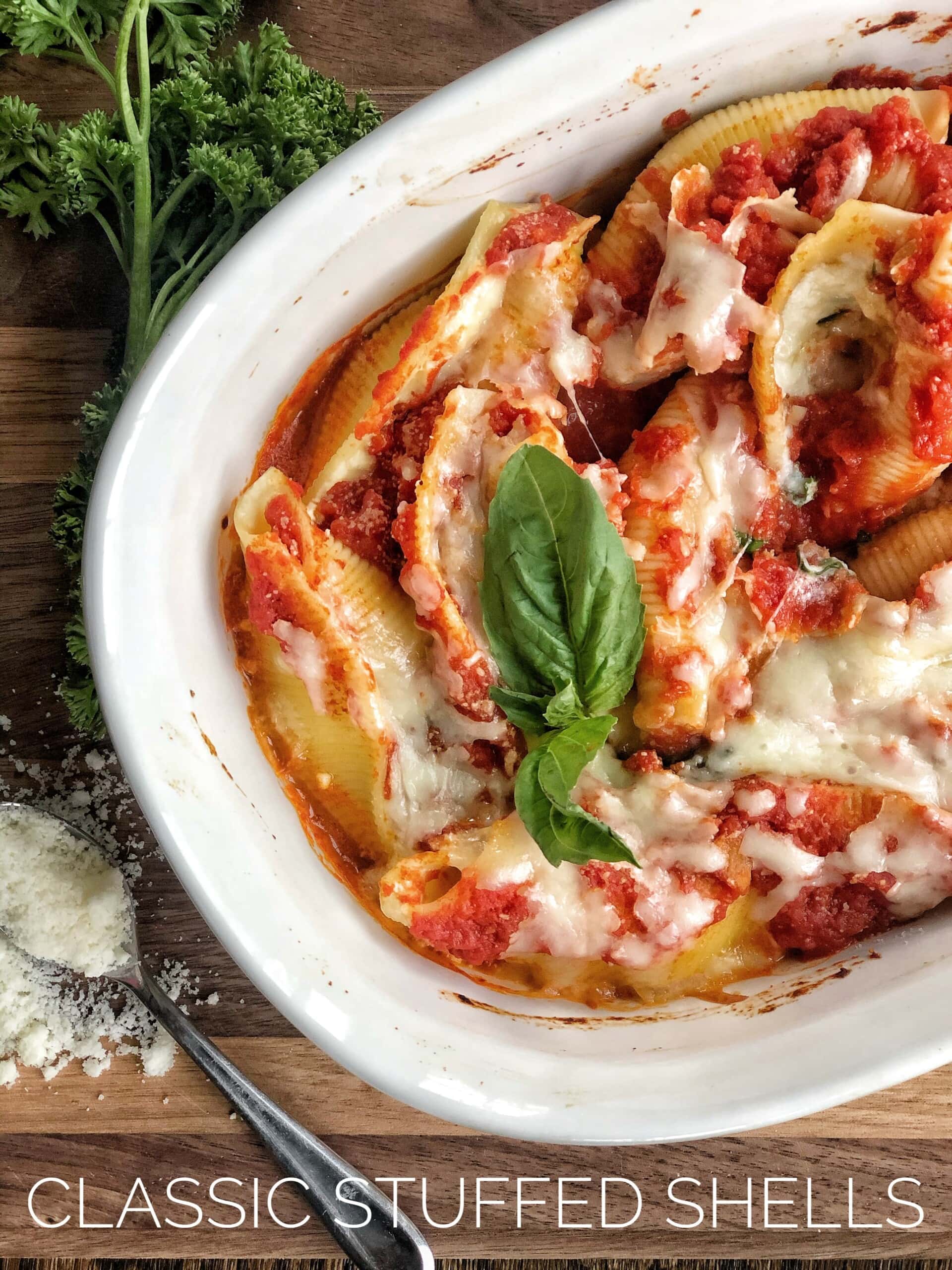 This recipe is great for dinner at home, but also great to serve for a holiday or gathering as a first course.
What you'll need for this recipe:
garlic
part-skim ricotta
part-skim mozzarella
fresh basil
fresh parsley
pecorino romano cheese
an egg
The ingredient list is quite small considering this is such a comforting and delicious, classic dish. For this recipe, I opted to use part-skim cheeses as opposed to fat free cheeses. I wanted that cheese pull and extra creaminess for this recipe. Feel free to sub in whatever ingredients you prefer.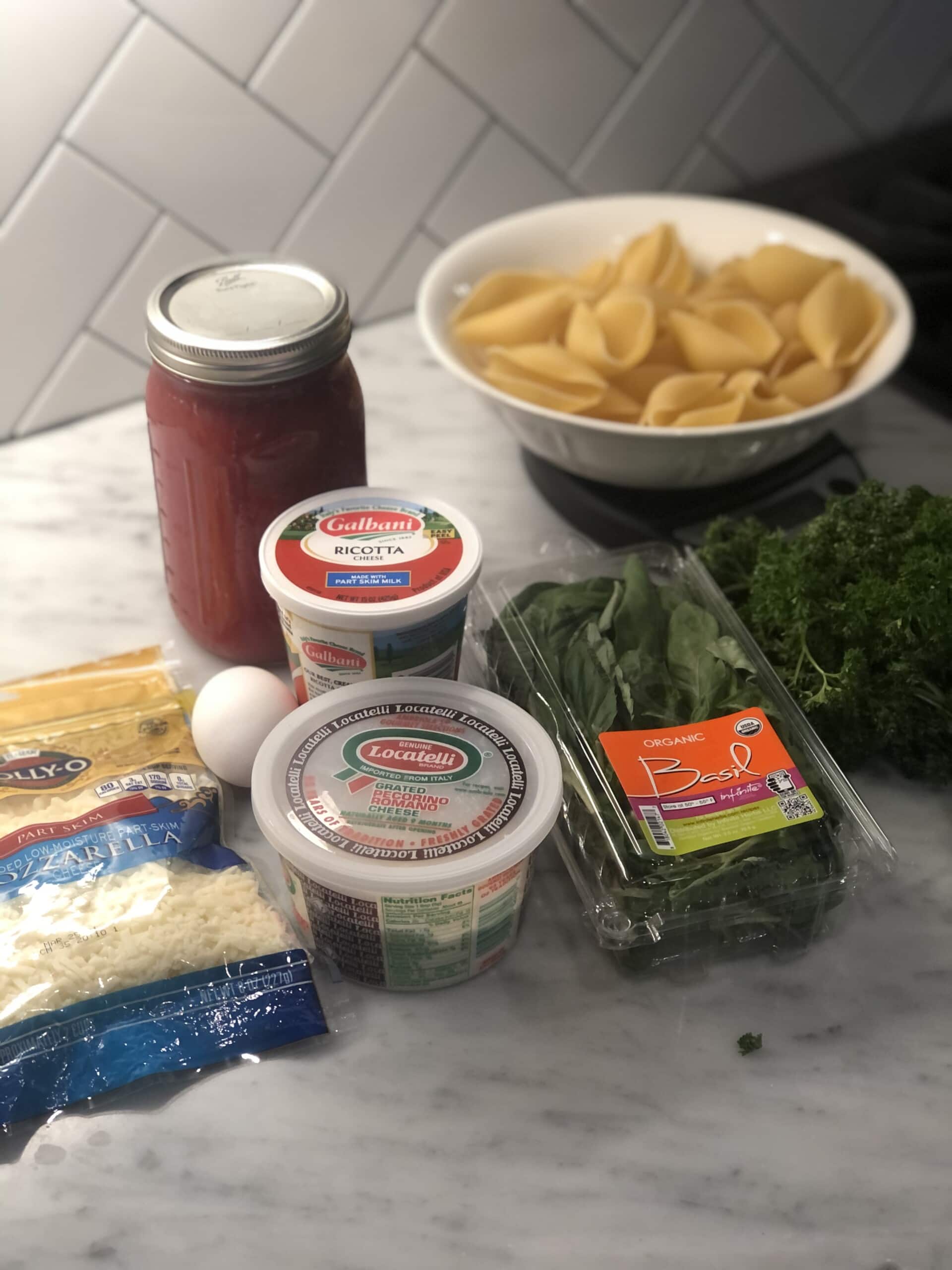 Making the marinara sauce
This recipe includes the steps to make a quick homemade marinara sauce. Don't fret! You can definitely skip this step and just use marinara from the jar, but I promise you, this step takes an extra 5 minutes of prep and is worth it.
To make the sauce, simply add the chopped garlic cloves to pan with some olive oil spray. THEN turn the heat on the pan to medium. This allows the garlic to slowly start to cook. The garlic will become fragrant in about a minute or two. This prevents the garlic from burning. Have you ever added garlic to a screaming hot pan with oil, and it seized up and burned within seconds? Yeah, that's what we want to avoid here. Burnt garlic = bitter. And it will ruin your dish.
Once the garlic becomes fragrant, you will add the can of crushed tomatoes. Bring it to a slow boil and add some salt and pepper to taste. Tomatoes need a bunch of salt to bring out their flavor, so don't be afraid of it. Add a little at a time and taste as you go. Then stir in some fresh basil. Simmer the sauce for 15 minutes while you are preparing the other ingredients.
You can also add dried basil, parsley, oregano, or any other seasonings you enjoy in your sauce. I personally omit them because I enjoy the simple flavor of the sauce. But feel free to make this your own!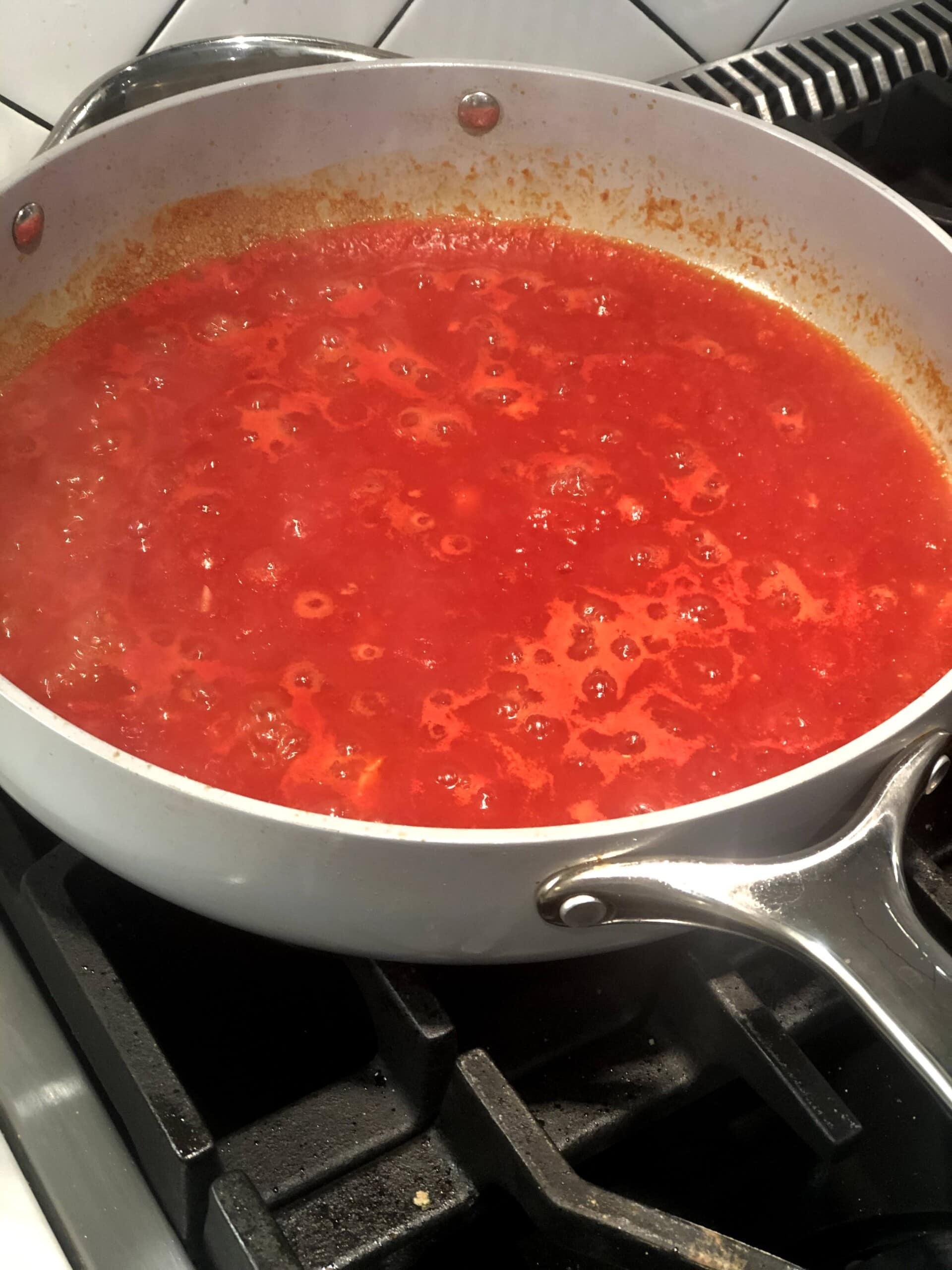 Cooking the shells
While the sauce is simmering away, we can cook our shells. You only need 24 shells for this recipe, but I advise cooking more, just in case any of them break or tear while cooking or draining.
Simply cook the shells in boiling salted water, like you would any other pasta. These only need to cook for a few minutes, though. We want them to be al dente, or firm to the bite. They will continue to cook in the oven. You want the shells to be firm enough to stuff, and not turn to mush. Check them every few minutes to ensure you don't overcook them.
Once the shells are cooked, remove them from the boiling water with a large slotted spoon and place them on a paper towel. This helps absorb any excess water and lets them dry a bit before stuffing.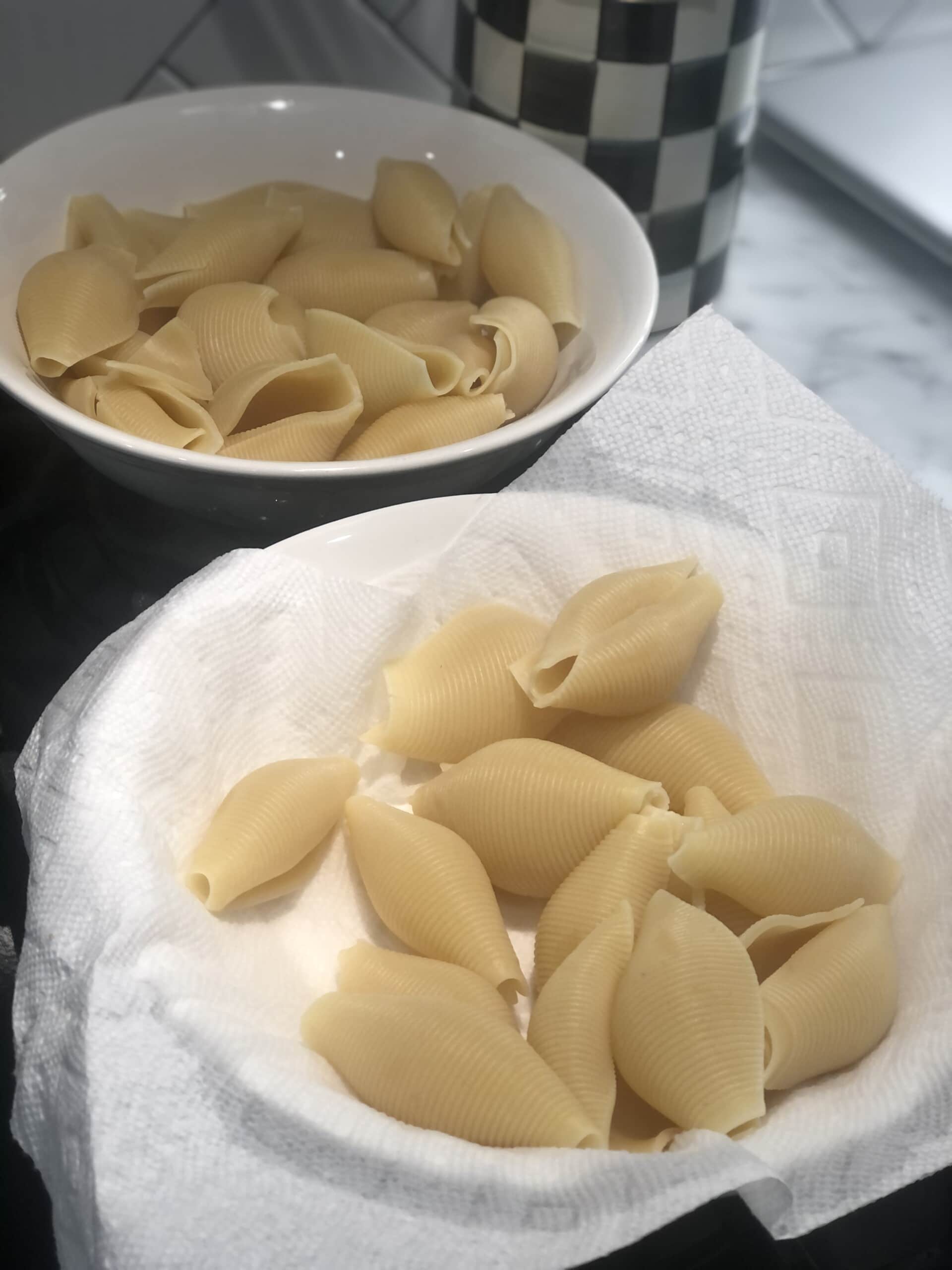 The filling
The filling is made of part-skim ricotta, part-skim mozzarella, pecorino romano cheese, an egg, and some fresh herbs. You are going to reserve 1/2 cup of the mozzarella to use later for the topping. This filling doesn't even need salt because of all the flavor from the cheese. Simply combine the ingredients in a mixing bowl, and set aside as you wait for the other components to finish cooking.
Filling the shells, assembly and cooking
Spoon a layer of your marinara sauce in the bottom of a baking dish or casserole. While holding a shell in the palm of your hand (make sure it has cooled off a bit), fill it with a heaping tablespoon of the filling, and then set it down in the baking dish. Repeat this step with all of the 24 shells.
Once all of the shells are assembled and the filling is used up, top the shells with the remaining marinara sauce and remaining mozzarella. Sprinkle the reserved pecorino romano on top.
Cover the baking dish with foil and bake at 350 for 30 minutes. After 30 minutes is up, remove the foil and bake for another 5 minutes to crisp it up a bit. That's it!
Serving and storage
Serve with extra marinara if you so wish. This dish will stay fresh in the fridge for several days. You can also easily freeze it. To freeze it, place it in a freezer-safe container or in a freezer bag. To reheat, microwave to defrost and then pop in the oven to bring it back to life.
For this recipe, I used two small casserole dishes. Since this recipe makes 8 servings, I split it into two dishes at 4 servings each. I figured I could either freeze one portion, or give it to a family member or friend for dinner.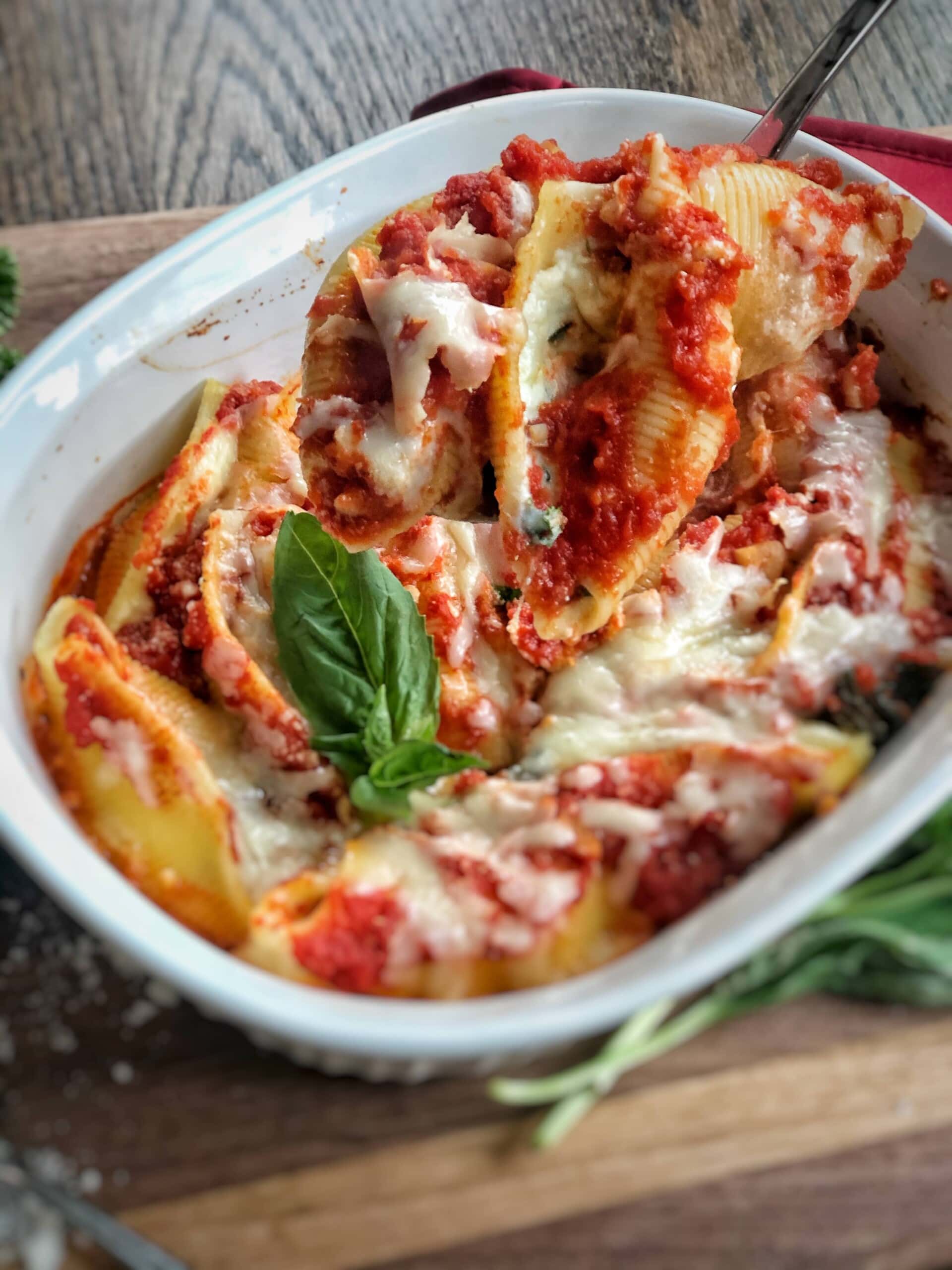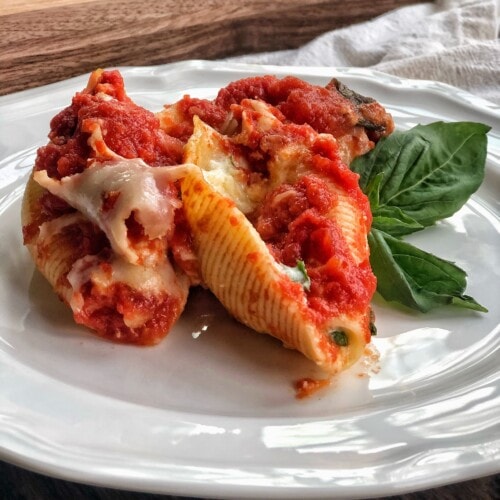 Classic Stuffed Shells
Classic Stuffed Shells are pasta shells stuffed with cheesy ricotta and mozzarella, topped with marinara and baked until bubbly.
print
pin
rate
Equipment
sauce pan

large pot

baking dish
Ingredients
Marinara Sauce
2

cloves

garlic

,

minced

28

oz

crushed tomatoes

1/4

cup

basil

,

fresh

kosher salt

,

to taste
Shells and Filling
24

jumbo shells

15

oz

part-skim ricotta

2

cups

part-skim mozzarella

,

1/2 cup reserved

1

egg

1/2

cup

grated pecorino Romano

,

2 tsp reserved

1/4

cup

basil

,

fresh, chopped

2

tablespoons

parsley

,

fresh, chopped

fresh cracked pepper
Instructions
Marinara Sauce
Add the minced garlic to a sauce pan with olive oil spray.

Turn the heat on to medium.

Cook the garlic for 1-2 minutes or until it becomes to sizzle and become fragrant.

Add the can of crushed tomatoes.

Season with salt to taste. Stir in the fresh basil.

Bring to a boil, then reduce to simmer. Simmer for 15 minutes while preparing the other ingredients.
Shells
Bring a large pot of water to boil. Add a sprinkle of kosher salt.

Cook the pasta until al dente (about 8 minutes or less).

Make sure the shells are still firm enough to stuff and bake, do not overcook.

Remove the shells from the water with a slotted spoon and set on paper towels to dry.
Filling, Assembly and Cooking
Reserve 1/2 cup of the mozzarella for the topping later.

Reserve 2 teaspoons of the pecorino romano for the topping later.

Add the remaining mozzarella to a mixing bowl with the ricotta, pecorino romano, egg, basil, and parsley. Stir to combine.

Spoon a layer of marinara sauce in the bottom of a baking dish or casserole.

Fill each shell with 1 heaping tablespoon of the filling.

Place the filled shells into the marinara-lined baking dish,

Once all shells are filled, top with the remaining marinara. Sprinkle with the reserved mozzarella and pecorino romano.

Cover the baking dish with foil and bake for 30 minutes.

After 30 minutes, remove the foil and bake for another 5 minutes,
Nutrition
Serving:
3
shells
|
Calories:
302
kcal
|
Carbohydrates:
30
g
|
Protein:
21
g
|
Fat:
12
g
|
Saturated Fat:
7
g
|
Cholesterol:
61
mg
|
Sodium:
456
mg
|
Potassium:
455
mg
|
Fiber:
3
g
|
Sugar:
6
g
|
Vitamin A:
771
IU
|
Vitamin C:
11
mg
|
Calcium:
477
mg
|
Iron:
2
mg