These overnight oats have a holiday flair; they are spiced with cinnamon and cloves.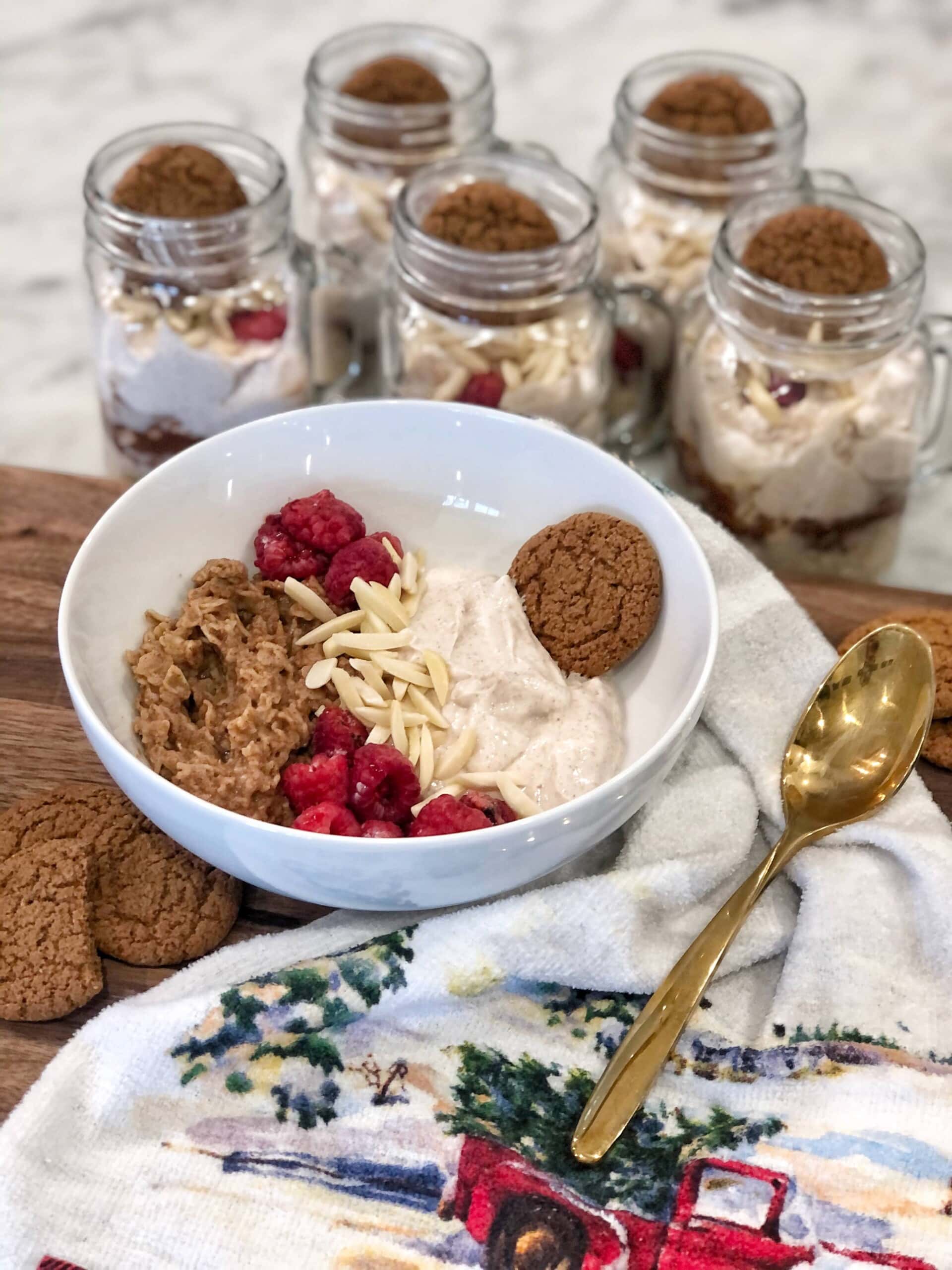 Background of this raspberry gingersnap overnight oats recipe
I love a good overnight oat recipe, and I love a good oatmeal and yogurt bowl. These overnight oats have a holiday flair; they are spiced with cinnamon and cloves. If that's not your thing, I have several other variations, here are links to some of them:
When I was creating this recipe, I wanted to find a fun way to incorporate the flavors of the holidays into breakfast. I had a bag of these gingersnap cookies I had picked up at the store, so I knew I wanted to use them somehow.
I explored some different flavor combinations and ultimately landed on almond and raspberry. The sweet, spiced, and tart flavors all bounce off each other really well here. I think you guys will truly enjoy this one.
How to flavor oats without a lot of sugar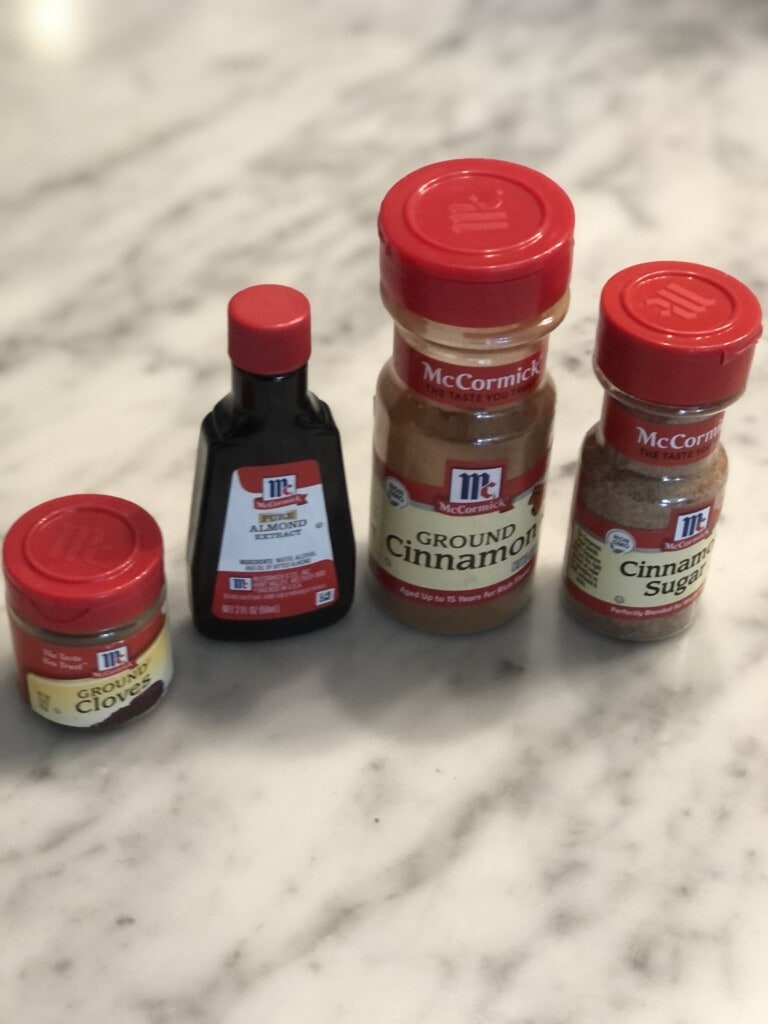 It can seem tricky to flavor oatmeal without the use of a ton of sugar. For this recipe, I brainstormed to find a flavored extract that would work well with the other flavors I was using. I ultimately decided to use almond extract for this recipe, and it's absolutely delicious. Extracts are a great way to flavor dishes without adding a ton of calories. There are so many varieties and flavors – the options are endless.
In addition to the almond extract, I also added some ground cinnamon and ground cloves. These spices are warm and earthy, and remind me of a delicious scented holiday candle. They flavor the oatmeal so well.
If you like your oats sweeter, you can always add sugar or sweetener of your choice. However when combined with the sweetened yogurt, the fresh berries, and the gingersnap cookie, I promise you won't need any more sugar.
How to cut down the tanginess of Greek yogurt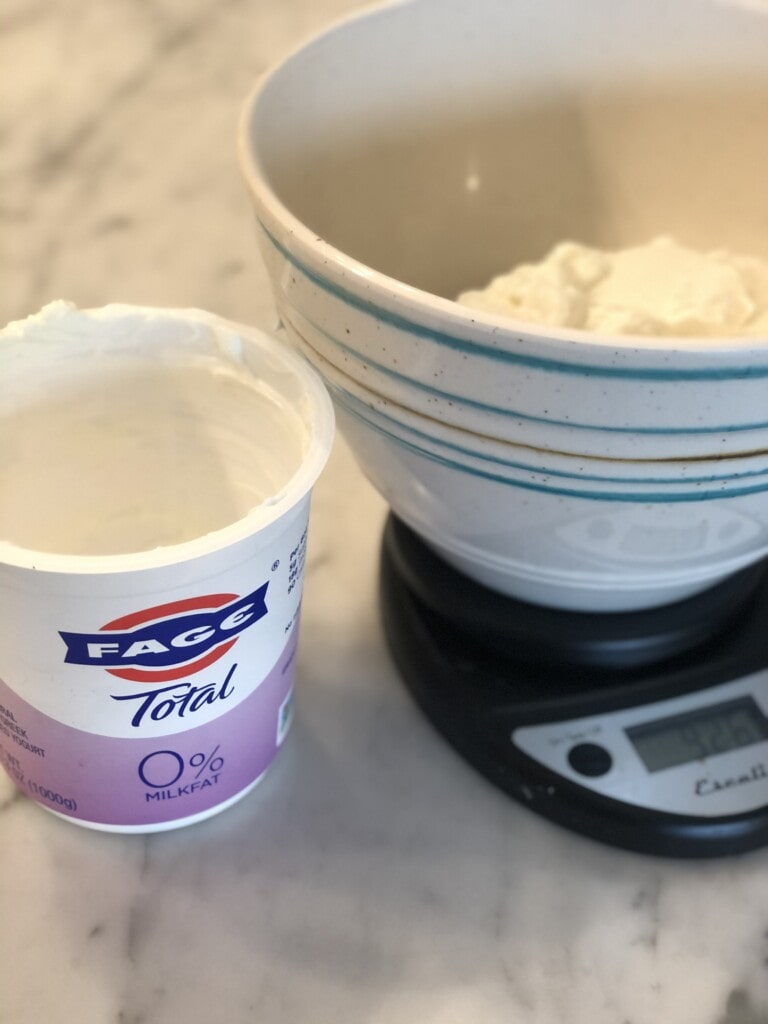 Greek yogurt is an acquired taste for some; some people find it too tangy for their liking. I have grown to love Greek yogurt, and actually enjoy that tanginess; but that doesn't mean I don't help the flavor along a bit.
For this recipe, I flavor the yogurt with a cinnamon sugar blend and ground cinnamon. Together, they add just a touch of sweetness and additional flavor the yogurt needs.
If you don't enjoy Greek yogurt, I encourage you to try sweetening it with this combination. If you desire more sweetness, you can always adjust accordingly. You can also use your favorite pre-packaged flavored yogurt here instead.
All about the toppings
This recipe was inspired by these cookies, which are only 1 WW point or 30 calories each. What a bargain!
I wanted to add some more crunch (and some healthy fats and protein) to this recipe, so I added just a sprinkle of slivered almonds on top. It's the perfect addition.
Raspberries work well here because they are both sweet and tart; they don't take away from the other flavors in the dish. If you aren't a raspberry fan, you can use cherries or pomegranate seeds. Figs would also work beautifully here.
Method for overnight oats
The method for making these couldn't be easier. It just requires you layering the ingredients in a jar, and popping them in the fridge. As the oats absorb the liquid, they "cook." There is no cooking required here! Couldn't be easier.
I have included the recipe below for one serving. To calculate multiple servings, simply adjust the "servings" amount to your desired number. Note: making 8 jars of overnight oats requires the same amount of effort as making 1 jar – so I definitely recommend making them in batches.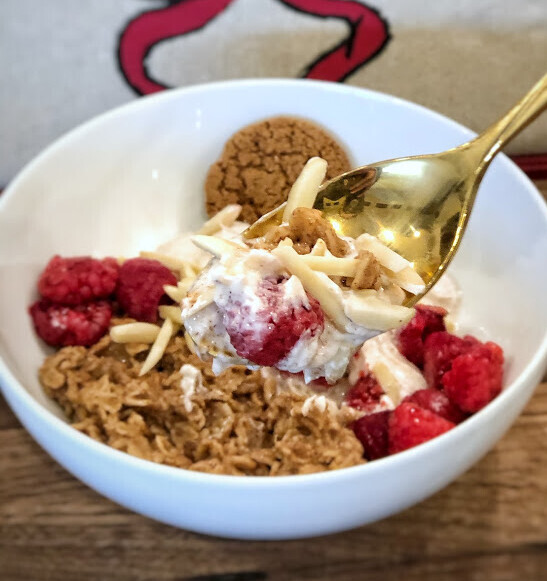 Frequently Asked Questions:
Do you eat these cold?
I do eat them cold, right from the fridge. Mostly because there is yogurt involved. You can absolutely stir everything together and warm it up though.
Do you have to cook the oats?
Not unless you are eating them right away. If you want to eat this right away, you can microwave the oats, milk and spices for a couple of minutes, and then add your other ingredients as usual. If you are preparing these "overnight" style, the oats cook themselves in the milk.
How long do these last in the fridge?
These will last for a week if covered in the fridge. You can leave the cookies off until right before eating, so they don't get soggy.
Where are the jars from?
These mason jar mugs are from Dollar Tree! They are great, but they do not come with a lid. They're perfect for this type of recipe.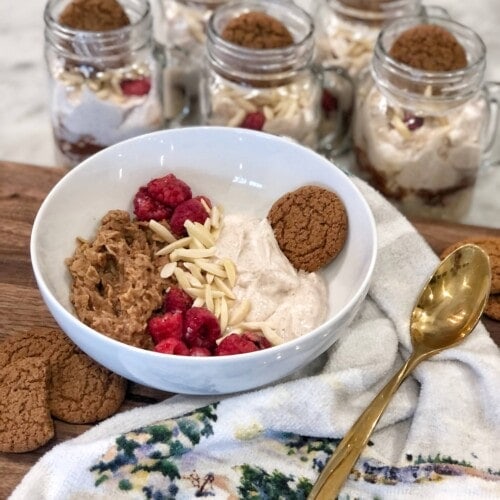 Raspberry Gingersnap Overnight Oats
Overnight oats with holiday flair, spiced with cinnamon and cloves
print
pin
rate
Ingredients
Oat Layer
1/3

cup

old fashioned oats

1/2

cup

unsweetened cashew milk

,

or almond milk

1/2

tsp

almond extract

1/2

tsp

ground cinnamon

dash

ground cloves
Yogurt Layer
1/2

cup

plain non fat Greek yogurt

1/2

tsp

McCormick cinnamon sugar blend

1/4

tsp

cinnamon
Toppings
1/4

cup

fresh raspberries

7

grams

slivered almonds

1

gingersnap cookie

,

I use Stauffer's brand
Instructions
Oat Layer
Combine the oats and the milk with the extract and spices at the bottom of a mason jar or bowl.
Yogurt Layer
Stir the yogurt and spices together in a bowl.

Add the yogurt mixture on top of the oat mixture.
Toppings
Add the raspberries and slivered almonds to the top of the yogurt layer.

Top the parfait with the gingersnap cookie. Before eating, break the cookie up into crumbs and incorporate it into the parfait.
Nutrition
Serving:
1
jar
|
Calories:
276
kcal
|
Carbohydrates:
36
g
|
Protein:
16
g
|
Fat:
8
g
|
Saturated Fat:
1
g
|
Cholesterol:
5
mg
|
Sodium:
154
mg
|
Potassium:
333
mg
|
Fiber:
6
g
|
Sugar:
9
g
|
Vitamin C:
8
mg
|
Calcium:
143
mg
|
Iron:
2
mg