What's better than a quiche? A quiche whose crust is made out of hashbrowns! Let's dive into this zucchini quiche with hashbrown crust.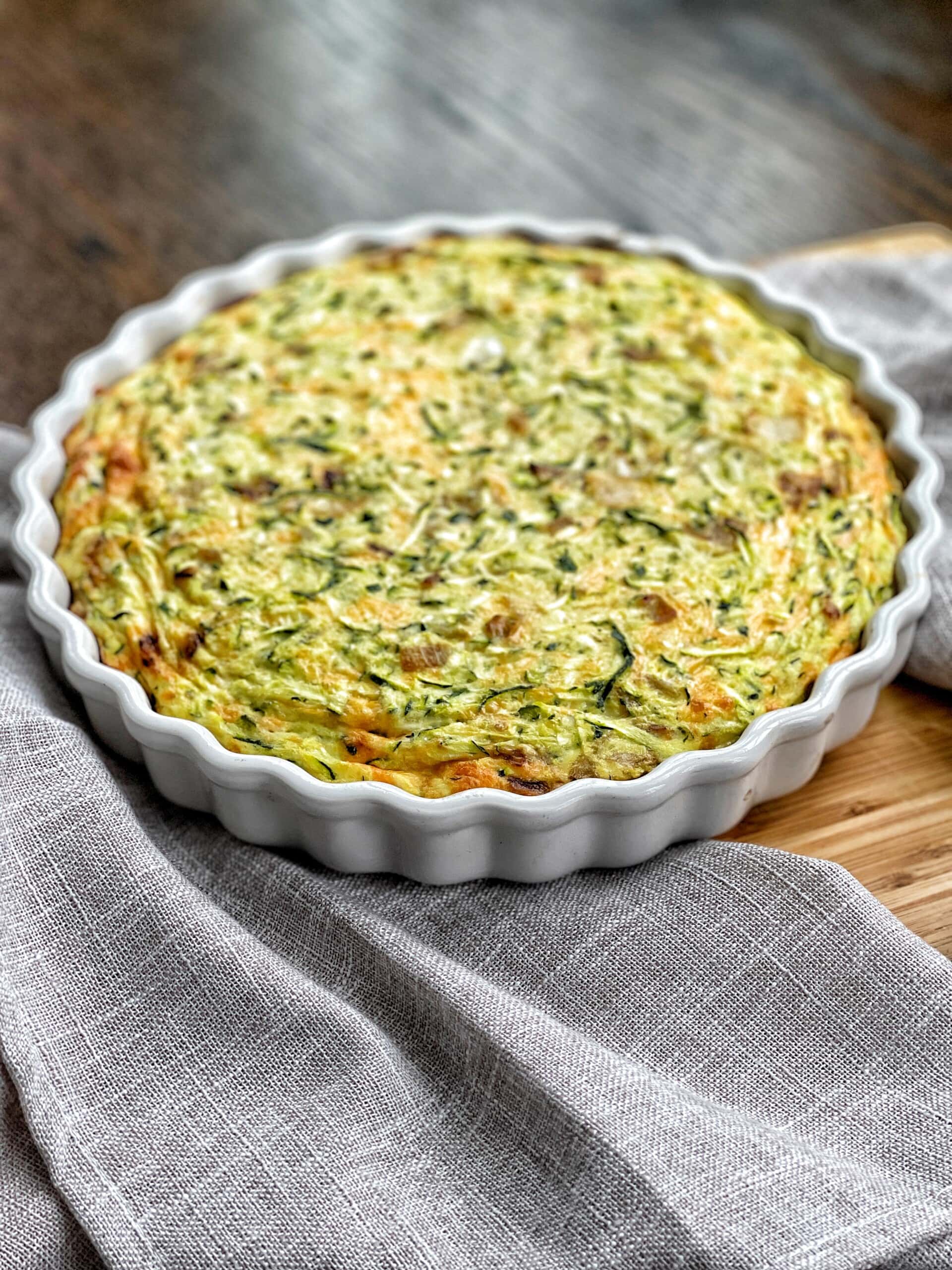 Eggs for breakfast
Let's talk about this zucchini quiche with hashbrown crust, because honestly, it's my new favorite breakfast. There are so many ways you can prep eggs. They are easy to make and versatile, and when baked in a pie plate or muffin format, they make for a great grab-and-go breakfast. Eggs are a great way to get a nutritious, protein-packed, filling breakfast in, even on your busiest of days.
All about the zucchini filling
There are many recipes out there for egg bakes and quiches. What makes for a good one though? For one, I love a creamy, flavorful filling. This quiche has shredded zucchini inside, which not only bulks up the filling, but also makes it very moist and flavorful. The zucchini in this recipe is a nice change-up from the usual pepper and onions mixture that I typically use for frittatas and omelets. To prep the zucchini, shred it using a box cheese grater over a large bowl. Once it is shredded, it is super important to get rid of the excess water. Zucchini holds a ton of excess water. If that water is not released, it dilutes the flavors in your dish. It also makes for a watery filling, and it will never set up correctly.
To wring the water out, simply wrap the zucchini up in a paper towel or dish towel, secure tightly, and squeeze it over the sink. You would be shocked at how much water is released! Once this step is done, the zucchini is much drier and will take on all of the flavors you add to the dish.
What else is in the quiche filling?
I use sautéed onion in this recipe because – let's face it – I use onion in everything. I can't help it! When onion is sautéed it develops such delicious, slightly sweet flavor. A great quiche also usually includes cheese. Usually the cheese is inside the filling, but this recipe uses cheese both in the filling and in the crust! Is there any such thing as too much cheese? Nah, didn't think so. For this recipe, I mix whole eggs with egg whites. This helps cut down the calories a bit, but still gives you that filling protein you need for a nutritious breakfast. You can always use all eggs, or all egg whites, though. Feel free to make this your own, and use what you have on hand!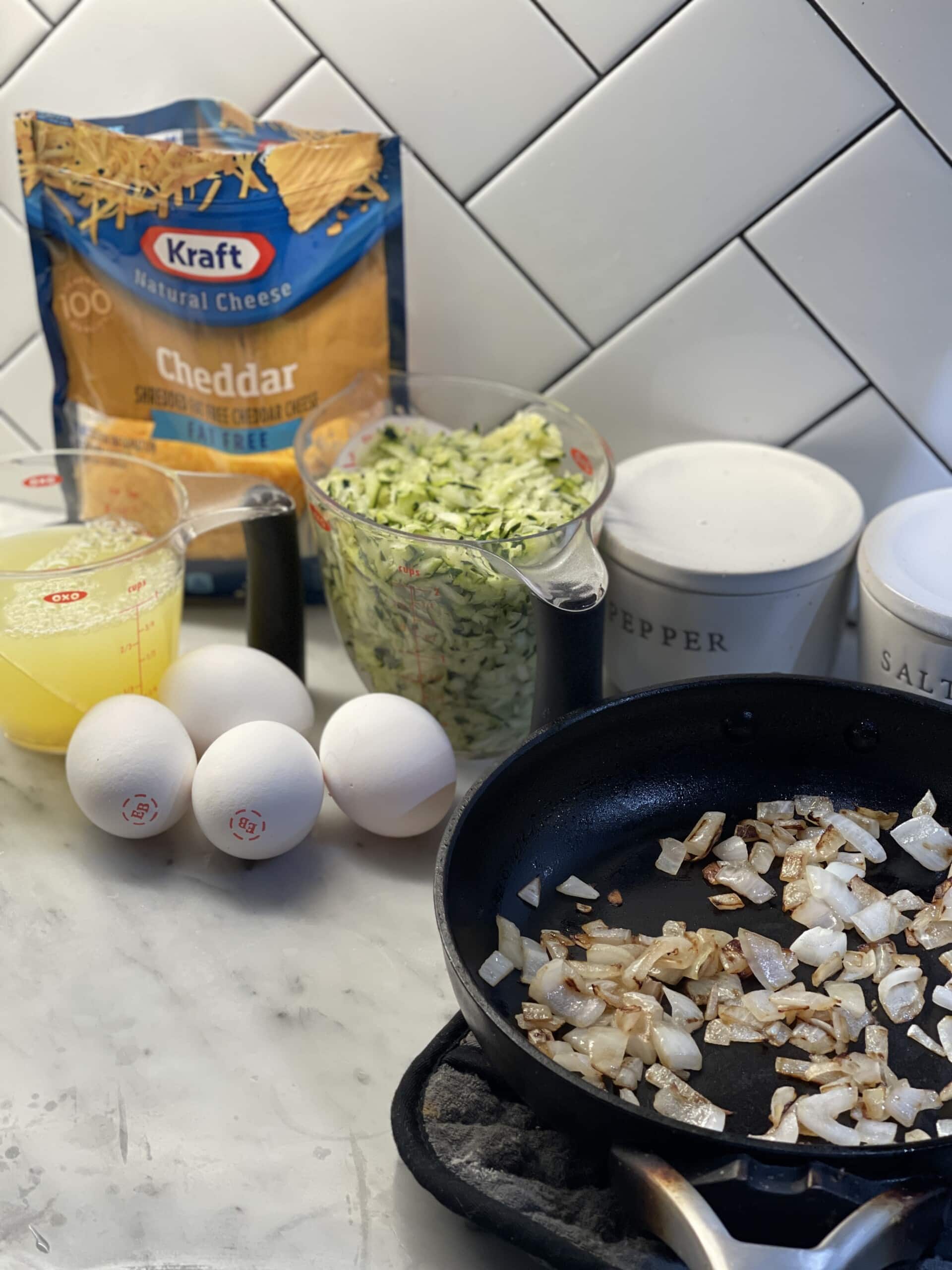 The seasonings are super simple here: salt and pepper. With all of the other flavors happening in this recipe, there is no need for an abundance of seasoning.
The crust
Let's face it, the crust is the star of the show here. Instead of using a traditional crust, the crust here is made out of hash browns! The hash browns and cheese together form a delicious nest for the filling to bake in. Each bite of this quiche is better than the next, as you get a little taste of all the flavors and textures. I use these
pre-shredded hash browns from the bag from the brand Simply Potatoes. In my grocery store, these are sold right where the eggs and egg substitutes are sold. You can definitely shred your own hash browns, but buying them pre-shredded just saves you an additional step, and they are budget-friendly as well. If you shred your own, make sure to rinse them a couple of times to release some of the starch, and then squeeze them really dry before adding the other ingredients. As for the cheese, I used Kraft fat free cheddar here. As with anything else, you can substitute any other cheese of your preference, the stats will just change accordingly.
You need to par-bake the crust here, which is a fancy way of saying: bake the crust alone so it can set up before the filling is added. This is similar to methods used in making dessert tarts and cheesecakes. It allows the crust to firm up and get crispy, instead of becoming soggy after adding the liquid filling.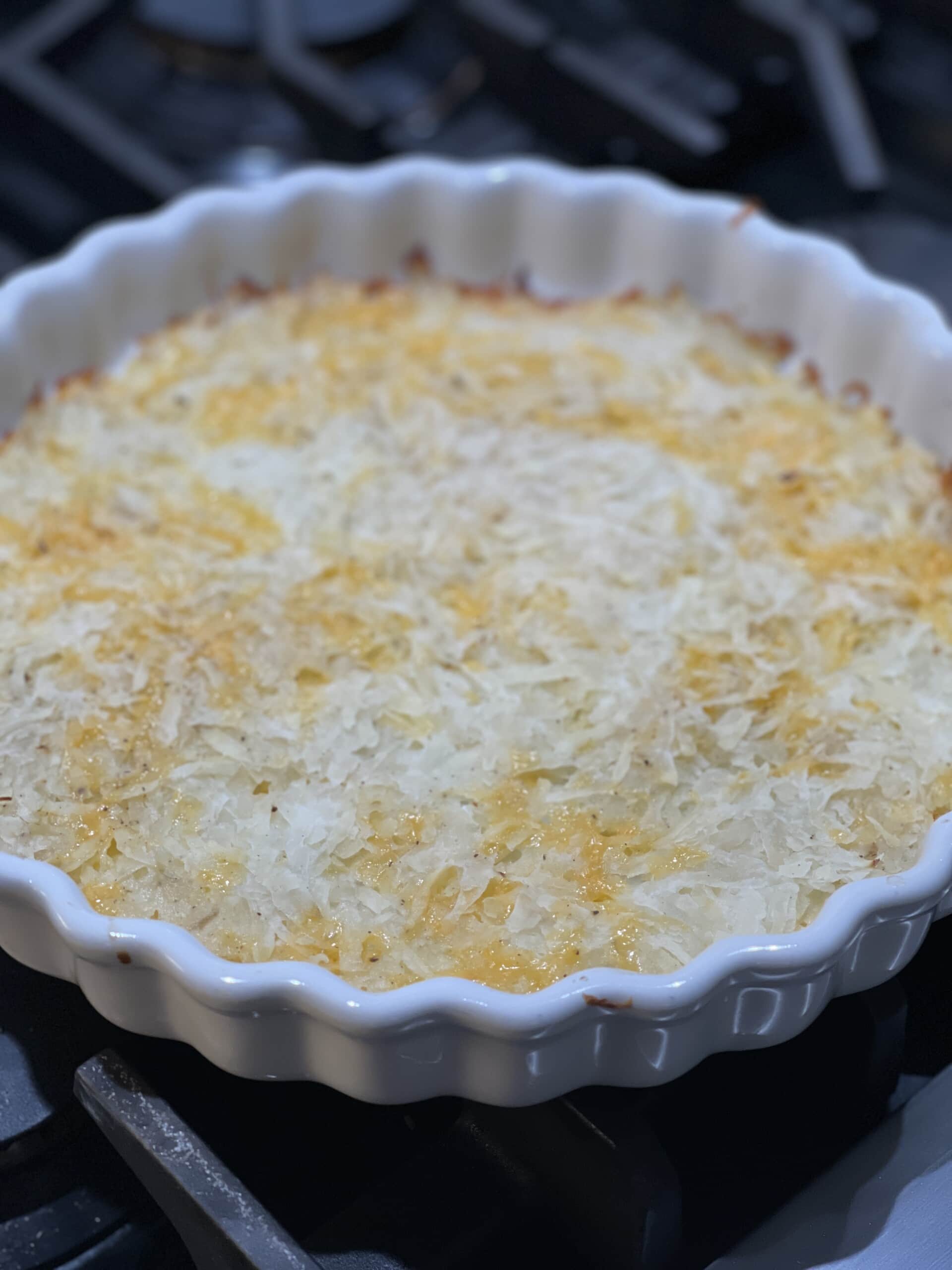 Assembly, serving and storage
Once you have prepped the crust and par-baked it, simply pour the filling into the crust and bake it like you would any other quiche. It's really that simple.
Once it is cooled, cut the quiche into four generous servings. I enjoyed this quiche with a side of chicken breakfast sausages – these are my favorite. This quiche is filling enough on its own, however, or paired with some fruit.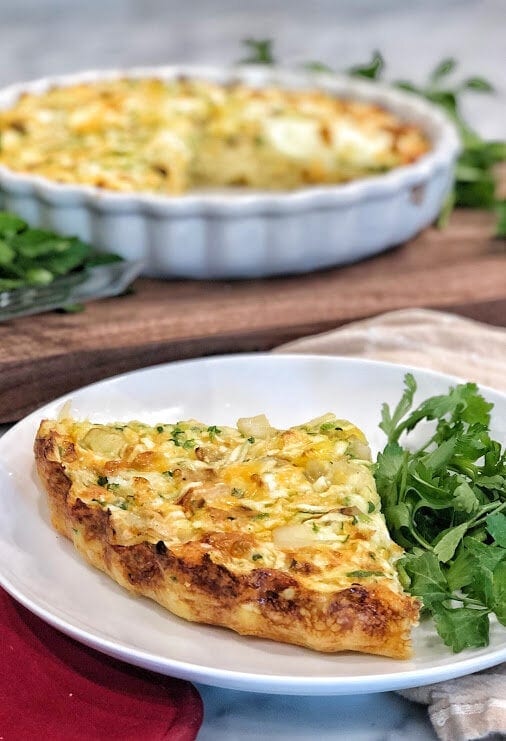 To store the zucchini quiche with hashbrown crust, make sure it has fully cooled from the oven. You can either store it in the pie dish you baked it in (simply cover tightly with plastic wrap), or you can place the individual servings into smaller storage containers (I recommend using glass storage containers for meal prep, I use these). To reheat the quiche, you can simply microwave it, or you can pop it in the oven or air fryer to crisp up.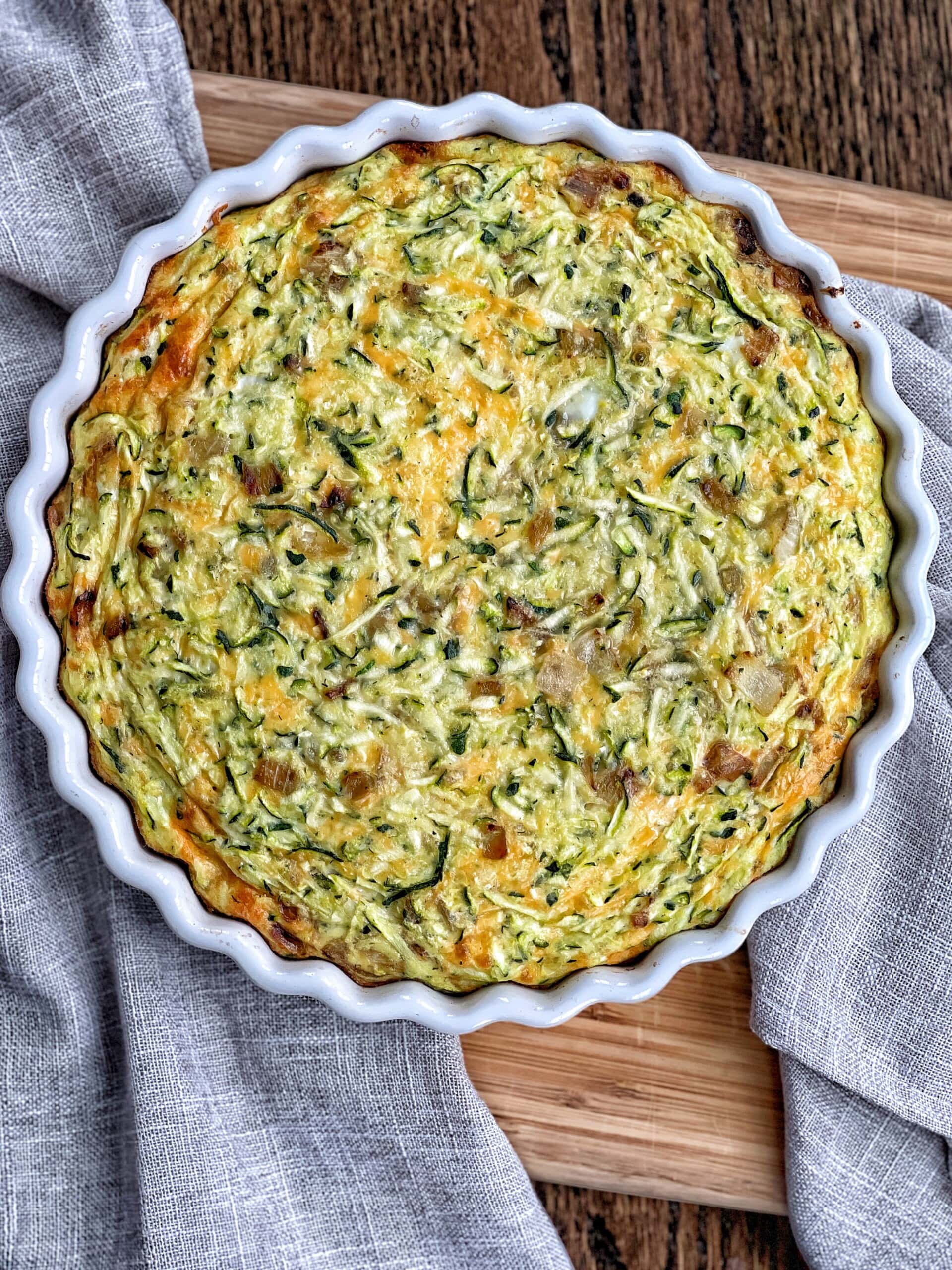 Looking for other easy egg-bake breakfasts? Here are some of my other faves: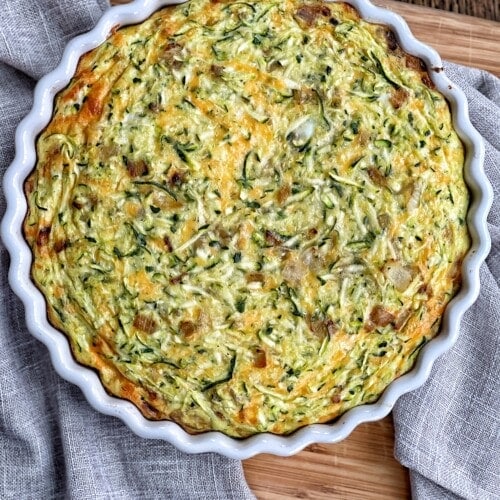 Zucchini Quiche with Hashbrown Crust
The most deliciously moist and flavorful quiche, wrapped in a crispy cheese hash brown crust.
print
pin
rate
Ingredients
Cheesy Hashbrown Crust
10

oz

hashbrowns

,

I use the Simply Potatoes brand, it is sold in the refrigerated section near the eggs

1/4

cup

fat free cheddar

1/2

tsp

kosher salt

fresh cracked pepper
Quiche Filling
2

cups

shredded zucchini

,

drained of all excess water

1

small onion

,

chopped

4

eggs

,

I use Egglands Best

3/4

cup

liquid egg whites

1

cup

fat free cheddar

1

tsp

kosher salt

fresh cracked pepper
Instructions
Cheesy Hashbrown Crust
Preheat the oven to 425F.

Combine the hashbrowns with 1/4 cup of the fat free cheddar in a mixing bowl.

Spray a pie dish (I use a 9" round dish) or baking dish with cooking spray.

Pour the hashbrown mixture into the dish and press firmly to the bottom.

Make sure there are no holes or gaps in the hashbrown layer, this will ensure it becomes a crust that holds the egg mixture in.

Bake for 15 minutes. Remove from the oven and set aside while you prepare the other ingredients.
Quiche
Lower oven temperature to 375F.

Squeeze all excess water from the shredded zucchini (zucchini holds a lot of moisture) - to do this, place the shredded zucchini in a paper towel or kitchen towel and ring it over the sink.

Saute the chopped onion in a small frying pan with olive oil spray until it starts to brown and get tender, just about 5 minutes. Add the cooked onion to a mixing bowl with the drained zucchini.

Add 1 cup of the fat free cheddar to the bowl with the zucchini and onion. Season with the salt and pepper.

In a small bowl, combine the eggs and egg whites, and whisk. Add the egg mixture to the zucchini mixture, stir to combine thoroughly.

Pour the mixture into the par-cooked crust. Make sure it is spread evenly on top of the crust. Bake for 40 minutes or until firm and set.
Nutrition
Serving:
1
slice
|
Calories:
285
kcal
|
Carbohydrates:
30
g
|
Protein:
30
g
|
Fat:
6
g
|
Saturated Fat:
2
g
|
Cholesterol:
172
mg
|
Sodium:
2173
mg
|
Potassium:
825
mg
|
Fiber:
3
g
|
Sugar:
12
g
|
Vitamin A:
1927
IU
|
Vitamin C:
29
mg
|
Calcium:
566
mg
|
Iron:
3
mg