Raspberry white chocolate baked oatmeal is sweet, creamy and indulgent-tasting. Tart, fresh raspberries are cooked down to create a homemade jam; spread on top of sweet oatmeal and topped with white chocolate chips, this dish is a cross between breakfast and dessert. Serve with a dollup of Greek yogurt and some fresh fruit for a healthy and balanced breakfast.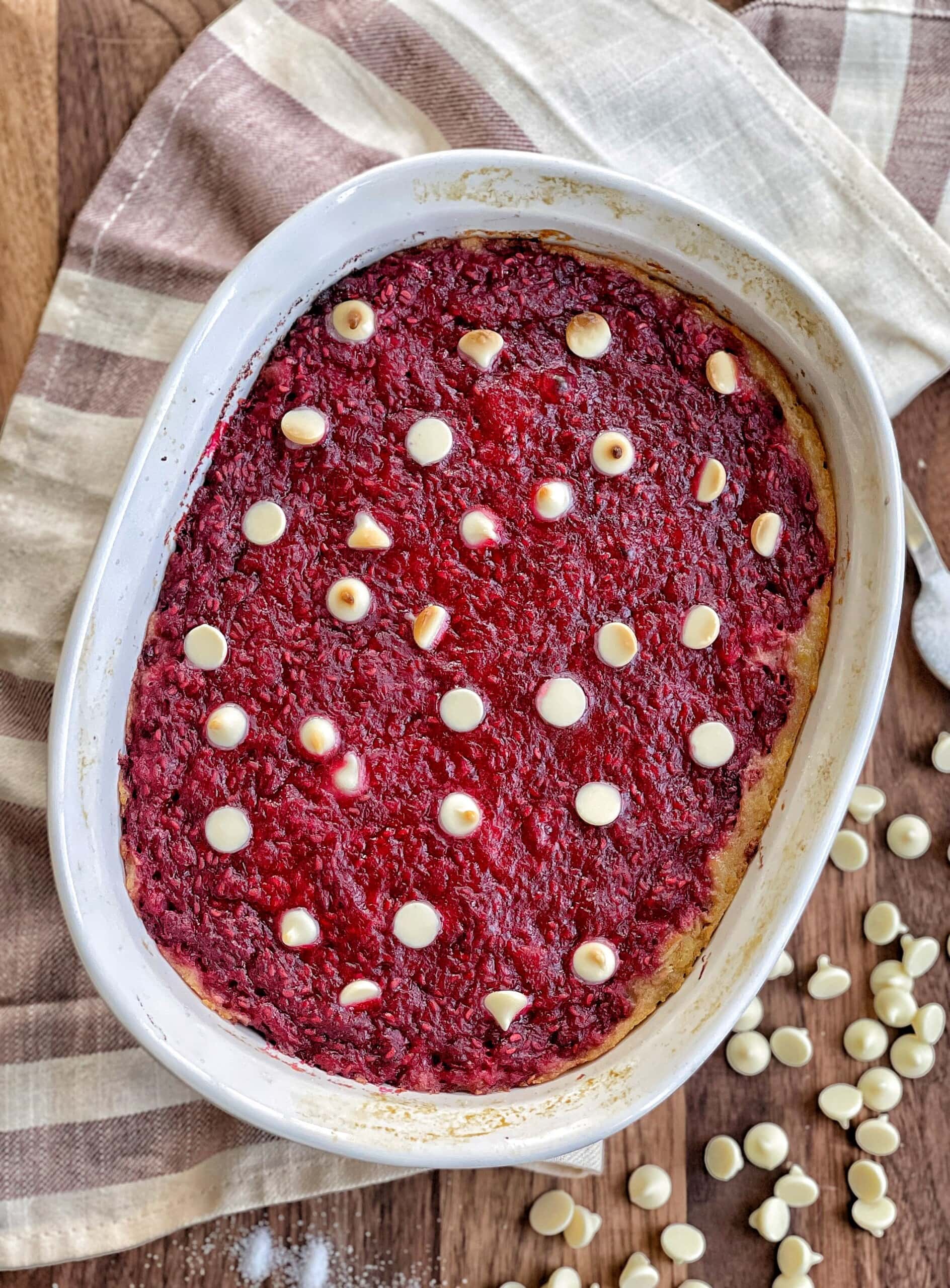 The facts about baked oatmeal
The truth is, I started creating baked oatmeal recipes to be able to have warm, cooked oatmeal on hand as a breakfast option, without resorting to those instant packets, and without having to make oatmeal on the stove top every morning. You know I am all about meal prep, which is why I started making overnight oat and yogurt jars back in the day. But I love that these baked oatmeal dishes can be heated up; not everyone enjoys cold oats. Baked oatmeal is basically a combination of oats, flavorings, and liquid to form one cohesive dish that can be baked in a casserole dish. It offers the comfort of a warm bowl of oatmeal with the ease of a one-dish meal, that can be cut and served. Baked oatmeal is my new favorite breakfast; I haven't eaten anything else for breakfast in months! This raspberry white chocolate baked oatmeal is the perfect combination of sweet and tart. The fresh raspberries give this dish so much flavor. Getting a little bit of white chocolate in each spoonful offers the perfect bite each time. Every time I make a new baked oatmeal recipe, it becomes my favorite. This one is no exception!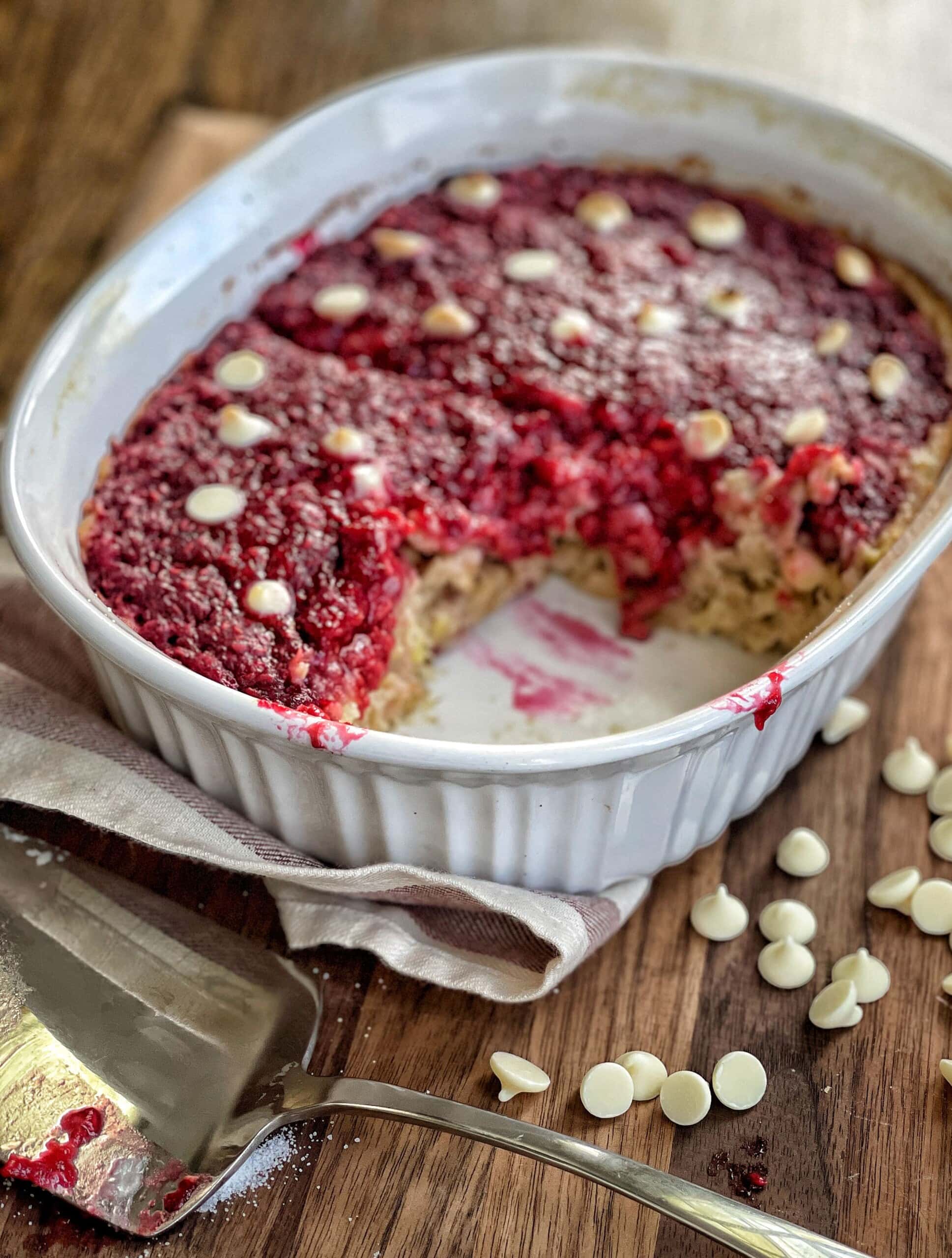 Give these other baked oatmeal recipes a try, too: Maple Cinnamon Baked Oatmeal Dark Chocolate Baked Oatmeal Peanut Butter and Jelly Baked Oatmeal Smores Baked Oatmeal Carrot Cake Baked Oatmeal
What you'll need to make raspberry white chocolate baked oatmeal
fresh raspberries
corn starch
sugar
water
white chocolate baking chips (I used these)
white chocolate pudding mix (I used this one)
bananas
unsweetened applesauce
vanilla extract
baking powder
kosher salt
unsweetened almond milk (or cashew milk, or any milk of choice)
old fashioned oats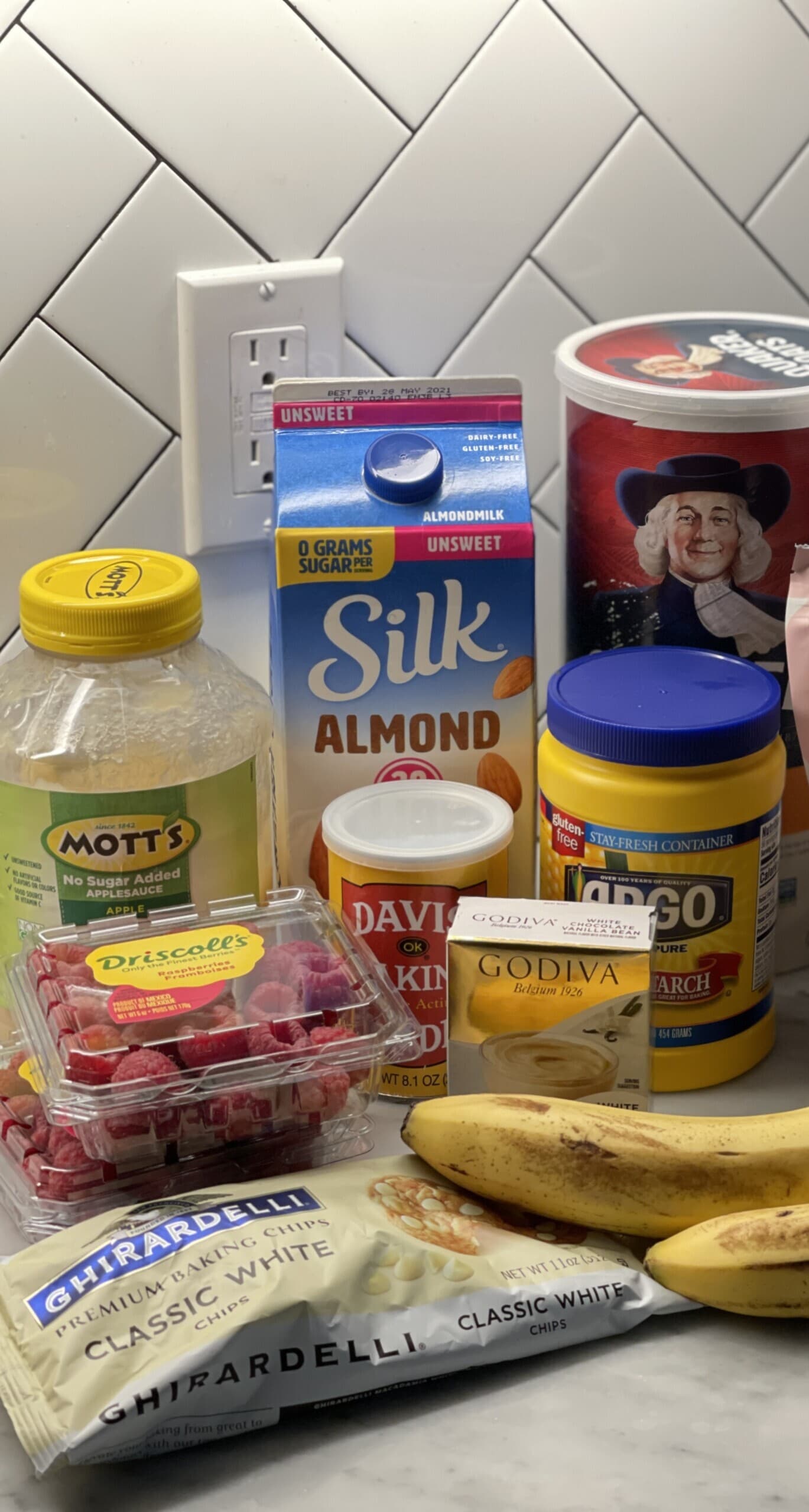 Substitution suggestions:
If you don't like or are allergic to bananas, add more unsweetened applesauce (approximately 1 cup is equivalent to two bananas).
If you are diabetic or do not want to use real sugar, you can use sugar replacements.
Sub in sugar-free white chocolate pudding mix; you can also use more for the same calories or WW points as the original.
You can use chocolate chips sweetened with Stevia (like Lily's) if that's your preference, too.
Use frozen raspberries in place of fresh ones. The flavor of the fresh raspberries is unbeatable, though.
You can also add macadamia nuts to this as well; they would go perfectly with the flavor profile of this dish.
How to make raspberry white chocolate baked oatmeal
The first step in this recipe is to prep the homemade raspberry jam (it's easier than it sounds, I promise). Before we get started on that, you will want to preheat your oven so it's ready later. To make the fresh jam, add the raspberries to a saucepan. Combine the cornstarch with the water, and add that to the raspberries. Cook this mixture over medium heat for 10 minutes or until it thickens and reduces to a jam-like texture.
While the berries cook down, it's a great opportunity to get the oatmeal mixture going. This part is easy. Just start off by mashing up the bananas, and then you can incorporate all of the other ingredients. Then, pour that mixture into a greased casserole dish. I use a 2.5 quart dish from Corningware. Any baking dish will work here, though. If you want a thinner bake, use a larger dish. For a more dense, thick bake, use an oval or round one like I do.
After the jam has reduced for 10 minutes, you can pour it right on top of the oatmeal in an even layer. Then, sprinkle the top with the extra teaspoon of sugar, and the chocolate chips.
Then, pop it in the oven to bake for 35-40 minutes. Since nothing really has to "cook" here besides the oatmeal, it's up to you how long to bake it. This particular recipe took a little longer to set up because of the wetness of the raspberry topping. I recommend baking for 40 minutes, and then setting it aside to firm up before you try to slice into it.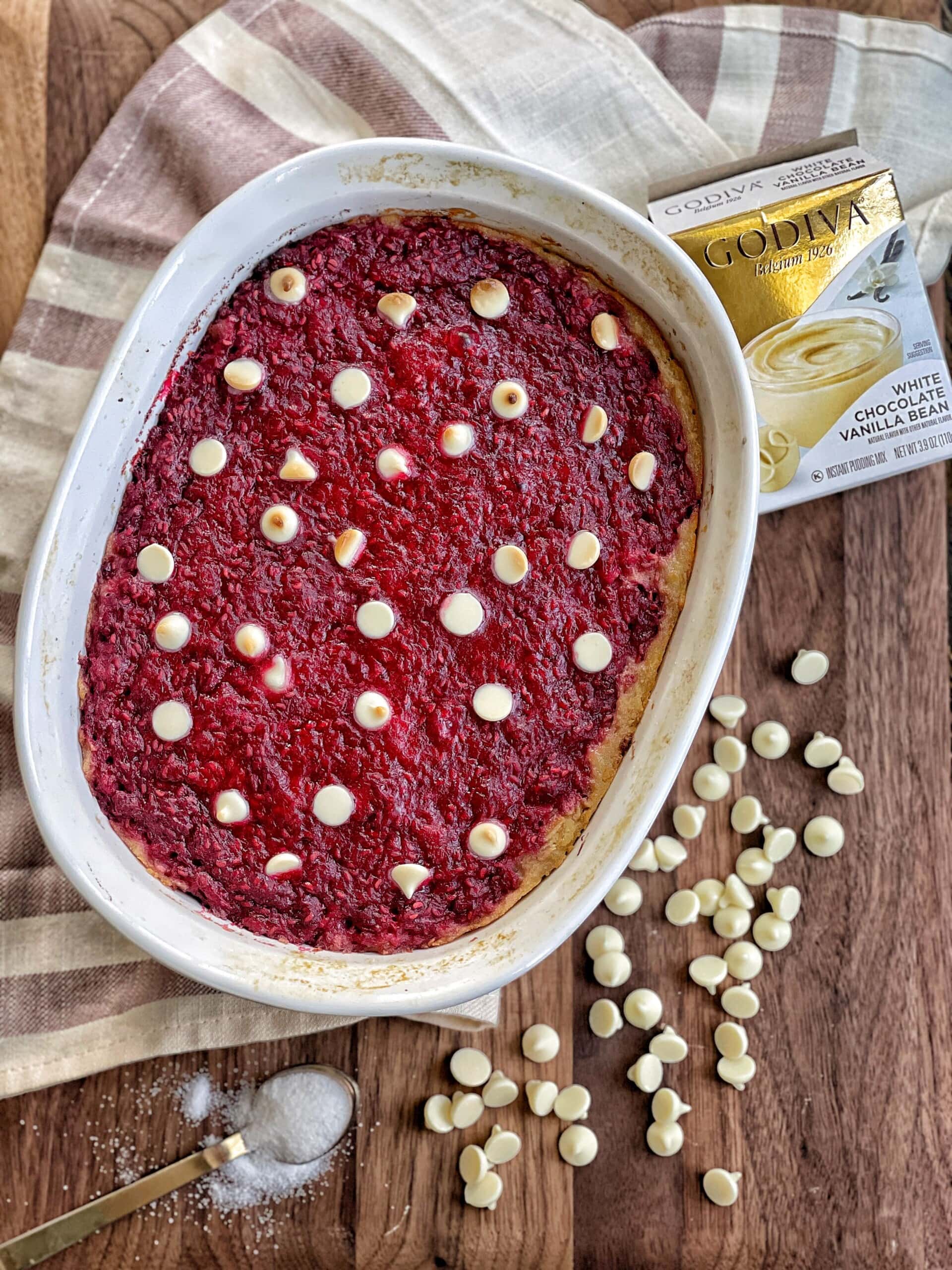 How to serve raspberry white chocolate baked oatmeal
My favorite way to serve any of the baked oatmeal recipes is with a dollup of plain non-fat Greek yogurt and some fresh fruit. Since this recipe already has a nice serving of fruit on top, you can probably skip the extra fruit on the side. But that's totally up to you.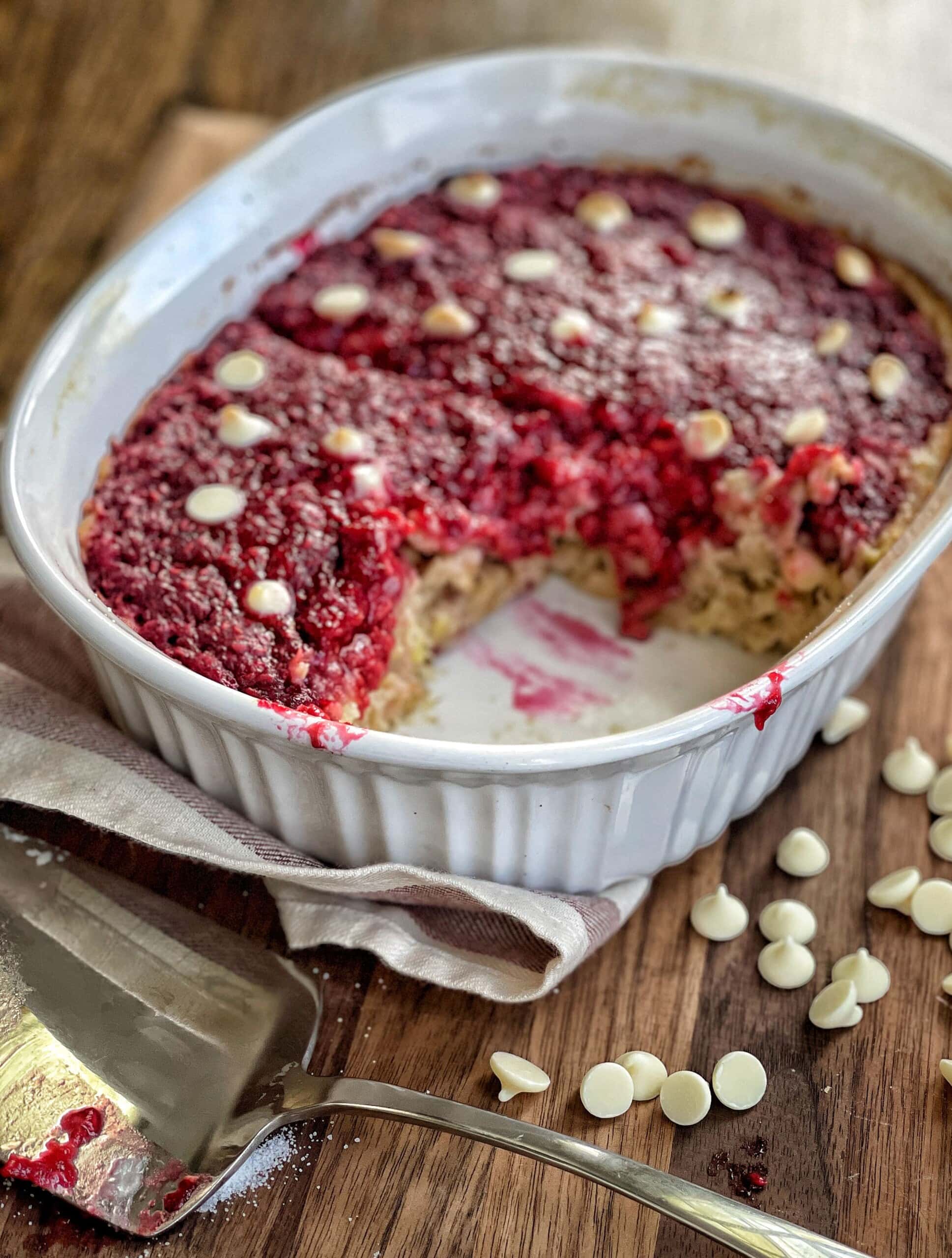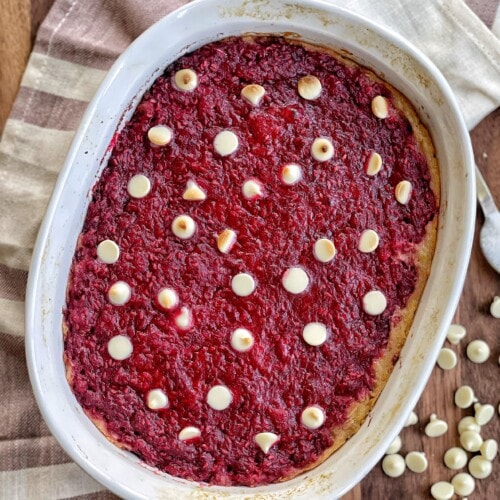 Equipment
baking dish, casserole dish, pie plate

mixing bowl

small sauce pan
Ingredients
Raspberry Topping
12

oz

raspberries

,

fresh

1

tsp

corn starch

1

tsp

water

1

tsp

sugar

1/2

oz

white chocolate chips

,

I used Ghirardelli
Baked Oats
2

bananas

,

overripe

1/4

cup

unsweetened applesauce

5

tsp

sugar

2

tsp

white chocolate pudding mix

,

I used Godiva

1

tsp

vanilla extract

1/2

tsp

baking powder

1/4

tsp

kosher salt

1

cup

almond milk

,

unsweetened, or cashew milk or skim

1.5

cups

old fashioned oats
Instructions
Preheat the oven to 375F.

Pour the berries into the small sauce pan, and turn the heat on to medium.

Combine the corn starch with the water to form a slurry, then add it to the berries.

Cook the berries for 10 minutes, or until they are broken down. Set aside.

Spray a small baking dish or casserole with cooking spray. I used an 8.5" x 11" 2.5qt casserole dish for this.

Add the bananas to the bottom of a mixing bowl, and mash them with a fork.

Add the applesauce, sugar, baking powder, salt, pudding mix and extract and stir to combine.

Add the milk. Whisk together.

Pour the mixture evenly into the baking dish.

Add the berry topping to the top of the oatmeal, in an even layer.

Sprinkle the top of the dish with the teaspoon of granulated sugar, evenly.

Top with the white chocolate chips.

Bake at 375 for 35-40 minutes or until set up.

Allow this bake to sit and cool for about 10 minutes until cutting, this will allow it to firm up.
Notes
WW Points:
If you use sugar replacements, the points and calories would change. I have not tested this recipe with anything besides real sugar. I recommend giving the recipe a try as is, before using any substitutions. It's delicious, and can be worked into your day using the real deal!
Click here to track this recipe in the WW app.
Nutrition
Serving:
1
piece (1/4 of the dish)
|
Calories:
275
kcal
|
Carbohydrates:
57
g
|
Protein:
6
g
|
Fat:
5
g
|
Saturated Fat:
1
g
|
Cholesterol:
1
mg
|
Sodium:
287
mg
|
Potassium:
473
mg
|
Fiber:
10
g
|
Sugar:
22
g
|
Vitamin A:
71
IU
|
Vitamin C:
28
mg
|
Calcium:
152
mg
|
Iron:
2
mg