My Current Obsession: Branch Basics
I have used Branch Basics products in my home for about a year now, and am loving implementing their products into my lifestyle. For someone who is health and wellness focus, switching my toxic cleaners over to Branch Basics was a logical next step. When Branch Basics approached me recently to partner with them and offer my audience a discount code, of course I could not pass up the offer. It was a natural fit to share about a product I have been using and loving for my family! This blog post will explain why Branch Basics is my current obsession!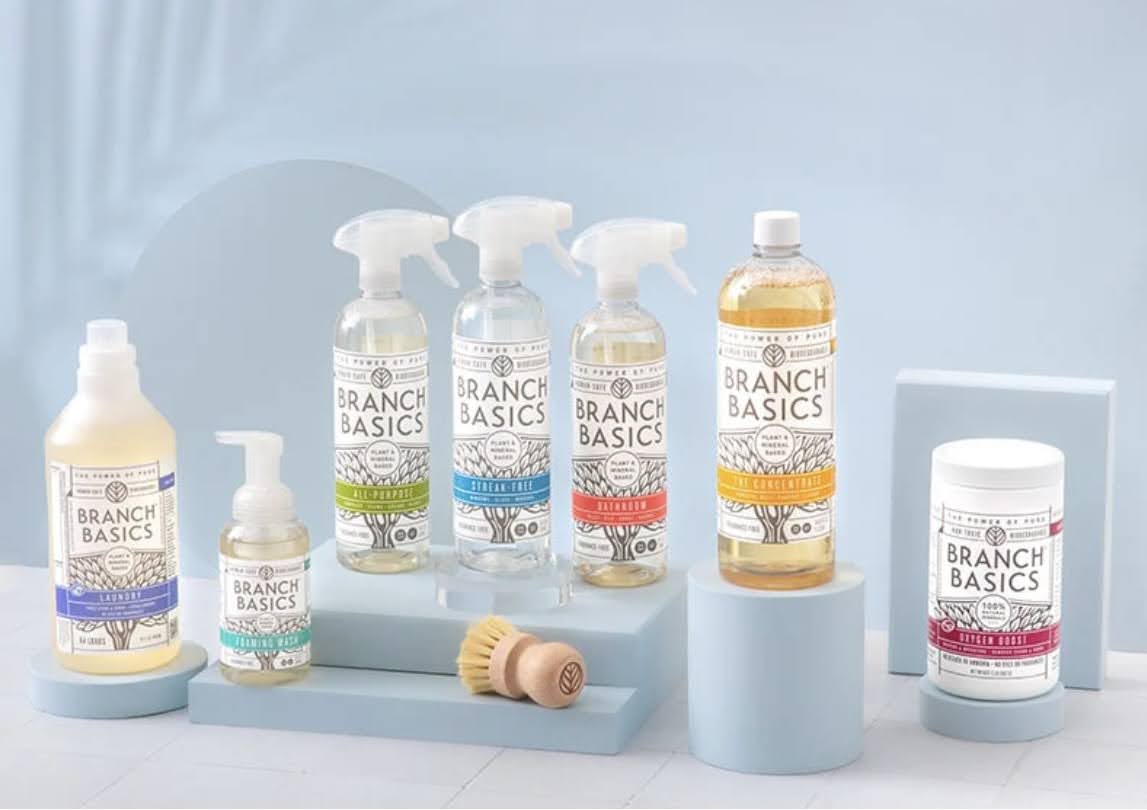 Why I switched over to Branch Basics
What sold me on Branch Basics originally was their overall mission of creating a healthier home. I am health-focused when it comes to food, so it is only natural that I also become health focused in other areas of my life. Branch Basics products are non-toxic and plant based, but what I truly LOVE about them as a company is about the ease of transitioning to this healthier lifestyle. Their focus and emphasis is on creating a healthier home and riding your home of toxic cleaning supplies, but in a non-overwhelming manner. Because lets face it: overhauling every cleaning product you own from dishwasher tablets and laundry detergent to stain treatment can be overwhelming, especially when you have been using these products for decades.
It's a seamless transition
What Branch Basics does to make this process super easy is that they provide you with everything you need to clean your entire home in the form of 2 main products: the concentrate, and the oxygen boost. I rely heavily on these two products, because by using these two products in different ratios combined with water, you can clean every area of your home. Believe me!
It's So Easy to Use Branch Basics
The "concentrate" replaces dozens of cleaners with one product, because you create your own non-toxic cleaners at home using different ratios of the concentrate with water. One bottle of concentrate can make all purpose cleaner, streak-free (glass) cleaner, bathroom cleaner, foaming soap, and laundry detergent!
So essentially, can rid your home of bottles upon bottles of toxic cleaners with one to two products. Adding the "oxygen boost" increases the power of the concentrate, and helps remove stains, clean stained surfaces, and cut through grease. The oxygen boost lives in my laundry room because it is hands down the absolute best stain-remover I have ever used. Simply sprinkle it on, spray some all purpose cleaner on top to wet the boost, and use some elbow grease to rub it into the fabric. Let it sit for a few minutes, then rinse it off and wash as usual.
My Personal Experiences Using Branch Basics (Including Before and Afters!)
Below is a picture of my son's shirt, which had JUST come out of the wash, with a stubborn stain still on it. I almost thought the shirt's days were over since the stain didn't come out in the wash (which normally it would have!) but I decided to give it a go with the oxygen boost. The result was absolutely incredible.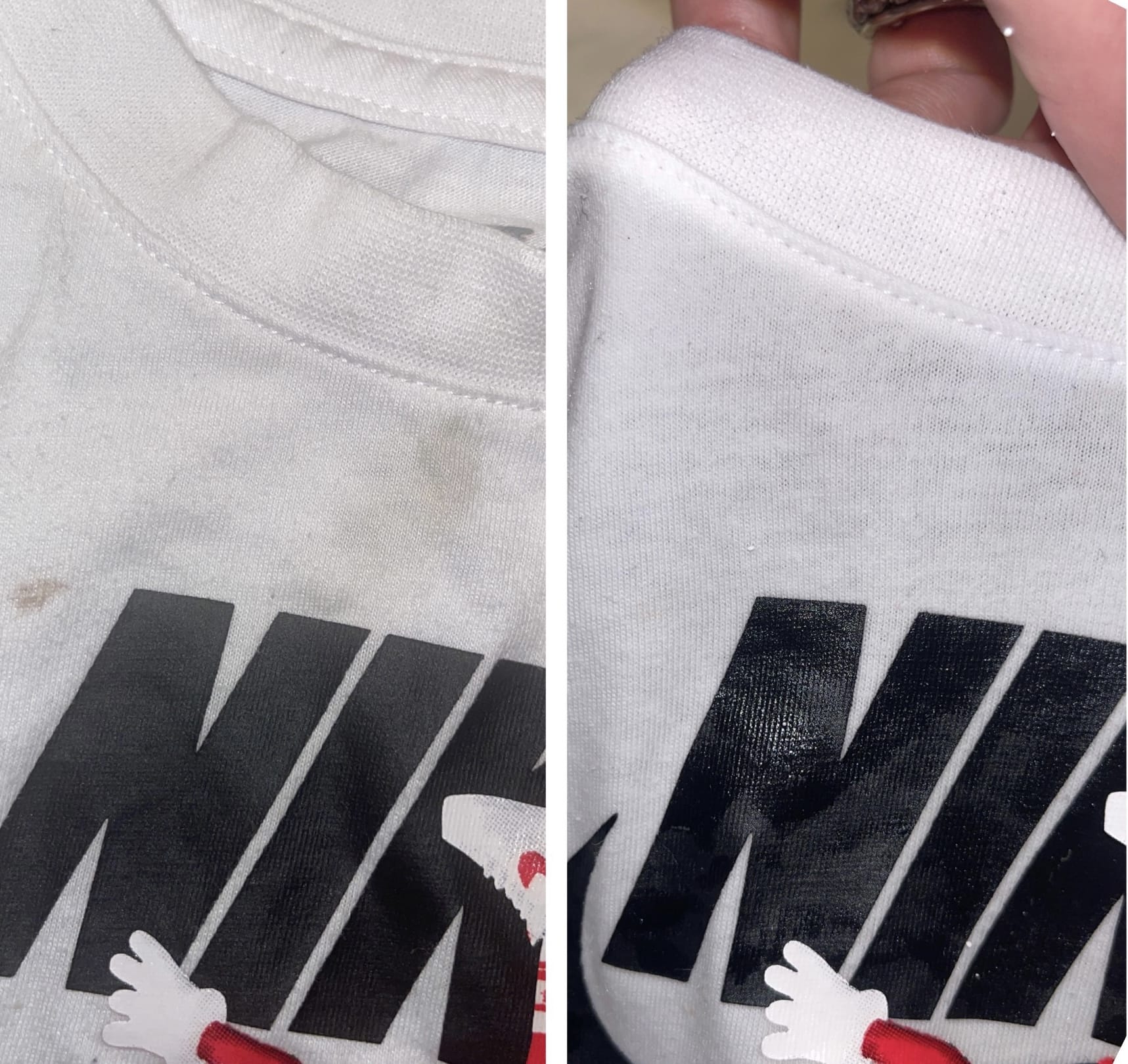 Another recent use of the oxygen boost is on my daughter's linen fabric headboard. It was a hand-me down to her, and I didn't realize just how discolored it had gotten. We started setting up her bed, and I combined the oxygen boost with just a little water to form a paste, and rubbed it in a small patch of the headboard. I wanted to make sure it was going to lift the discoloration before I did the entire surface area. And WOW did it lift the stain. So my next project is continuing the treatment for the rest of the headboard.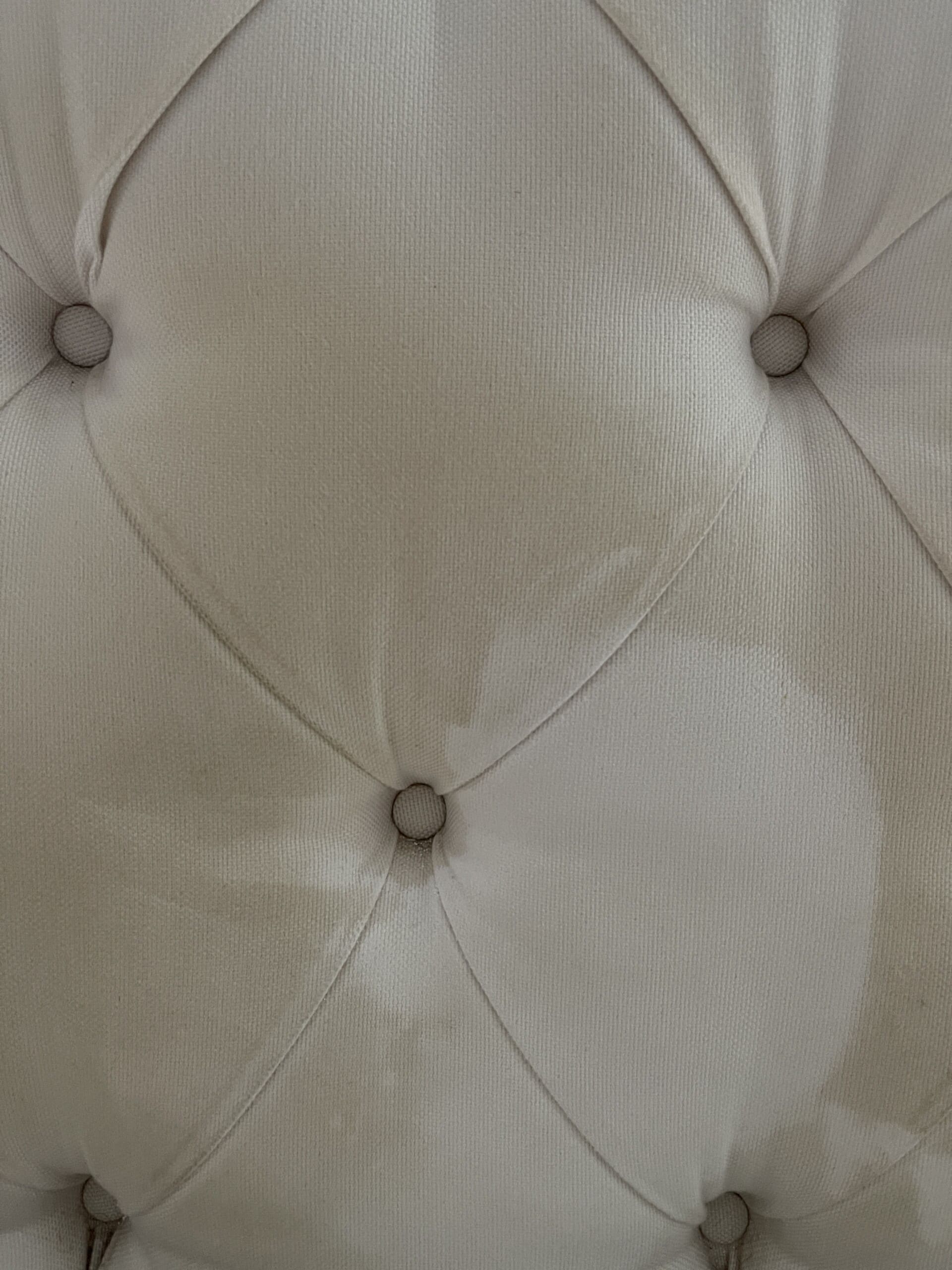 But, what I love most about using Branch Basics for projects like these is that they are non-toxic: so for the delicate places like my daughter's headboard, so close to her face when she sleeps, I can rest easy knowing she is not breathing in or laying around harmful chemicals.
Using Branch Basics on Furniture
Finally, I also use Branch Basics on our leather couch (which gets dirtier than I would like to admit). But we really LIVE in our living room, so this couch gets a lot of tough love. Every few months I give the cushions a good cleaning and I am always shocked at the difference. For this, I use the formula for carpets which is listed on the back of the concentrate bottle (no oxygen boost needed here). Just a little scrub, and the couch is looking brand new.
Other Applications for Branch Basics
The all-purpose cleaning concentrate also is one of the most gentle yet effective products I have used on my marble countertops. Marble is a very porous and sensitive material; any splash of vinegar, acid or hard chemical leaves "etching" or essentially marks in the marble. (You might notice these marks in my cooking videos because I ruined our counters within a month of moving into our home!) Branch Basics all-purpose cleaner is the only cleaner so far that doesn't damage the countertops because of its non-toxic properties. However, it also really effectively cleans them. I love using the all-purpose cleaner especially on surfaces where food touches or where my family eats. I feel more comfortable knowing they are non-toxic.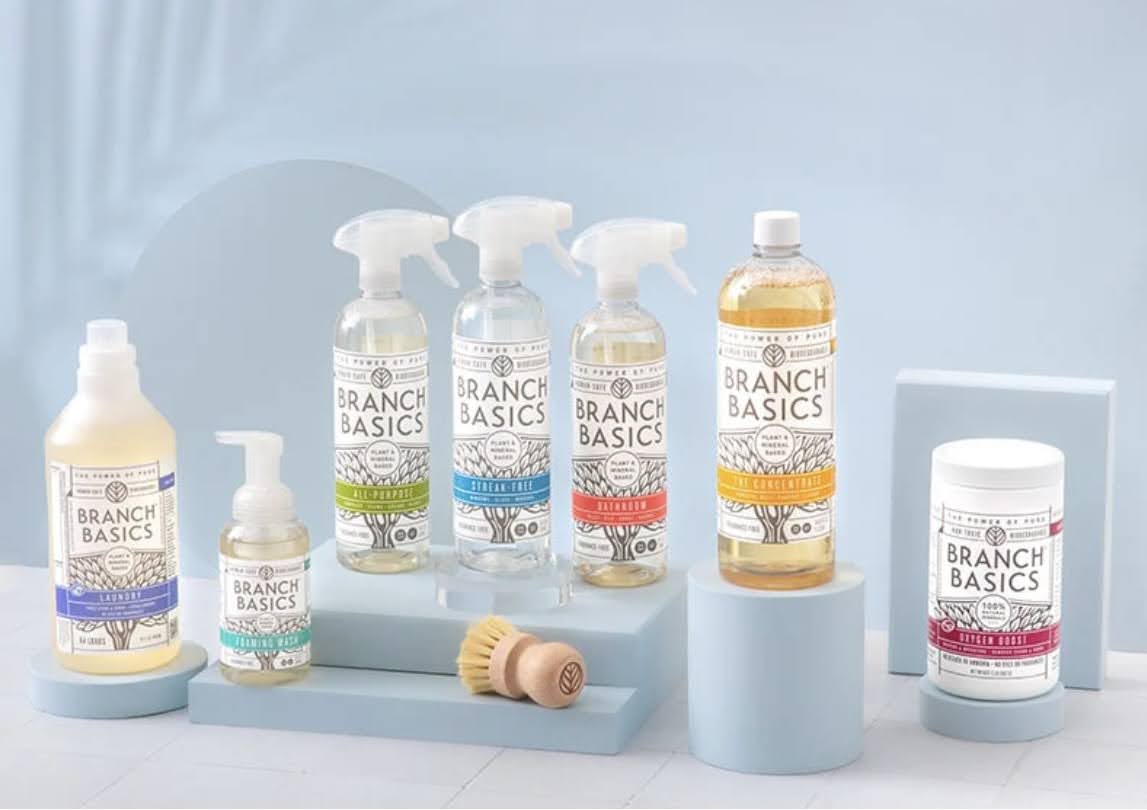 Where to begin
The easiest way to start using Branch Basics is by getting a starter kit. My recommendation is the premium starter kit, which will set you up with everything you will need to replace the toxic cleaners in your home. This includes a bottle of the concentrate, a bottle of the oxygen boost, and a collection of spray bottles to mix your different solutions to clean every area of your home.
Branch Basics has offered my followers a 15% off code for starter kits: SWEETSAVORYANDSTEPH https://links.branchbasics.com/sweetsavoryandsteph
This code will bring the basic starter kit down from $75.00 to $63.75, and shipping is included. The best part is that they offer a 60-day money back guarantee, if you aren't thrilled with the products. However, you will be, I promise! Let me know if you try them!
*I am a partner of Branch Basics, and this blog post is a sponsored post.