Breakfast, side dish, snack, lunch? Whatever the meal time, these savory cheesy zucchini muffins are the answer. Grated zucchini is mixed into a muffin batter with flour, seasonings, egg, and mozzarella cheese, and then baked until golden brown. Light, airy, delicate in flavor, these savory muffins are delicious and healthy. Add these to your meal plan when you're looking for a fun way to get those veggies in.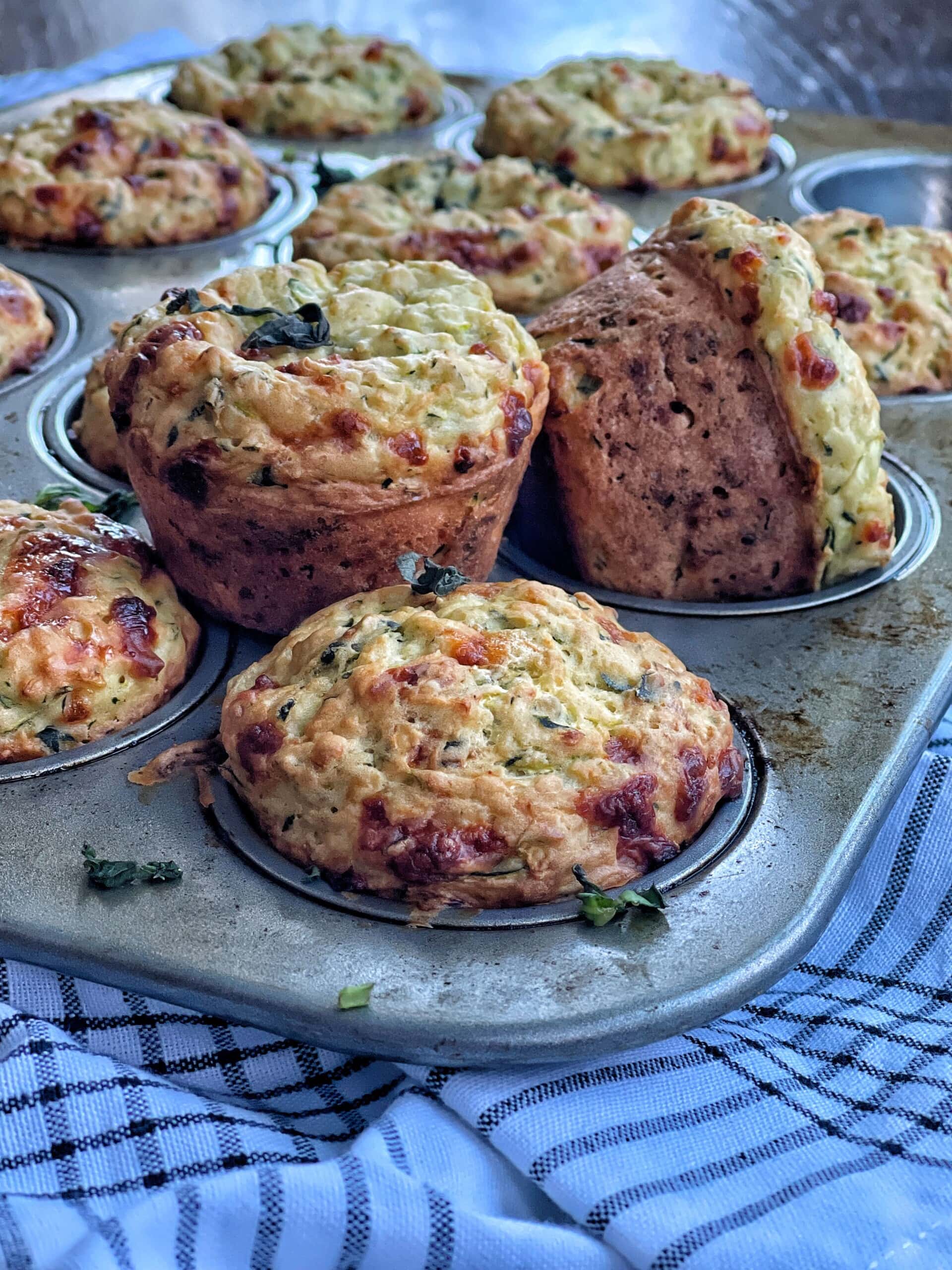 All about this recipe
I created this recipe on a whim when I saw a package of zoodles in my fridge staring back at me. You see, every week I buy a package of zoodles. And every week, I don't use them. It's like I can't help myself. I buy them with good intentions, but I don't want to really eat them.
Today, I decided to try and be creative and use them in a fun way, instead of being wasteful. They were used in the first round of recipe testing for this recipe. Once I felt I was getting somewhere with the whole zucchini-muffin thing, I had to go to the store to buy more zucchini and perfect this recipe. I am glad I did.
These muffins are savory and cheesy; they have notes reminiscent of pizza because of the Italian seasoning. They would make a delicious breakfast, or lunch over some mixed greens, or even a great side dish for dinner. Heck, they even make a healthy snack. However you eat them, they're sure to please.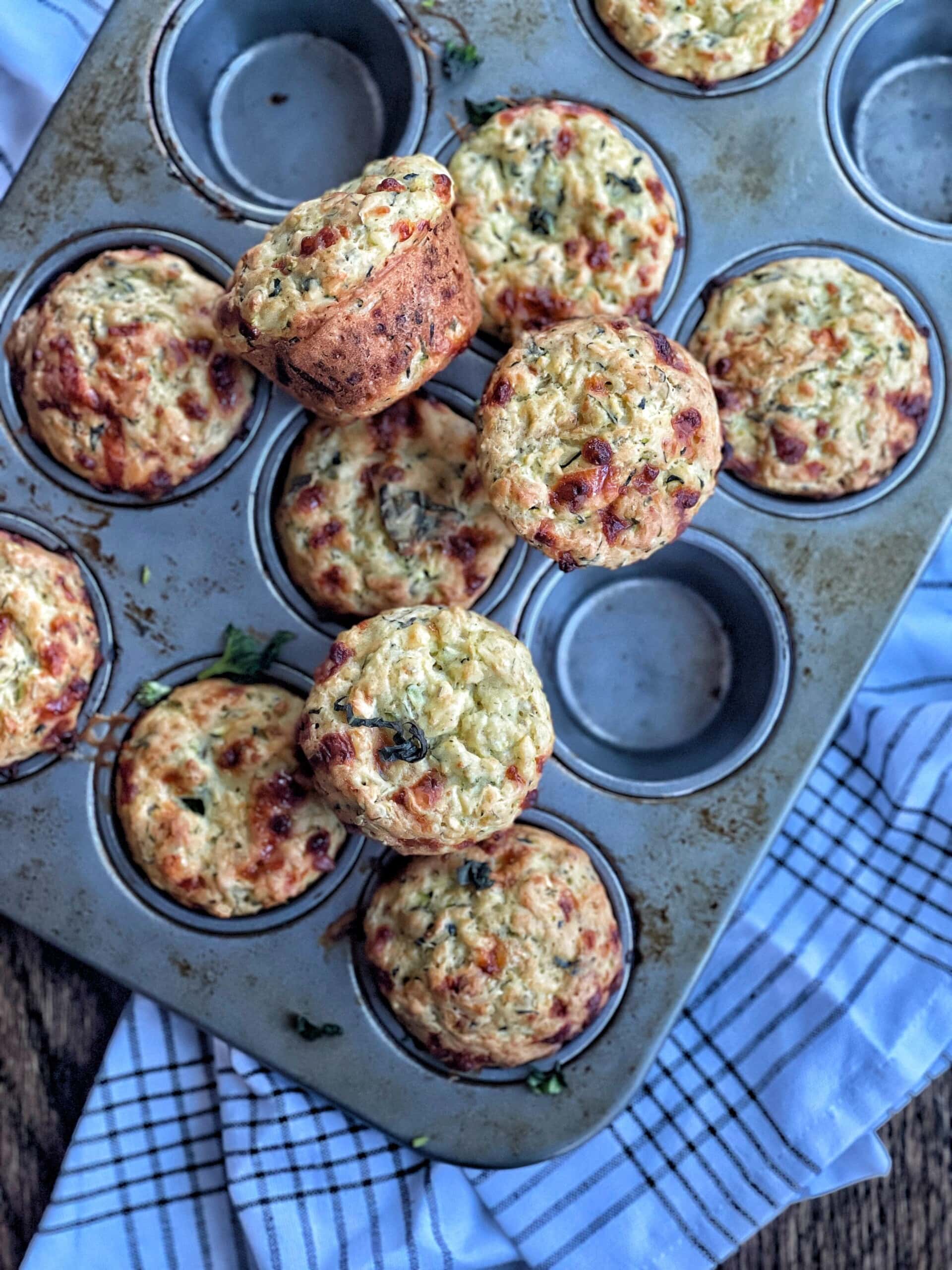 What you'll need to make savory cheesy zucchini muffins
zucchini

buy 4 regular-sized zucchini – the recipe requires 4 cups of grated zucchini, but this needs to be measured after all of the water is squeezed out of the grated zucchini

all purpose flour
baking powder
kosher salt
eggs
almond milk (or cashew milk, or skim)
part-skim mozzarella cheese
basil (optional)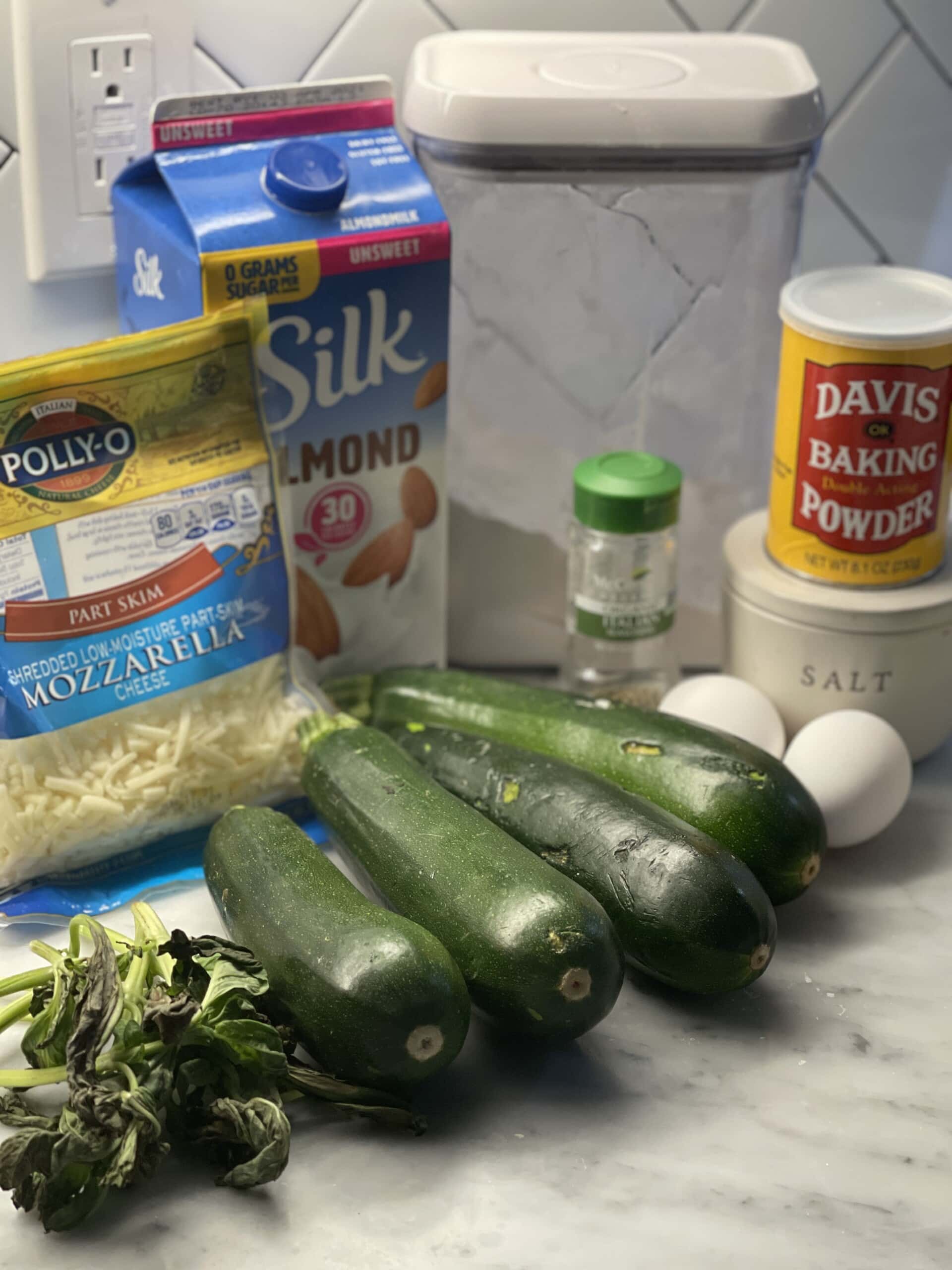 How to prep the zucchini
This is the most time-consuming part of this recipe. I won't say "difficult" because it's really not. It's just the most involved part of the recipe. Once this is done, you just have to mix some batter. It couldn't be easier.
But back to the zucchini. So, we are starting with 4 regular sized zucchini. Not super small ones, and not those huge ones. Just medium-sized will do. If your store doesn't have medium sized ones, adjust accordingly.
Using a box grater, grate the zucchini into a huge mound on your cutting board, or into a bowl. Once all of the zucchini is grated, place it into a cheese cloth (or dish towel, whatever you have) and wring it out over the sink. You'll be amazed how much water comes out!
Once the water is squeezed out, you'll be left with a more condensed, packed product. This should yield 4 cups of zucchini.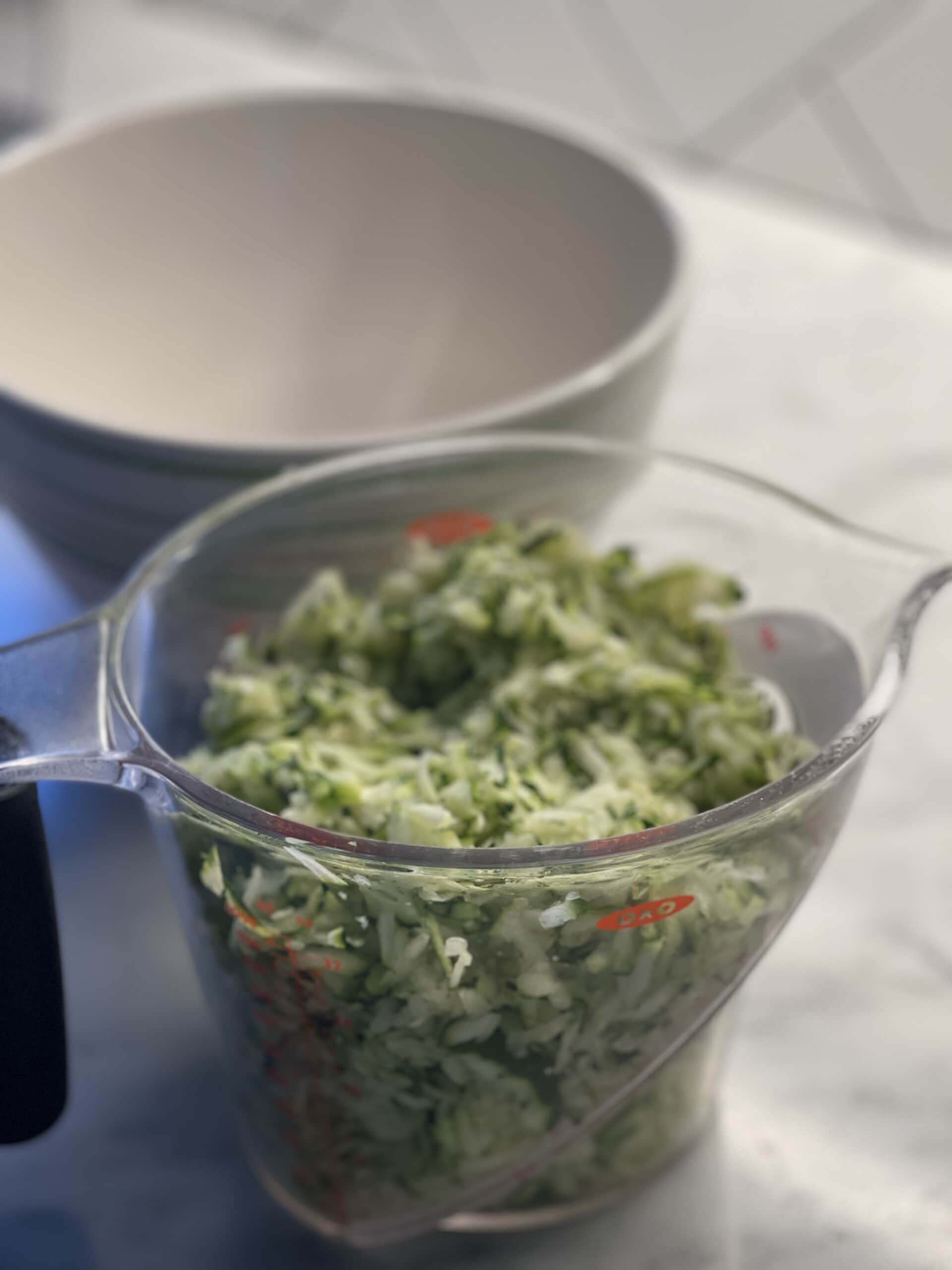 How to make the muffin batter and bake the muffins
Once the zucchini is prepped, the rest of this recipe couldn't be simpler! Preheat your oven to 375F.
Add the shredded zucchini to a mixing bowl, and then add in all of the other ingredients. Mix the batter really well, make sure the flour is fully incorporated throughout.
Spray the muffin pan really well with cooking spray (make sure to get the bottoms and sides coated) and then pour equal amounts of the batter into each opening. Start with 1/4 cup in each opening, and then add more until all of the batter is used up. This recipe makes really nice sized muffins.
Bake the muffins at 375F for about 40 minutes, or until they are cooked through and golden brown.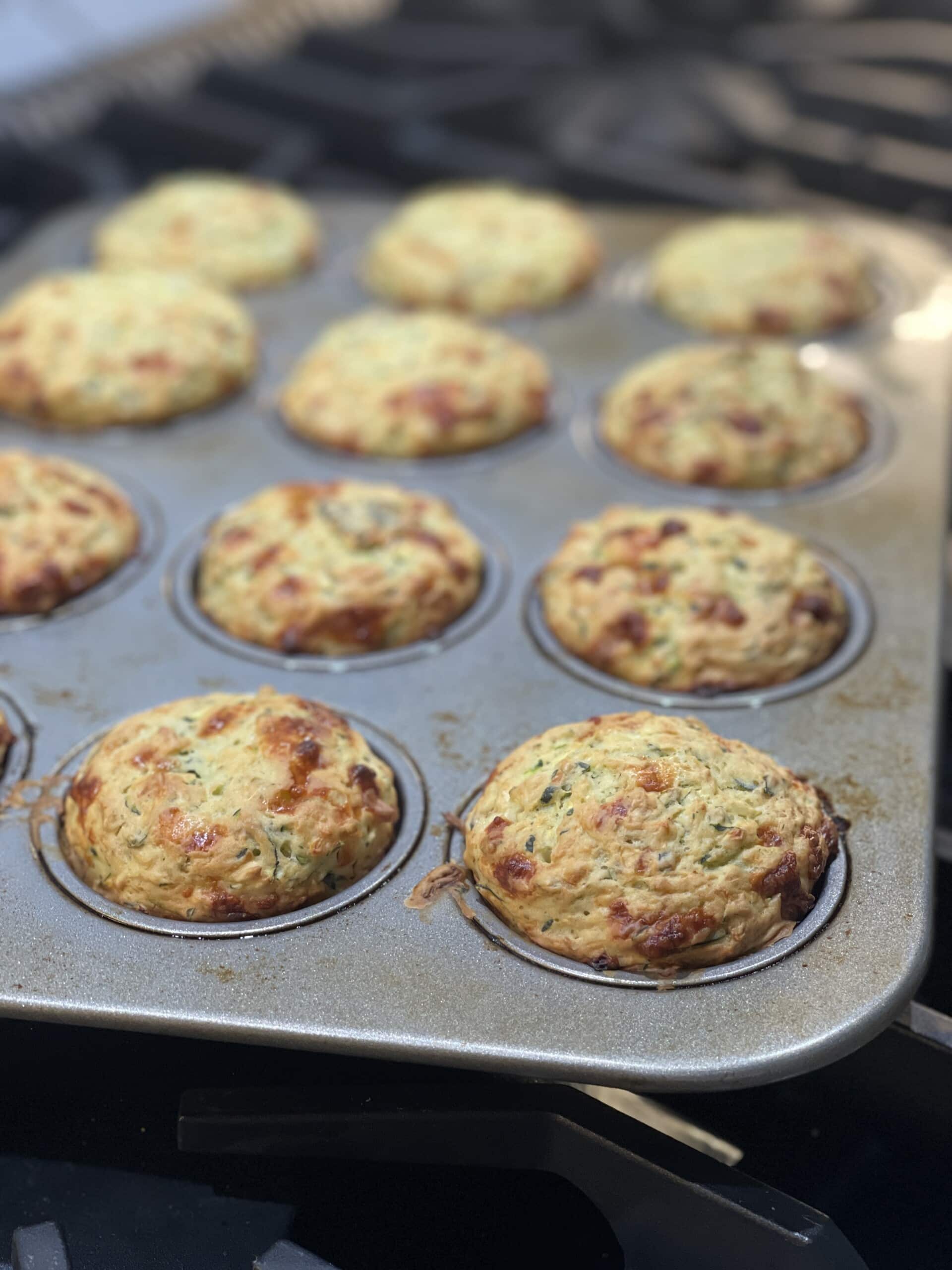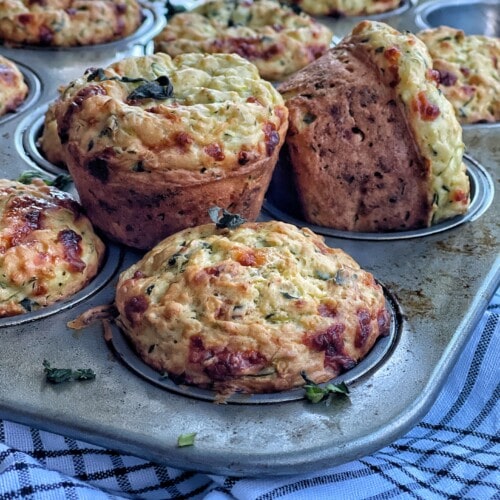 Equipment
muffin pan

mixing bowl

cheesecloth (optional)
Ingredients
4

cups

zucchini

,

4 regular-sized zucchini, grated, then all excess water squeezed out to equate to 4 cups

2

cups

all purpose flour

2

tsp

baking powder

1.5

tsp

kosher salt

1

tsp

Italian seasoning

2

eggs

1

cup

almond milk

,

unsweetened

1

cup

part-skim mozzarella cheese

2

tbsp

fresh basil

,

chopped (optional ingredient)
Instructions
Preheat the oven to 375F.

Spray a regular sized muffin pan with 12 openings.

Grate the zucchini using a box grater.

Once grated, squeeze all excess moisture from the zucchini. Get as much water out as possible.

The required amount of zucchini for this recipe (once the water is drained) is 4 cups of shredded zucchini.

Add the flour, baking powder, salt, Italian seasoning, egg, milk, and cheese (and basil, if using) to the zucchini and mix well.

Add equal amounts of the batter to each muffin opening. (Start with 1/4 cup each, then go back and add more until the batter is used up).

Bake at 375F for 40 minutes or until the muffins are set up and golden brown.
Nutrition
Serving:
1
muffin
|
Calories:
121
kcal
|
Carbohydrates:
18
g
|
Protein:
6
g
|
Fat:
3
g
|
Saturated Fat:
1
g
|
Trans Fat:
1
g
|
Cholesterol:
33
mg
|
Sodium:
460
mg
|
Potassium:
151
mg
|
Fiber:
1
g
|
Sugar:
1
g
|
Vitamin A:
188
IU
|
Vitamin C:
7
mg
|
Calcium:
154
mg
|
Iron:
1
mg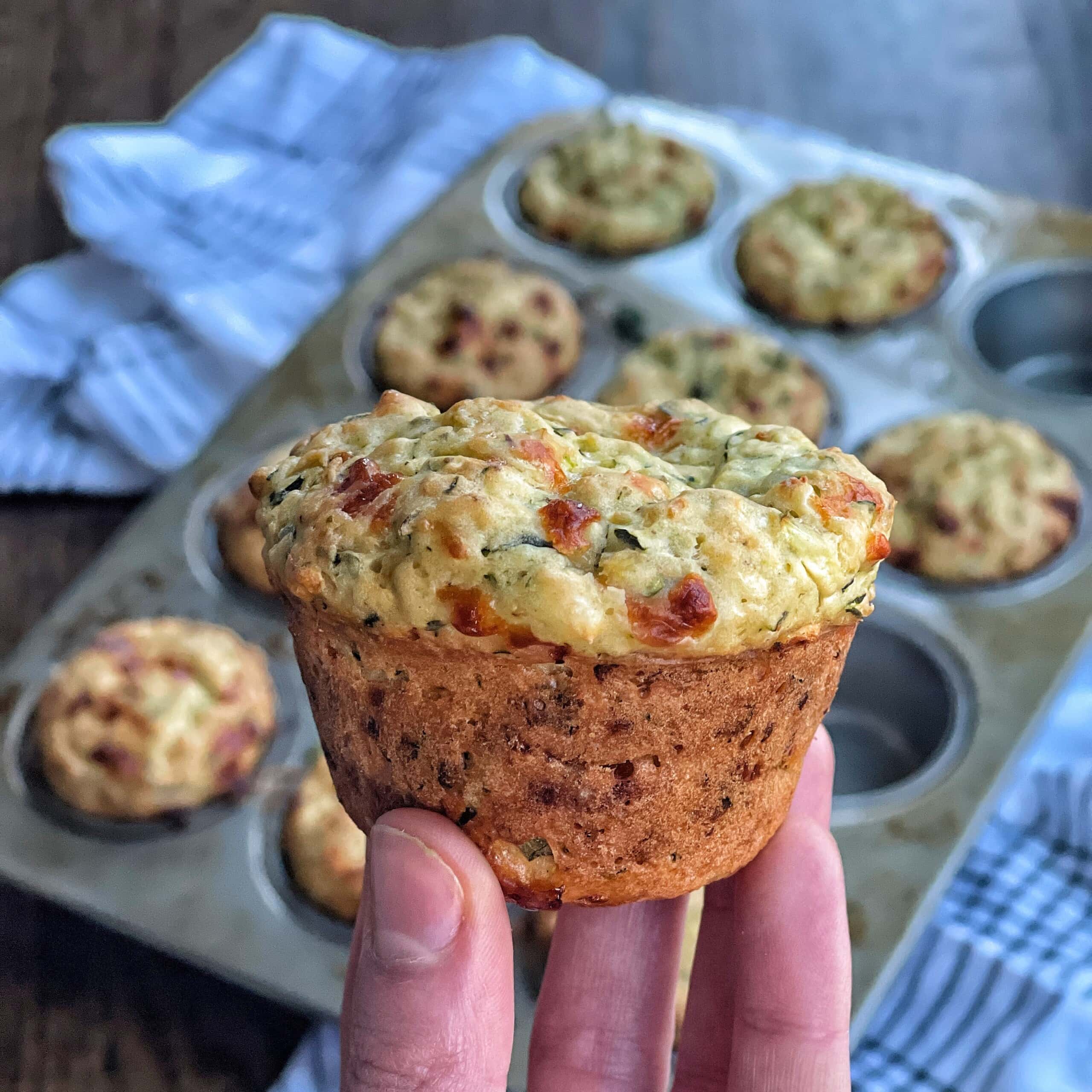 If you like zucchini, check out:
Zucchini Quiche with Hashbrown Crust
Cheesy Grilled Zucchini Stacks