This healthier chicken pot pie is made without the use of any creamy canned soups. Topped with crescent roll dough, it couldn't be easier to throw together. This recipe is lightened up, but not on flavor!
My Love/Hate Relationship with Chicken Pot Pie
Growing up, I never looked forward to eating chicken pot pie. The only time I ever had it was at my grandma's house, and she used cream of mushroom soup inside of it. Now, my grandma is an AMAZING cook. But something about that creamy canned soup taste just wasn't for me. Years ago, as a newlywed, I decided to take on the task of making a pot pie that I loved. My husband grew up not eating traditional American dishes like this one, so the challenge was on. I made a delicious recipe, and would make it every so often for us for dinner. It didn't use those creamy soups, and it made a thick creamy sauce using flour, butter, and milk. The end result was absolutely delicious. Fast forward a few years, and here I was, wanting to make a GOOD pot pie again. But this time, I wanted to make a lighter version that would fit into my lifestyle. The problem is, I really wanted to make an authentic pot pie recipe with a super creamy filling. I wanted it to taste like everything I envisioned, but I also wanted it to be lighter. How would I do it? Last year I tried to make a lightened up pot pie for meal prep, and quite frankly, I failed miserably. I never revisited it until recently, and here we are. I am in love with this recipe. It tastes like the real deal, the portions are huge, and its a crowd pleaser.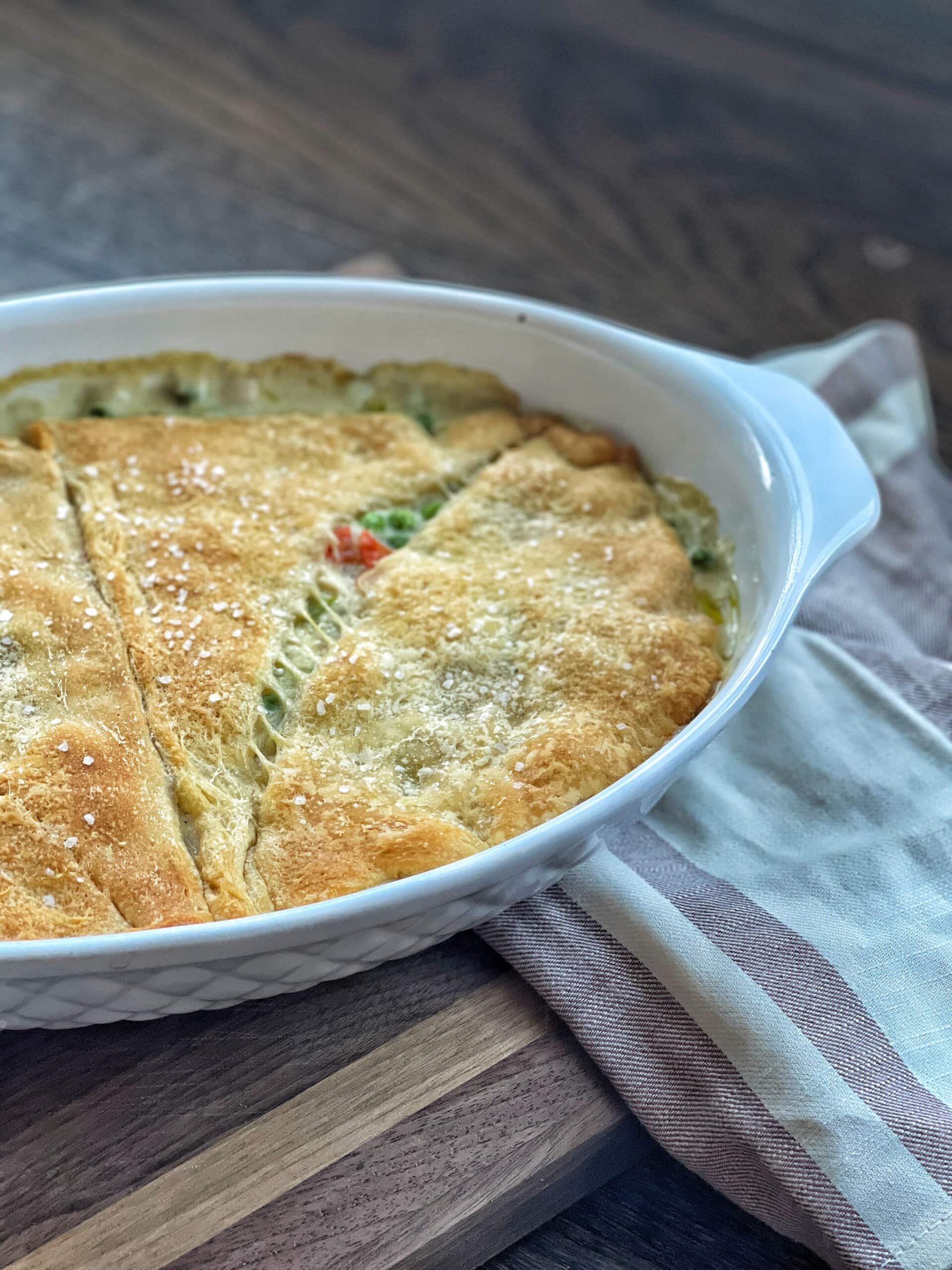 The healthier chicken pot pie filling
Here's what you'll need to make the pot pie filling:
chicken breast
carrots, celery, onion (this is called a Mirepoix)
garlic
frozen peas
light butter (I use this one)
poultry seasoning
kosher salt
garlic powder
onion powder
nutmeg
reduced sodium chicken broth
We will discuss the cream sauce and the topping later!
As for the filling, it's really quite simple. I roast 1 pound of chicken breast, seasoned with kosher salt and pepper. But, as always, you can buy a rotisserie chicken and use that. You can also just make this recipe with any leftover chicken (or turkey) you have. I really like the freshly roasted chicken taste in this. As the chicken cools from the oven, it releases some of its juices, and I ultimately add that to the pan with the vegetables. I think it makes a difference!
How I make a lighter cream sauce
The key to making a good, thick creamy sauce is a roux. Typically a roux is one part flour to one part butter. Easy enough! I've learned over the years that the key to lightening up recipes is using the same methods and ingredients. I don't eliminate ingredients, I just use less of them. This recipe does not use a true roux. Instead, I use light butter to sauté the veggies, and then sprinkle flour on top. Once the chicken broth is added, the flour thickens the liquid to the texture we are looking for. For the creamy elements, I use whole milk and reduced fat cream cheese. I never considered using cream cheese in a dish like this before. But when I created this recipe, I had it on hand, so I went with it. I also rarely use whole milk, but that's another thing I always have on hand for the kids, and it works beautifully here.
Can I use dairy free milk? If you do, I would use less than what this recipe calls for, as dairy free alternatives can be thinner than whole milk.
The delicious buttery biscuit topping
The topping couldn't be easier – old fashioned crescent rolls from the tube! I use the reduced fat version here, and I use half of the package (4 rolls). Once removed from the package, I stretch and roll the dough slightly so that it covers the entire pie. The perforated edges on the dough actually act as little air pockets that you would normally poke in the top of a pie.
Serving and Storage
This recipe makes four very generous servings. To store, cover or wrap tightly with plastic wrap and store in the fridge. This also makes for a great meal prep. To reheat, simply microwave or pop in the oven.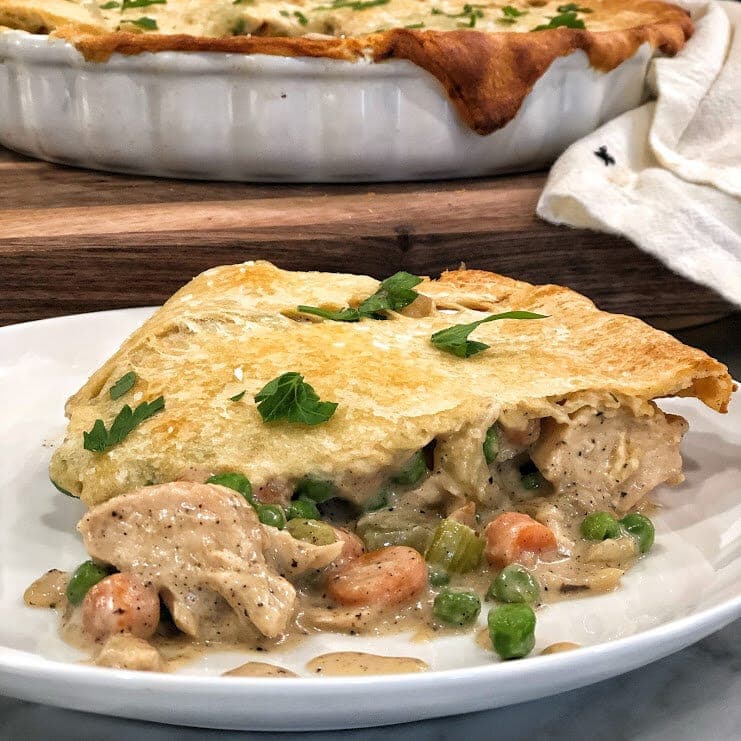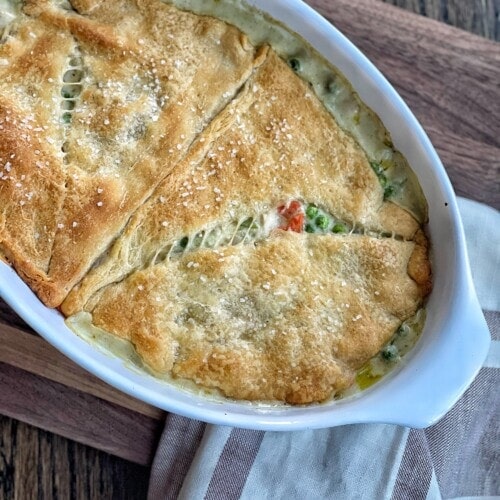 Healthier Chicken Pot Pie
This healthier chicken pot pie is made without the use of any creamy canned soups. Topped with crescent roll dough, it couldn't be easier to throw together. This recipe is lightened up, but not on flavor!
print
pin
rate
Equipment
sheet pan

pie dish

frying pan
Ingredients
Chicken
1

lb

boneless skinless chicken breast

1

tsp

kosher salt

fresh cracked pepper

olive oil spray
Pie
Half of an 8 oz package of reduced fat crescent rolls

,

4 rolls

1

tablespoon

light butter

1

cup

carrots

,

diced

1

cup

celery

,

diced

1

cup

white onion

,

diced

1/2

tsp

kosher salt

1/2

tsp

garlic powder

1/2

tsp

onion powder

1/2

tsp

poultry seasoning

2

tablespoons

flour

1 1/2

cups

reduced sodium chicken broth

1/2

cup

whole milk

3

oz

reduced fat cream cheese

pinch

nutmeg

1

cup

frozen peas
Instructions
Chicken
Preheat the oven to 450F.

Spray a sheet pan liberally with olive oil spray.

Season the chicken with the salt and pepper on both sides.

Place the chicken on the sheet pan and roast for 25 minutes or until fully cooked.

Place the chicken on a cutting board and chop into bite-sized pieces. Leave on the cutting board with the residual juices while you prepare the other pie ingredients. Yields about 2 heaping cups of chicken.
Pie
Melt the butter in a large frying pan over medium high heat.

Sauté the carrot, celery and onion for 5-6 minutes or until they get soft and start to brown.

Add the salt, pepper, garlic powder, onion powder, and poultry seasoning. Stir to combine.

Add olive oil spray to the pan with the vegetables and sprinkle the flour on top.

Stir the flour to combine with the vegetables. Cook for 1 minute.

Add the chicken broth, stir to combine, and allow the mixture to come to a boil.

Cook for 5 minutes or until the mixture thickens significantly. It should not be watery.

Stir in the milk and cream cheese, whisk to incorporate. The mixture should be thick in consistency, but not dry. If it's too dry, add a splash more stock. Add a pinch of nutmeg.

Add the cooked chicken along with the juices, as well as the frozen peas. Stir to combine.

Pour the mixture into a sprayed pie dish.

Cover the pie dish with the crescent rolls. Spray with olive oil spray and add a small sprinkle of kosher salt.

Bake at 375F for 20 minutes or until the top of the pie is golden brown to your liking. Since everything is cooked inside, cook the pie until you feel it's done!
Nutrition
Calories:
301
kcal
|
Carbohydrates:
21
g
|
Protein:
32
g
|
Fat:
10
g
|
Saturated Fat:
5
g
|
Cholesterol:
91
mg
|
Sodium:
1190
mg
|
Potassium:
902
mg
|
Fiber:
4
g
|
Sugar:
9
g
|
Vitamin A:
5995
IU
|
Vitamin C:
21
mg
|
Calcium:
113
mg
|
Iron:
2
mg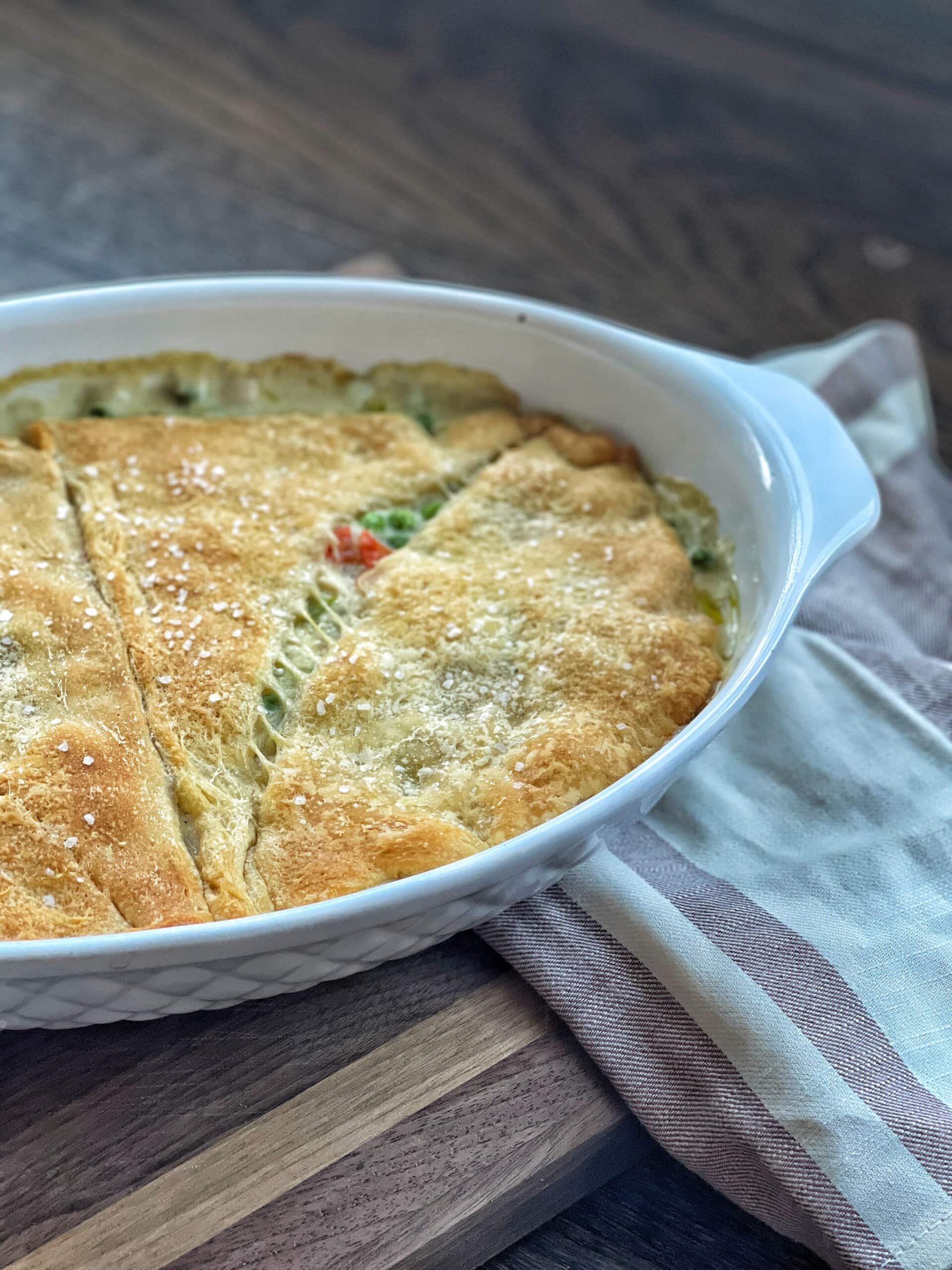 You might also enjoy: Turkey Shepherd's Pie Baked Broccoli Mac and Cheese