This warm healthy apple crisp is the perfect comfort food to share with family and friends as the fall weather begins to arrive. If you're going apple picking, this recipe is a must! Fresh apple slices are tossed with cinnamon and sugar, and topped with a crispy crumble made with flour, sugar, oats, and butter. This dessert is great to bring to holidays or just to have on hand, either way it is sure to impress anyone that eats it (but with less calories!)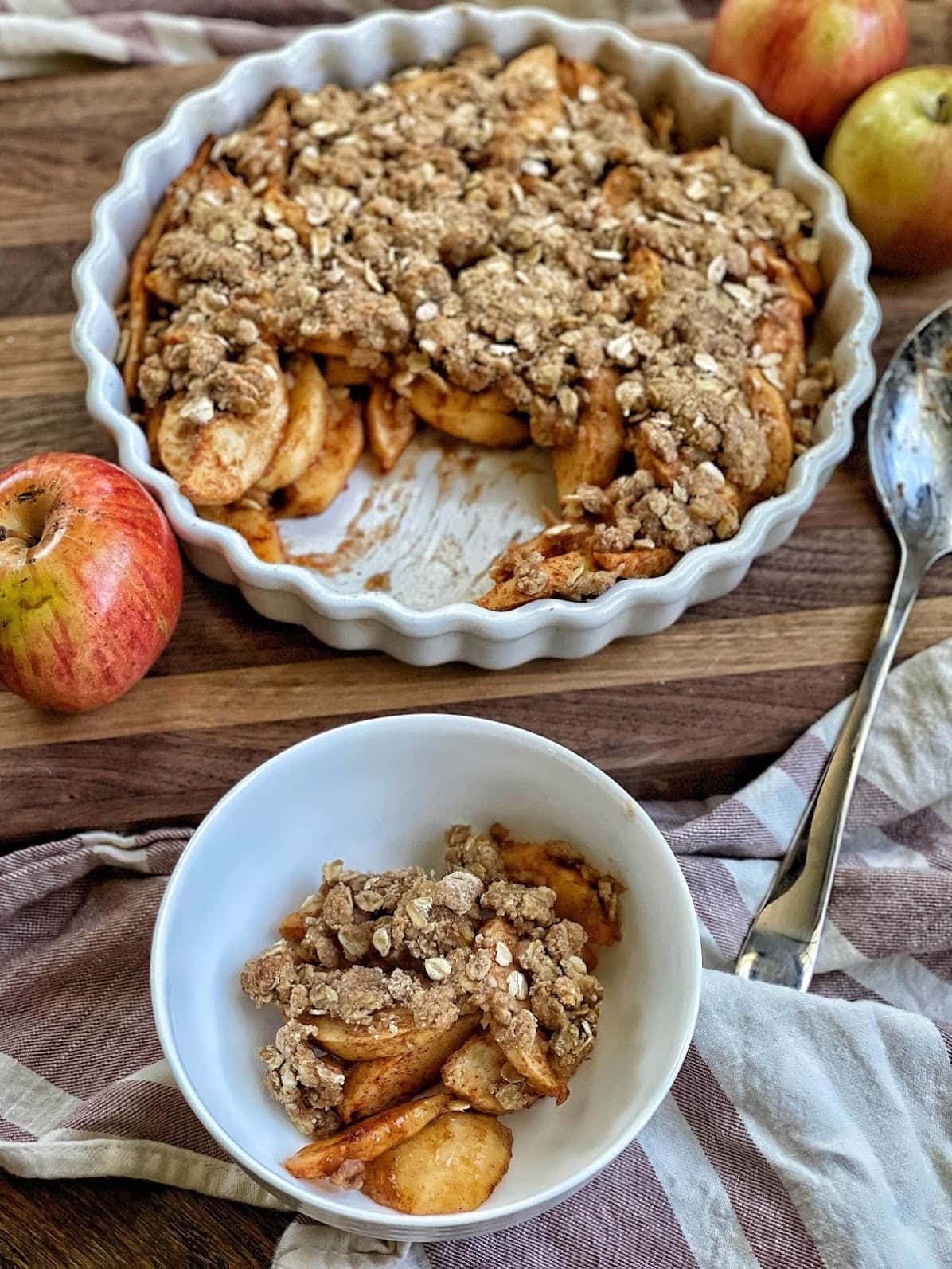 All About this healthy apple crisp
Fall is my favorite time of the year. I love everything about it, but of course, I adore the warm comforting flavors the most. Apple pies and crisps are always one of my favorite desserts; since the bulk of the recipe uses apples, I knew this healthy apple crisp recipe would be a relatively easy one to lighten up. This apple crisp offers the classic flavors of your favorite apple dessert, but with no hassle of dealing with pie crust; plus it takes practically no time to prepare, and is a fraction of the calories and points.
For this recipe, I recommend using sweet apple varieties like Gala, Fuji, and Honeycrisp. I picked these because they provide the perfect amount of sweetness for the crisp so there isn't a need for more added sugar. You can really use any kind of apple you like or have on hand, especially if you enjoy the tart apples more than sweet apples, but I found that these three varieties work best for the sweetness I was looking for.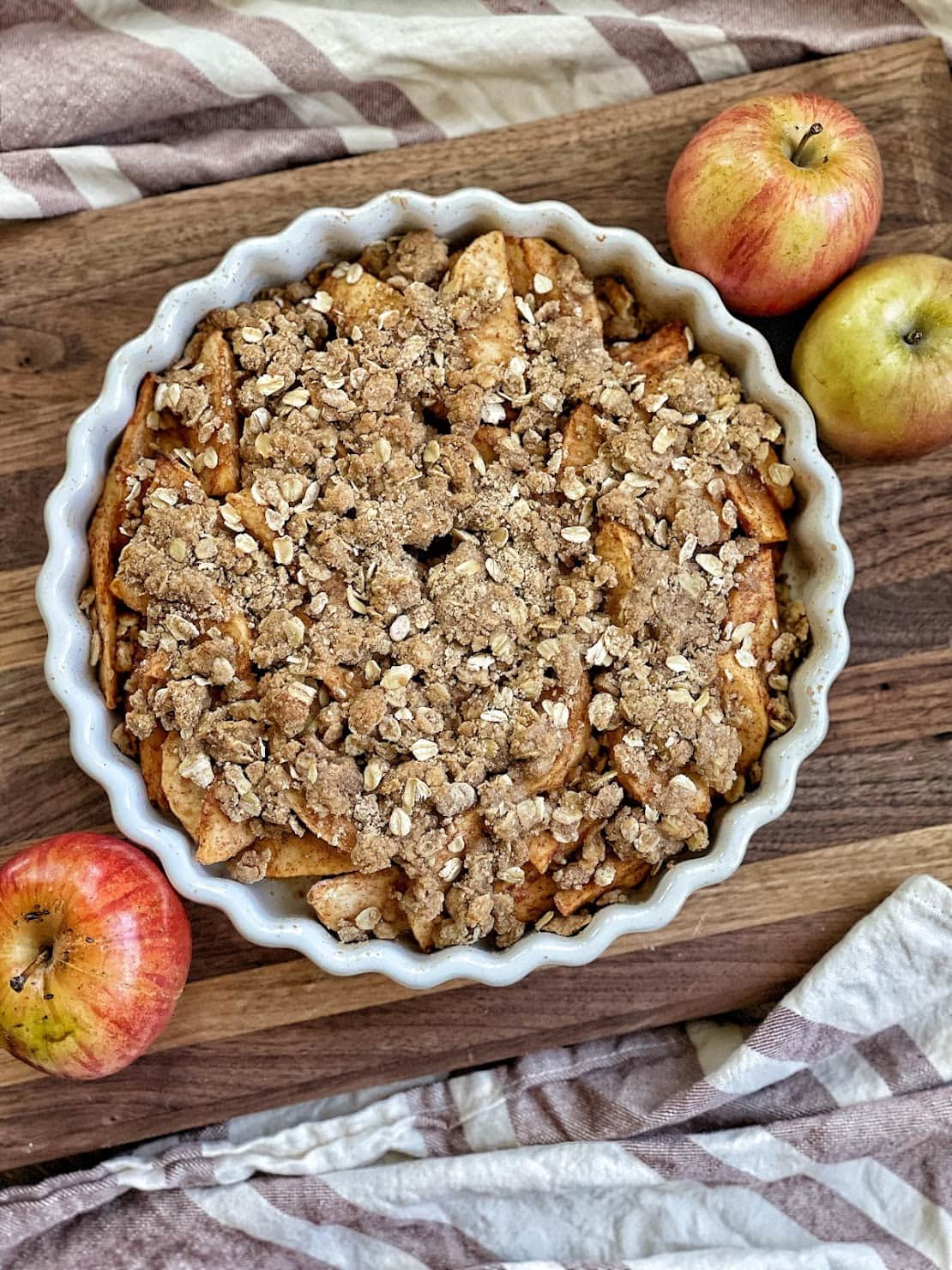 How to serve and reheat this healthy apple crisp
When served by itself, this apple crisp is so comforting and satisfying, but if you're looking for a way to bring it to the next level, there are a few options. Vanilla ice cream is always a great pairing with any crisp variation. There are so many low calorie options now for ice cream, so it is possible to keep the macros or points low while still not depriving yourself from the stuff you love.
Whipped cream would also add a great creamy component as a topping without adding many calories. It's super light and is a great topping. Yogurt has become a staple for me on my health journey. Many people use it only for breakfast, but I have incorporated it into all kinds of desserts for an extra touch of creaminess.
If you have leftovers, be sure to keep the apple crisp covered in the refrigerator.
I write a lot about how important I find it to keep a variety of things on hand to be able to heat up depending on my mood. I try to create recipes that reheat nicely so I don't have to wait until special occasions to eat the stuff I love and enjoy. Although this is best when served warm straight out of the oven, it is still really good when reheated.
One of my favorite parts of this dessert is how crispy the topping gets. If you have the time, reheating this in the oven will allow the topping to stay crispy. If you are in a hurry, this can also simply be reheated in the microwave for around 30 seconds.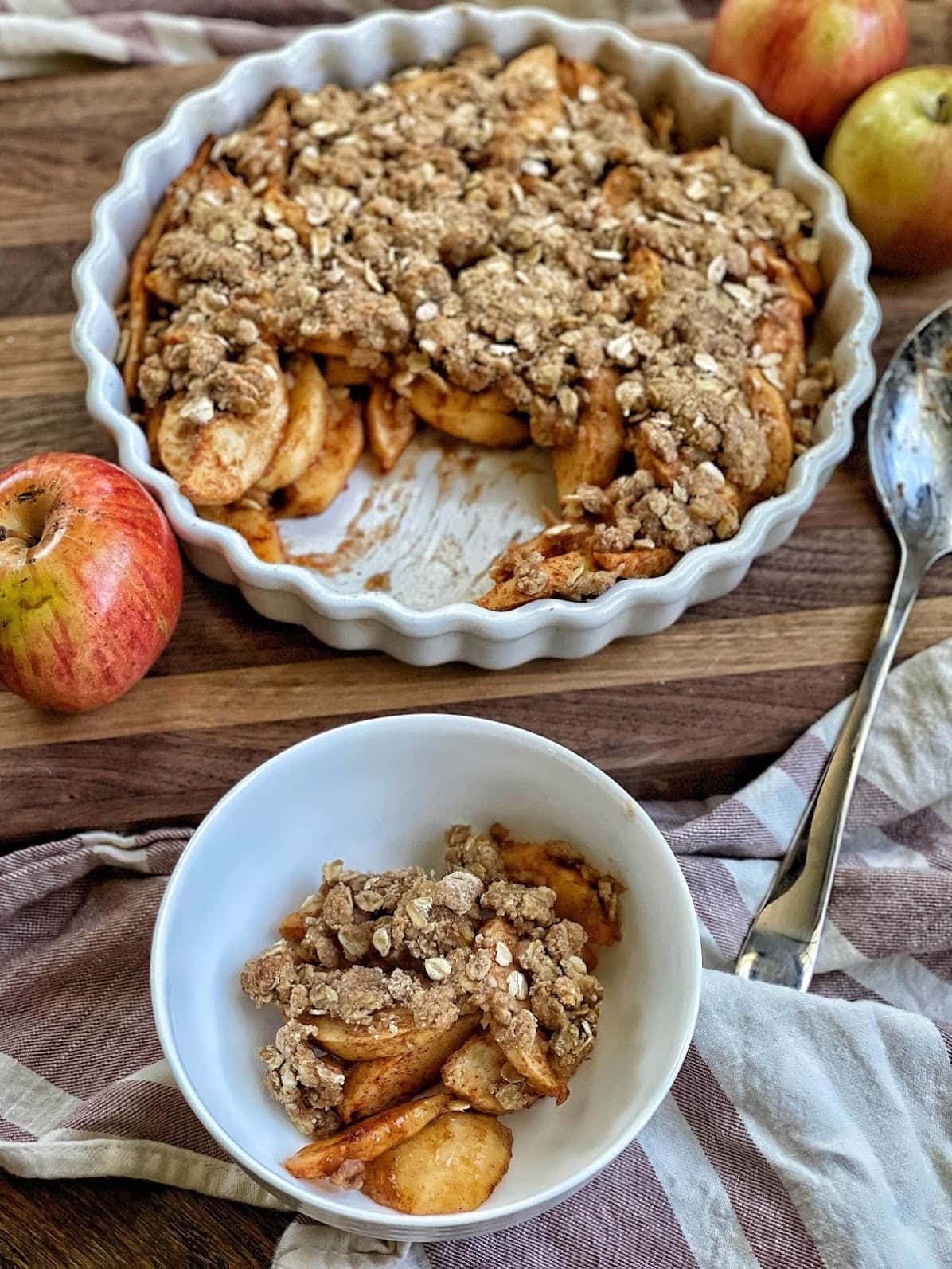 What you'll need to make this healthy apple crisp
apples

I use gala, fuji, or honeycrisp apples

corn starch
lemon juice
cinnamon
cane sugar
all purpose flour
oats
brown sugar
cinnamon
light butter
vanilla extract
How to make this healthy apple crisp
This is the easiest recipe ever, which makes it ideal for a quick fall dessert. Start off by preheating the oven to 375°F.
While the oven preheats, you can prepare the other two components of this recipe: the apple filling and the crumble topping.
To prepare the apple filling, make sure the apples are washed and dried. Core and dice them into small pieces.
Toss the apples with the cornstarch, sugar, lemon juice, and cinnamon in a large bowl. Then, pour the apples into a pie or tart plate in an even layer.
To form the crumble topping, combine the flour, oats, sugar, brown sugar, cinnamon, and the vanilla in a bowl. Next, melt the butter in a small bowl and add the melted butter to the other ingredients.
Stir the ingredients together. You can use your fingers, too. The mixture should resemble wet sand. Sprinkle the topping along the top of the apple mixture evenly.
Bake the crisp for 35-40 minutes, or until the apples are cooked down and bubbly, and the topping is golden brown. Serve alone, or with whipped cream, yogurt, or ice cream.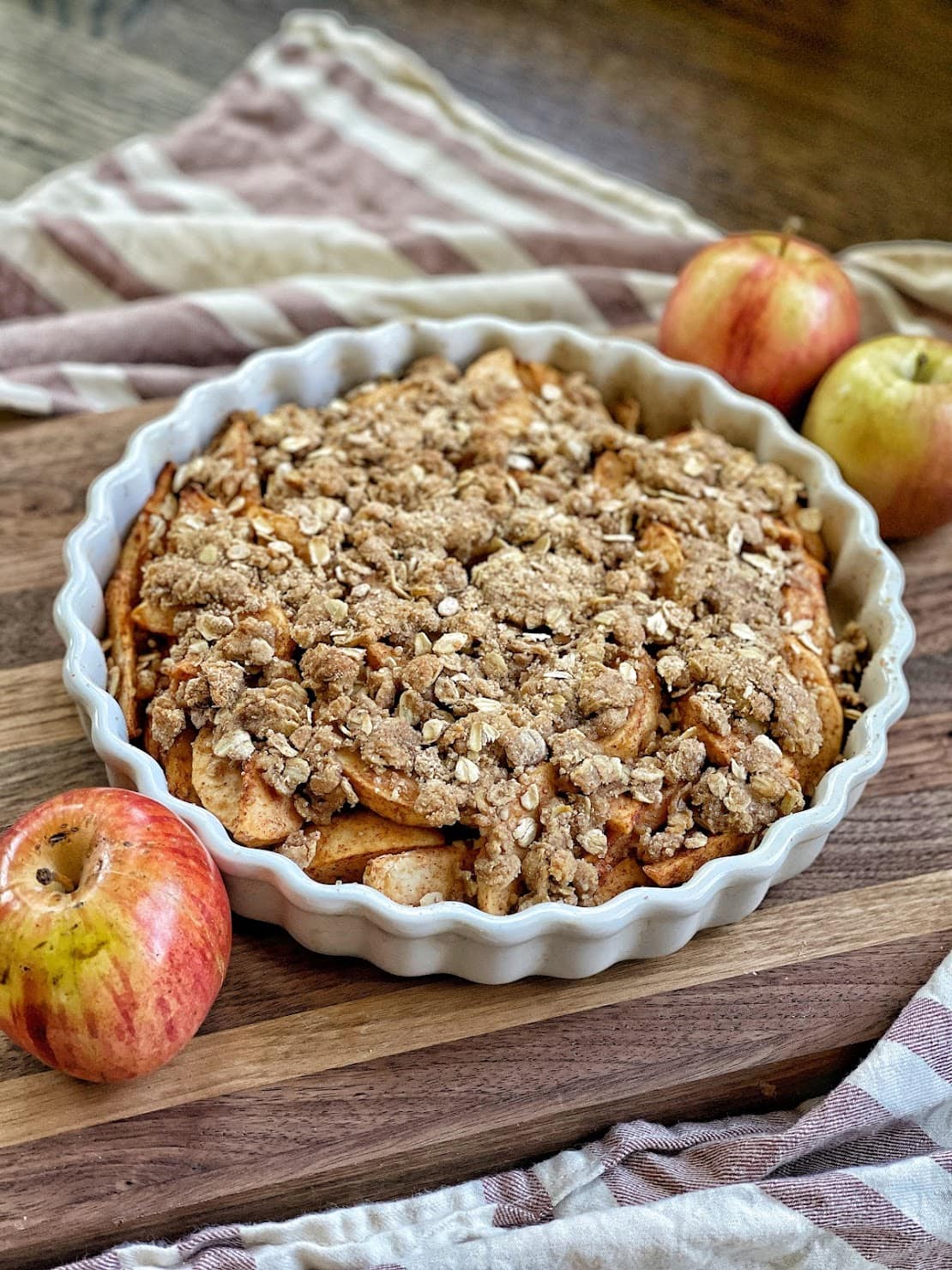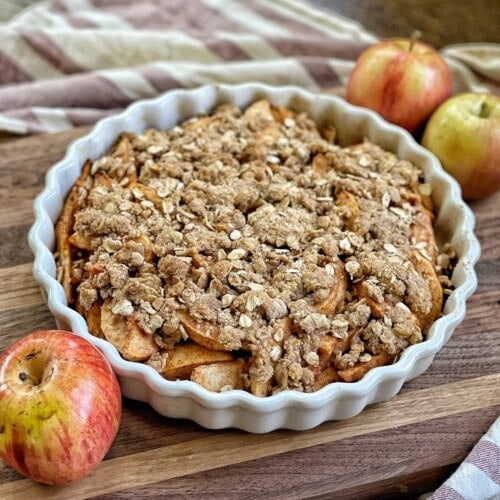 Healthy Apple Crisp
This warm healthy apple crisp is the perfect comfort food to share with family and friends as the fall weather begins to arrive. If you're going apple picking, this recipe is a must! Fresh apple slices are tossed with cinnamon and sugar, and topped with a crispy crumble made with flour, sugar, oats, and butter. This dessert is great to bring to holidays or just to have on hand, either way it is sure to impress anyone that eats it (but with less calories!)
print
pin
rate
Ingredients
Apple Filling
2

lbs

apples

,

5 cups, cored and diced.

1

tablespoon

corn starch

1

teaspoon

lemon juice

2

tablespoons

sugar

1/4

teaspoon

cinnamon
Crisp Topping
1/2

cup

old fashioned oats

1/2

cup

all purpose flour

2

tablespoons

cane sugar

2

tablespoons

brown sugar

1/4

cup

light butter

,

melted, I use Land o' Lakes brand

1/2

tsp

cinnamon

1

tsp

vanilla extract
Instructions
Peel, core, and dice the apples. Combine the apples with the rest of the filling ingredients and place into a round pie or tarte dish.

Combine the flour, oats, sugar, brown sugar, cinnamon, and vanilla extract in a mixing bowl.

Melt the butter and add it to the dry ingredients. Stir to combine.

Using your fingers, sprinkle the crumble topping evenly on top of the apple mixture.

Bake at 375 for 40 minutes, or until the inside is cooked and the top is golden brown.

Serve with ice cream, whipped cream, or a dollup of yogurt.
Nutrition
Serving:
1
slice
|
Calories:
229
kcal
|
Carbohydrates:
47
g
|
Protein:
2
g
|
Fat:
5
g
|
Saturated Fat:
1
g
|
Polyunsaturated Fat:
1
g
|
Monounsaturated Fat:
1
g
|
Sodium:
64
mg
|
Potassium:
206
mg
|
Fiber:
5
g
|
Sugar:
28
g
|
Vitamin A:
82
IU
|
Vitamin C:
7
mg
|
Calcium:
20
mg
|
Iron:
1
mg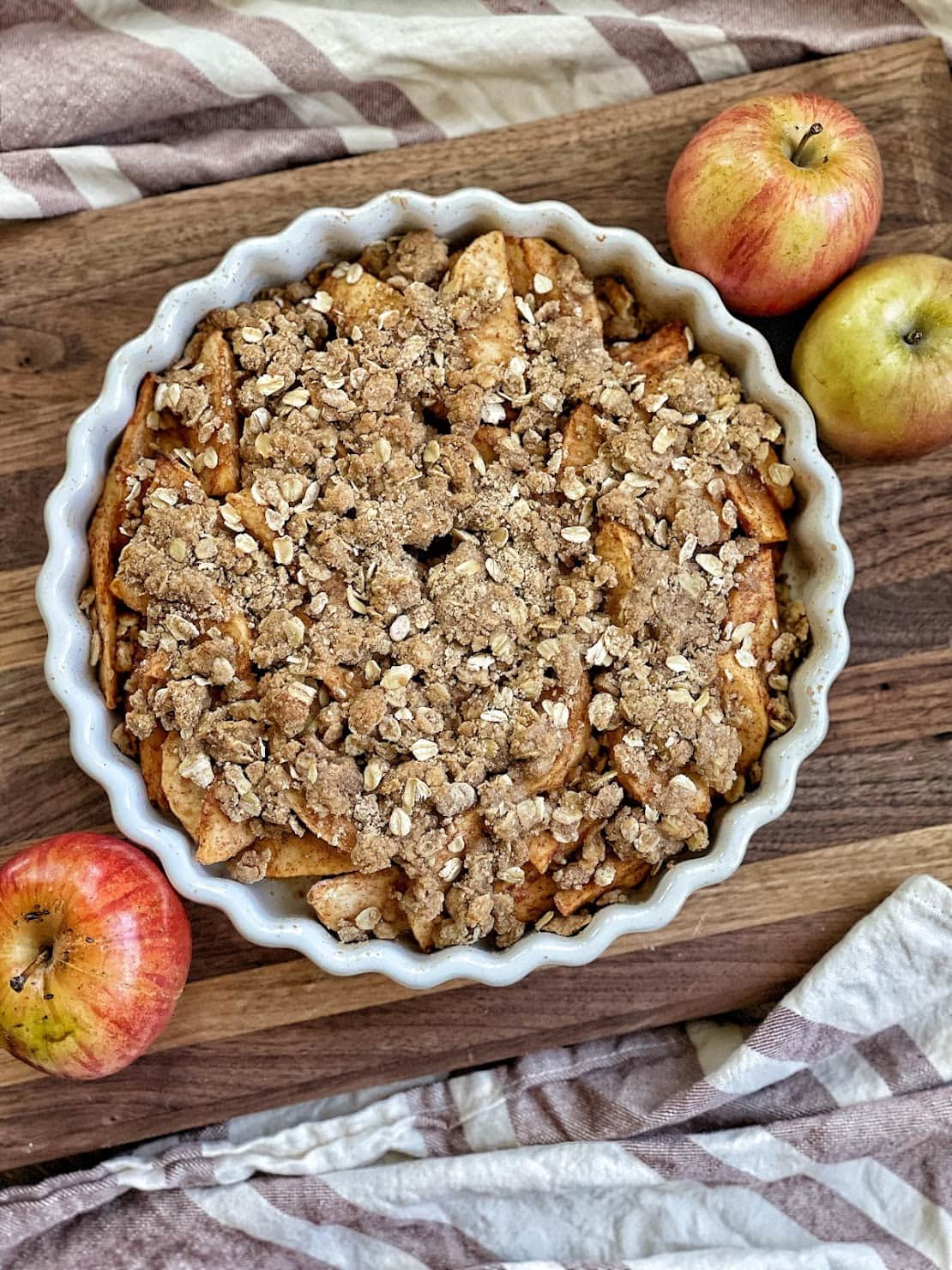 You might also enjoy these desserts: