When you're focusing on eating healthier, it can be hard to find the perfect dessert to satisfy your sweet tooth. This blueberry cobbler is a great option for a healthy dessert to have on hand when that sweet craving kicks in. Blueberries are topped with a light and fluffy sweet batter and baked to bubbly perfection. Top this beautiful cobbler with some whipped cream, and it's what dessert dreams are made of.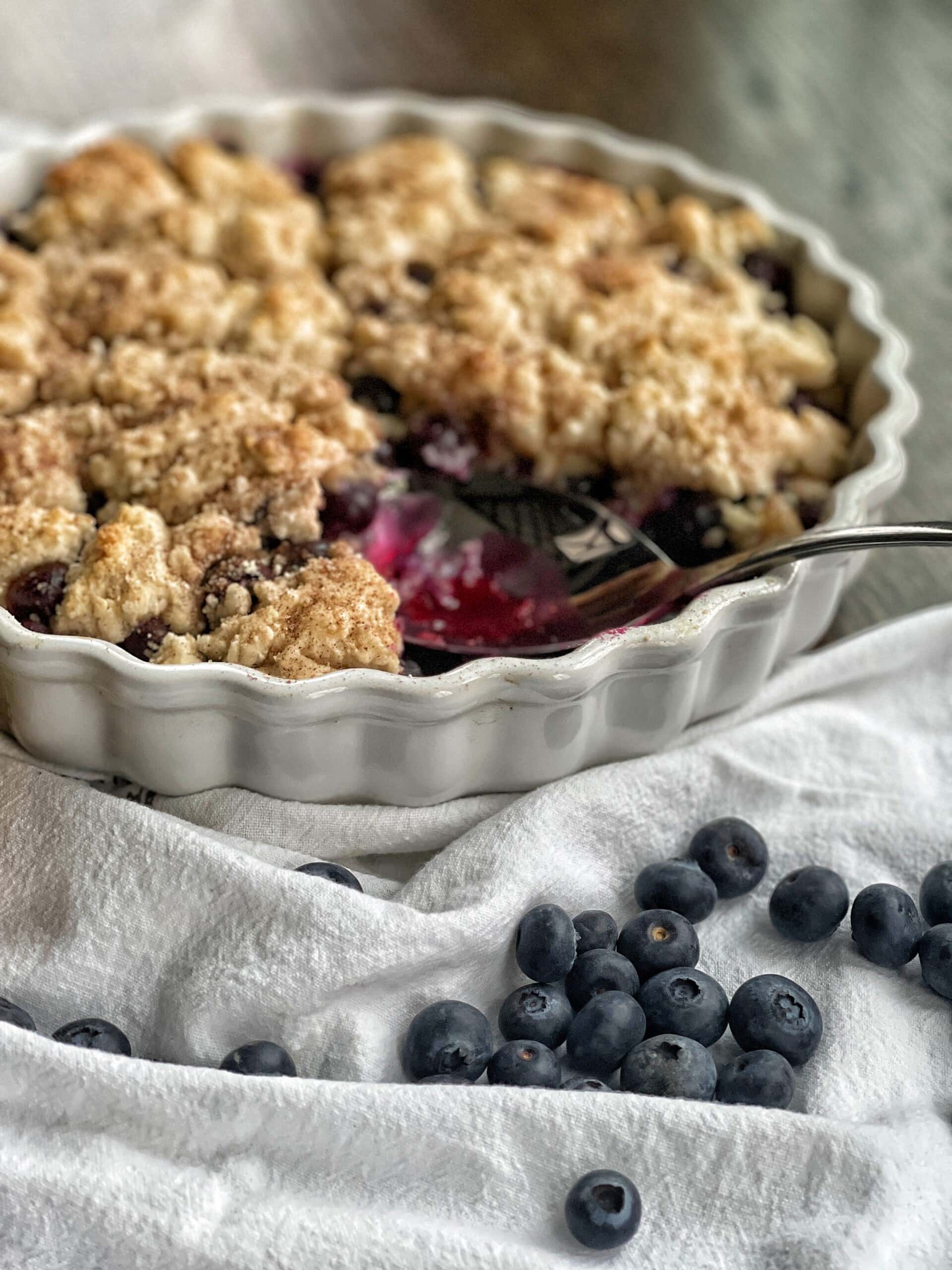 A new chapter for SweetSavoryAndSteph
Creating Sweet Recipes
Today, I turned the page in my SweetSavoryAndSteph book to a new chapter: desserts. Emilio always teases me that I need to get better at the "sweet" part of my name, and I agree. Savory stuff comes easy to me. Cooking is fun; you tweak things as you go. You can taste a sauce and add seasoning as you go. Baking, not so much. Plus, baking = sugar, butter, all the delicious things… and when you're trying to create "lightened up" recipes, those ingredients aren't always your friends.
It's hard, and it's been a struggle of mine for a while now, but mostly because I refuse to use artificial sweeteners or sugar replacements. Even if it's natural, I don't use them. Not for any other reason aside from the fact that I can't stand the taste or aftertaste of most products. To me, I take a bite of something with Monkfruit, and at first I'm like "oh this is good!" and then it hits the back of my throat, and I'm like… "nope!" I just can't do it.
Look, if you can tolerate them, I am not here to bash them, or anyone who uses them for that matter. Sometimes I wish I enjoyed the taste because truthfully, it would make sweet recipes so much easier to create.
But now I am at the place where I am learning that it's totally doable to make delicious and healthy recipes without those things. Will the points or macros be as good? No, they won't. But I also feel good about serving these dishes to guests who aren't living the same lifestyle as I am. I think it's a win-win for everyone.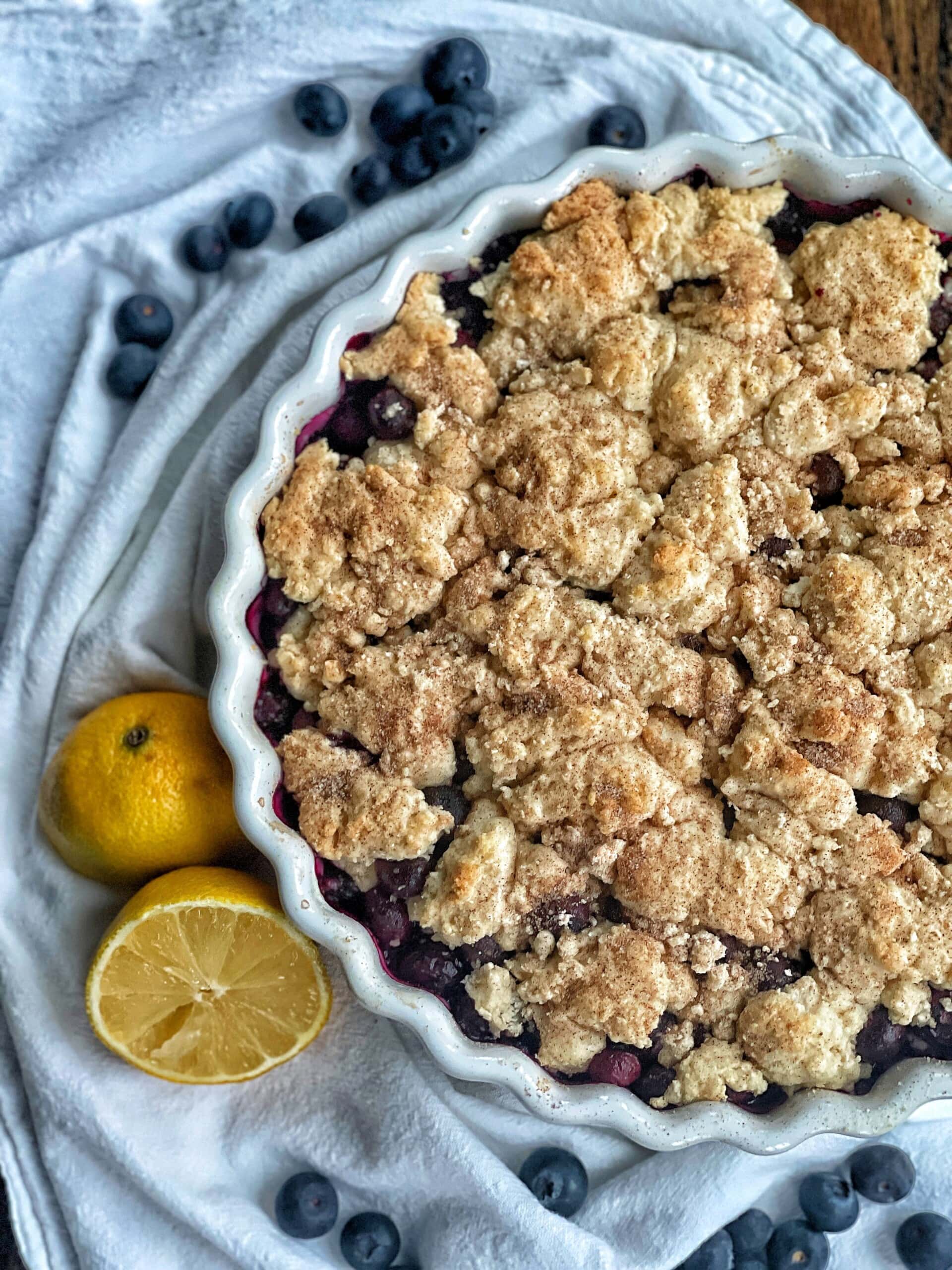 How my Mom inspired me
So, the other day my mom and I were talking. If you don't know my mom, her name is Ann Marie (Annie, or "Ahnie" as my kids call her) and she's amazing. She is one of the most selfless, giving people you'll meet. My mom would go to the end of the earth for me and my kids… she also happens to be an amazingly talented baker. Any time we have dinner together, there is a homemade dessert. Without fail. Usually, with homemade whipped cream. Around the holidays, she is known for making batches of cookies and assembling care packages for friends and family. She even made one for Antonio's bus driver, Oscar, this year.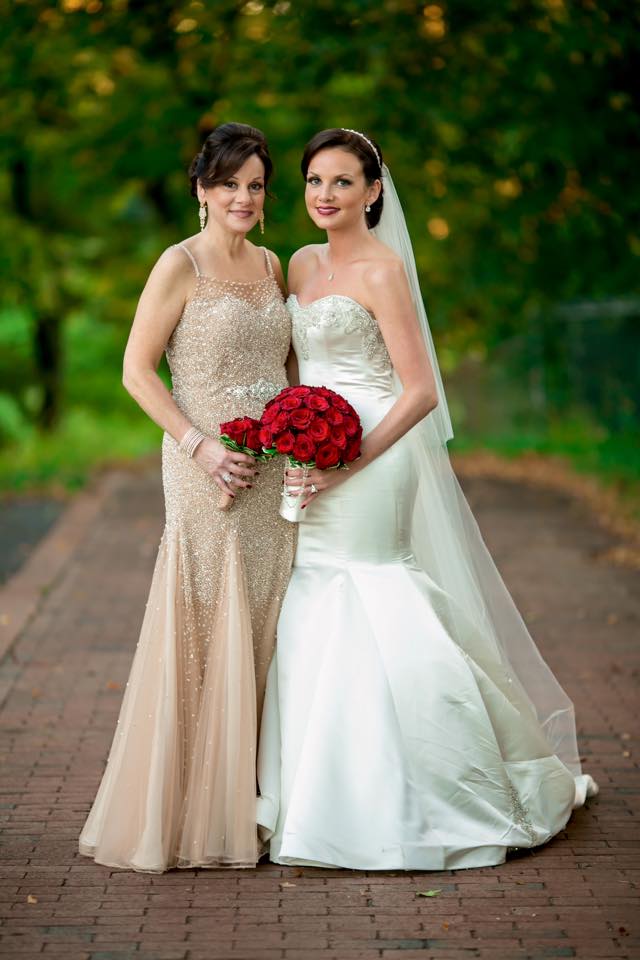 My mom had the idea to team up and go through her recipe book and try to bring some of those recipes to you all. The goal here was to start off by checking the stats of these recipes before changing them, to see what they come in at calorie and point-wise. Then, if we think there's any areas we can lighten-up, we'll tackle them.
She brought her recipe book over today and we got to working. The first recipe we tackled was this blueberry cobbler. It was the perfect start, because we didn't have to change a thing. The recipe was surprisingly low in calories and points, just as is. This made me so happy. It just proves my philosophy even more, that you can eat real food, delicious food, and achieve your goals.
What you'll need to make Blueberry Cobbler
Here's your ingredient list:
fresh blueberries
cornstarch
lemon juice
cooking spray
all purpose flour
sugar
baking powder
nutmeg
salt
vegetable oil
egg whites
vanilla extract
cinnamon
Based on this ingredient list, this is a great recipe to keep in your collection for a short-notice, quick dessert option. Most of these ingredients are pantry and fridge staples.
What if I don't like blueberries?
If you don't like blueberries, don't fret. You can easily sub in any other berry or even apples or pears for this recipe. Have I tested that? No. But I don't see how cobbler-covered fruit could go wrong!
Can I use frozen blueberries?
I would advise against that. Frozen fruit has a lot more moisture in it, and my fear is that the inside of the cobbler will never set up just right if you use frozen fruit. It will be too runny.
How to make Blueberry Cobbler
This couldn't be simpler! First, preheat your oven to 350F.
Next, spray a pie dish with some non-stick cooking spray. I just used PAM for this, since it's unflavored.
In a bowl, mix the blueberries with the cornstarch and lemon juice. Pour them into the sprayed pie dish.
To make the cobbler topping, combine the flour, sugar, baking powder, nutmeg, and salt together in a bowl. Create a well within the flour mixture, meaning a hole in the middle to pour the wet mixture into.
Using another bowl, combine the egg whites with the vanilla extract and vegetable oil. Whisk them to thoroughly combine. Once the wet ingredients are combined, pour them into the well you created in the flour mixture. Then, fold everything in until a dough-like mixture forms. It should be clumpy in spots, that's okay!
Using your hands, arrange the dough pieces evenly on top of the blueberries.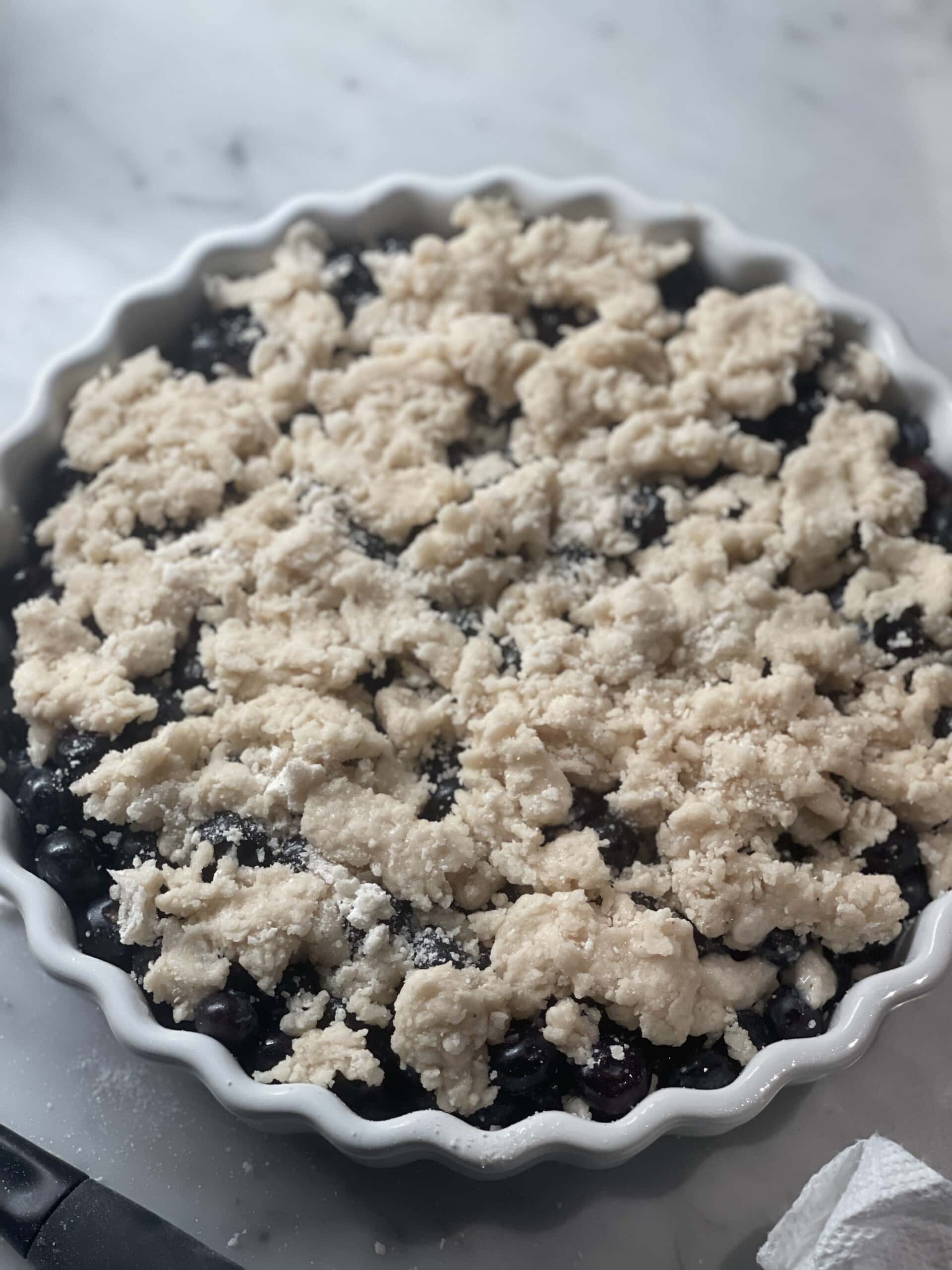 Next, combine 2 tsp sugar with the cinnamon, and sprinkle it evenly on top of the dough.
Pop the cobbler into the oven and bake for 45 minutes, or until the blueberries are bubbling and the top of the crust is golden brown to your liking.
When it comes out of the oven, it will look like this: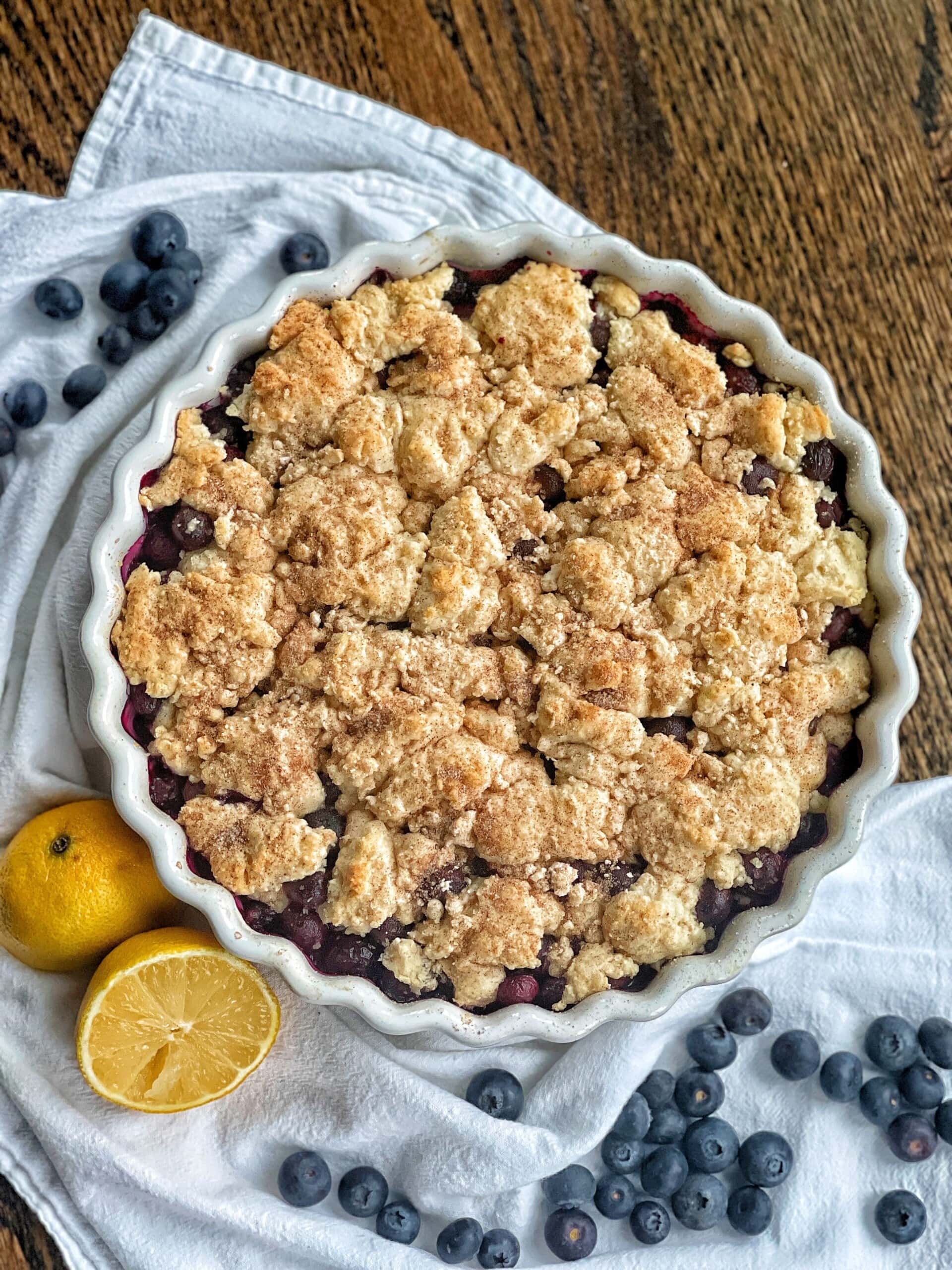 Let the cobbler cool a bit before digging in. I found that the longer it sat out and firmed up, the better it became. This pairs perfectly with some whipped cream!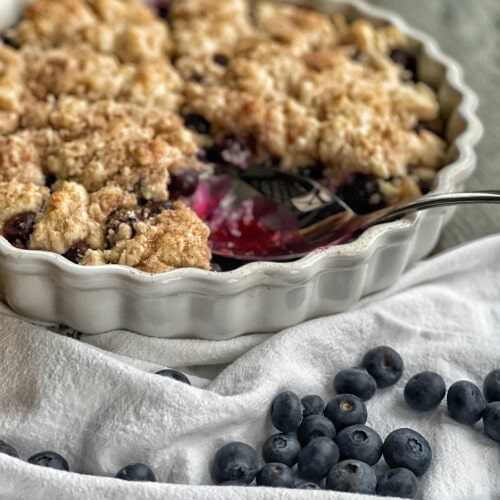 Ingredients
4

cups

fresh blueberries

1

tsp

cornstarch

1

tsp

lemon juice

cooking spray

1

cup

all purpose flour

1/2

cup

sugar

1

tsp

baking powder

1/8

tsp

nutmeg

dash

salt

1

tbsp

vegetable oil

1/2

tsp

vanilla

2

egg whites
Cinnamon Sugar
1

tsp

cinnamon

2

tsp

sugar
Instructions
Preheat the oven to 350F.

Mix the blueberries, corn starch and lemon juice in a mixing bowl.

Spray a 9" round baking dish or pie plate with cooking spray.

Pour the berry mixture into the pie plate.

In another bowl, combine the flour, sugar, baking powder, nutmeg, and salt. Form a well in the center of the bowl.

In another small bowl, combine the oil, vanilla, and egg whites, and whisk together.

Add the egg white mixture to the well you created in the flour mixture. Stir the mixture together until just moist.

Drop the dough by spoonfuls evenly onto the blueberry mixture to cover evenly.

Combine the additional 2 tsp sugar and 1 tsp cinnamon to form cinnamon sugar. Sprinkle evenly on the top of the pie dish.

Bake for 40-45 minutes or until the blueberries are bubbling and the topping is browned.
Notes
WW points:
5 WW points for 1 slice on all plans
Nutrition
Serving:
1
slice
|
Calories:
173
kcal
|
Carbohydrates:
37
g
|
Protein:
3
g
|
Fat:
2
g
|
Saturated Fat:
1
g
|
Sodium:
67
mg
|
Potassium:
89
mg
|
Fiber:
2
g
|
Sugar:
21
g
|
Vitamin A:
41
IU
|
Vitamin C:
7
mg
|
Calcium:
39
mg
|
Iron:
1
mg