Beef tenderloin is one of the most delicious, luxuriously tender cuts of beef; when crusted with flavorful herbs and butter and roasted to perfection, it melts in your mouth. My buttery herb-crusted beef tenderloin needs to be on your table for the next holiday. This recipe also includes a lightened-up lemon garlic aioli for serving.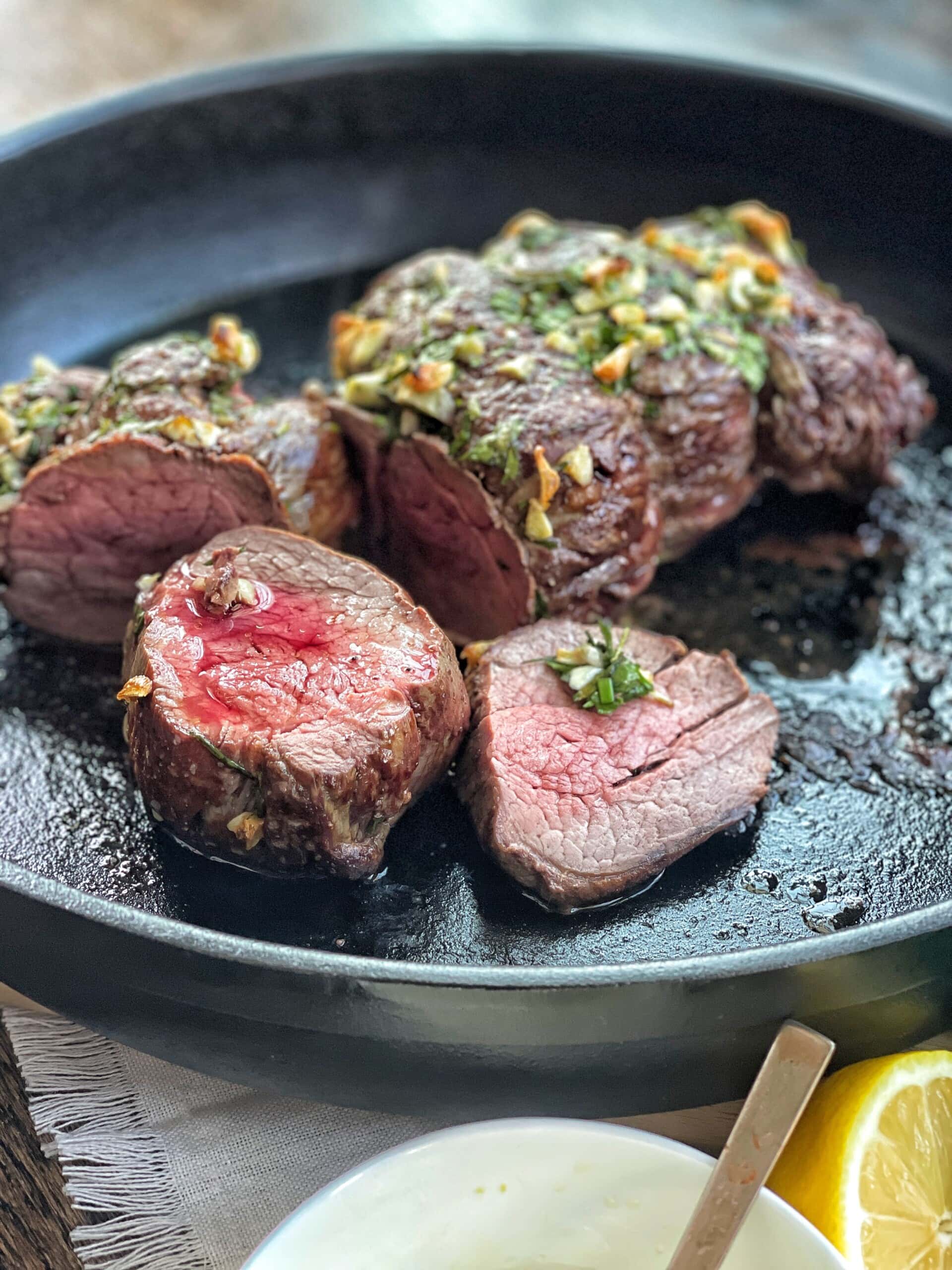 What exactly is beef tenderloin?
A tenderloin of beef is a long piece of meat, cut from the tenderloin of the cow. It can be roasted whole, or cut into individual steaks. Filet mignon is part of the tenderloin; so if you like filet mignon, you'll love beef tenderloin.
Just like filet mignon, though, beef tenderloin is an extremely tender and lean cut of beef. Because of this, it really needs to be roasted to a medium-rare to medium internal temperature. If you go any further than that, just like filet mignon, it will end up really dry. If you cook the beef tenderloin to the perfect temperature, it is absolutely juicy and delicious. Like butter.
As far as choosing the right size goes, for this recipe I used a 2.5 lb beef tenderloin. This was the weight AFTER the beef was trimmed of any fat. This is key. If the beef you purchase has some fat on it, go up a few ounces to account for the waste; in other words, to end up with a 2.5 lb tenderloin, start off with 2.75-3 lbs of beef before trimming.
This recipe serves six people. The general rule of thumb for choosing roasts is 1/2 lb of beef (weighed raw) per person. You can use that as a general rule of thumb; and then, if you're anything like me, add another pound! Just to be sure.
You can see in the photo below how the butcher twine determines the serving size for this piece, so it couldn't be easier!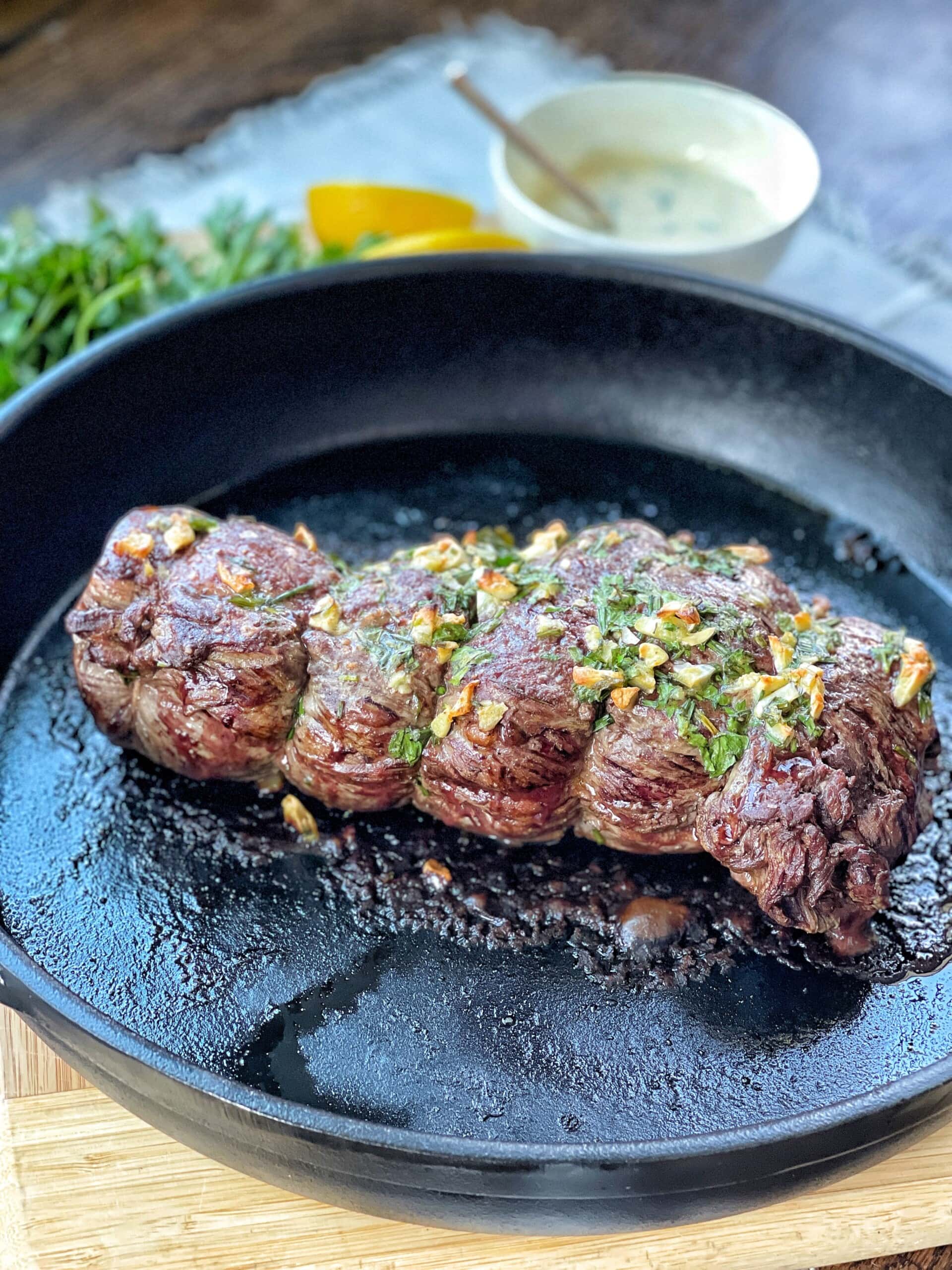 What else you'll need to make this recipe
Aside from the beef, here are the other items you'll need:
kosher salt
cooking spray with a high smoke point (I use avocado oil spray)
light butter
fresh chives
fresh parsley
garlic
For the optional lemon garlic aioli, you'll need:
light mayo
lemon
garlic
kosher salt
chives
olive oil
How to prepare the buttery herb-crusted beef tenderloin
When it comes to cooking beef tenderloin, you can either sear it before roasting, or you can skip that step altogether and just pop it in the oven. This recipe calls for a quick sear before roasting, which is why I use a cast iron skillet for this recipe.
I'll be honest, I never used to use my cast iron much. I found it to be cumbersome and more trouble than it was worth. But for recipes that require a pan to go into the oven, cast irons are perfect. They also give the meat some great flavor.
This is the cast iron pan I use.
How to sear the beef
About a half hour to one hour prior to cooking the beef, set the beef out of the fridge to come to room temperature. It is ideal for the beef to be room temperature in order for it to cook evenly. Cooking an ice-cold cut of beef will result in uneven cooking, and the center will never cook correctly.
So, to start off, preheat the oven to 425F. Next, grab your cast iron pan and preheat it over high heat. If you don't have a cast iron pan, you can use any frying pan, followed by a baking dish for roasting.
Next, season the beef with the kosher salt and fresh cracked pepper all over. Rub the salt and pepper into the beef using your hands. Spray the cast iron with a high smoke point cooking spray, like avocado oil spray or grape seed oil spray. (I use avocado oil spray from Trader Joe's). Sear the beef for 2-3 minutes on all sides to get some color on it.
Finishing the beef in the oven
Once the beef has been seared on all sides for 2-3 minutes per side, it will have a nice color on the outside. Remove it from the cast iron pan, turn the flame off, and set the beef on a cutting board.
Now, it's time to mix up the butter. Add the butter, herbs, and garlic to a small bowl and mix together with a rubber spatula. Note, the butter is not melted here. It's just right out of the fridge.
Rub the butter all over the beef. It will be messy and start to melt, it's ok! Get it coated as much as possible, and then place the beef back on the cast iron skillet, and into the oven to finish cooking.
For a medium-rare to medium internal temperature, I roast mine for 25 minutes. Please note that cooking times will vary based on each oven, as well as the size roast you are using. Make sure to invest in a meat thermometer to check the internal temperature.
Once the beef is cooked to your desired temperature, remove it from the pan, and set it on a cutting board. Let the beef rest, untouched, for at least 10 minutes before cutting into it. This allows the juices to redistribute into the beef.
Making the lemon garlic aioli
This part is totally optional, but if you like to eat your beef tenderloin with a dipping sauce, you can try this one! Just combine the aioli ingredients together in a small bowl, and serve it along side the beef.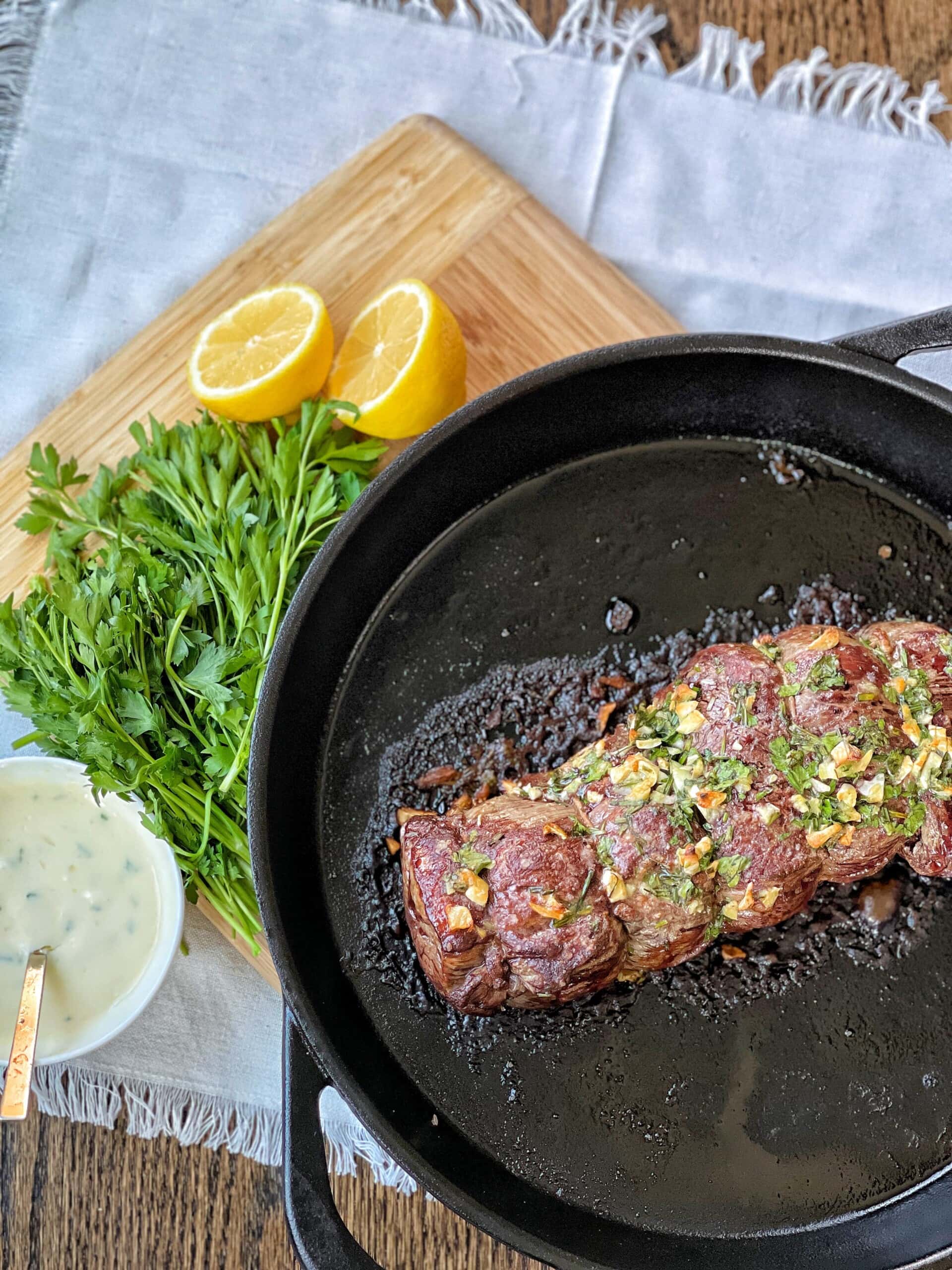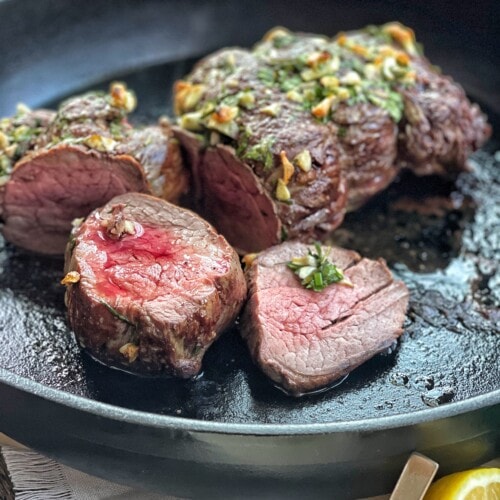 Ingredients
Beef Tenderloin
2.5

lbs

beef tenderloin

,

also sold as: whole Filet Mignon

1

tsp

kosher salt

cooking spray with a high smoke point; i.e. avocado oil spray, or grapeseed oil spray

1/4

cup

light butter

,

preferred: Land 'O Lakes light butter with canola oil

3

cloves

garlic

1

tbsp

chives

,

fresh

1

tbsp

parsley

,

fresh

fresh cracked pepper
Lemon Garlic Aioli
1/4

cup

light mayo

1

clove

garlic

1

tsp

chives

,

fresh

2

tsp

olive oil

1/4

tsp

kosher salt

1

lemon

,

zest and juice
Instructions
Beef Tenderloin
Remove the beef from the fridge and bring to room temperature approximately 30 minutes to 1 hour prior to cooking.

Trim the beef of all fat. To make sure you end up with the correct size roast, look for a roast that is 2.75-3 lbs prior to trimming the fat.

Preheat the oven to 425F.

Get a cast iron skillet preheating over high heat.

Season the beef with the kosher salt and fresh cracked pepper all over. Use your hands to massage it into the meat.

Spray the cast iron skillet with the cooking spray, and add the meat to the pan.

Sear for 2-3 minutes per side.

In the meantime, mince the garlic cloves, and chop up the fresh herbs.

Combine the butter (not melted), with the garlic, herbs, and more fresh cracked pepper.

Remove the beef from the pan once it's seared on all sides, and place on a cutting board.

Rub the butter mixture all over the meat.

Return the meat to the cast iron skillet and place in the oven to roast.

For a medium-rare to medium temperature, cook for about 25 minutes.

Use your meat thermometer to determine the internal temperature you desire; cooking time varies depending on the roast and the oven itself.

Remove the cooked beef from the pan and place on a cutting board to rest for at least ten minutes before cutting.

Cut into 6 equal sized servings.
Lemon Garlic Aioli
Combine the aioli ingredients in a small bowl.

Serve on the side of the beef as a dipping sauce, if desired.
Nutrition
Serving:
1
slice with 1 tbsp aioli
|
Calories:
594
kcal
|
Carbohydrates:
3
g
|
Protein:
35
g
|
Fat:
48
g
|
Saturated Fat:
19
g
|
Trans Fat:
1
g
|
Cholesterol:
134
mg
|
Sodium:
708
mg
|
Potassium:
616
mg
|
Fiber:
1
g
|
Sugar:
1
g
|
Vitamin A:
96
IU
|
Vitamin C:
11
mg
|
Calcium:
24
mg
|
Iron:
5
mg
You might also like: