These moist, classic blueberry oat muffins make for the perfect for breakfast on the go or nutritious sweet snack.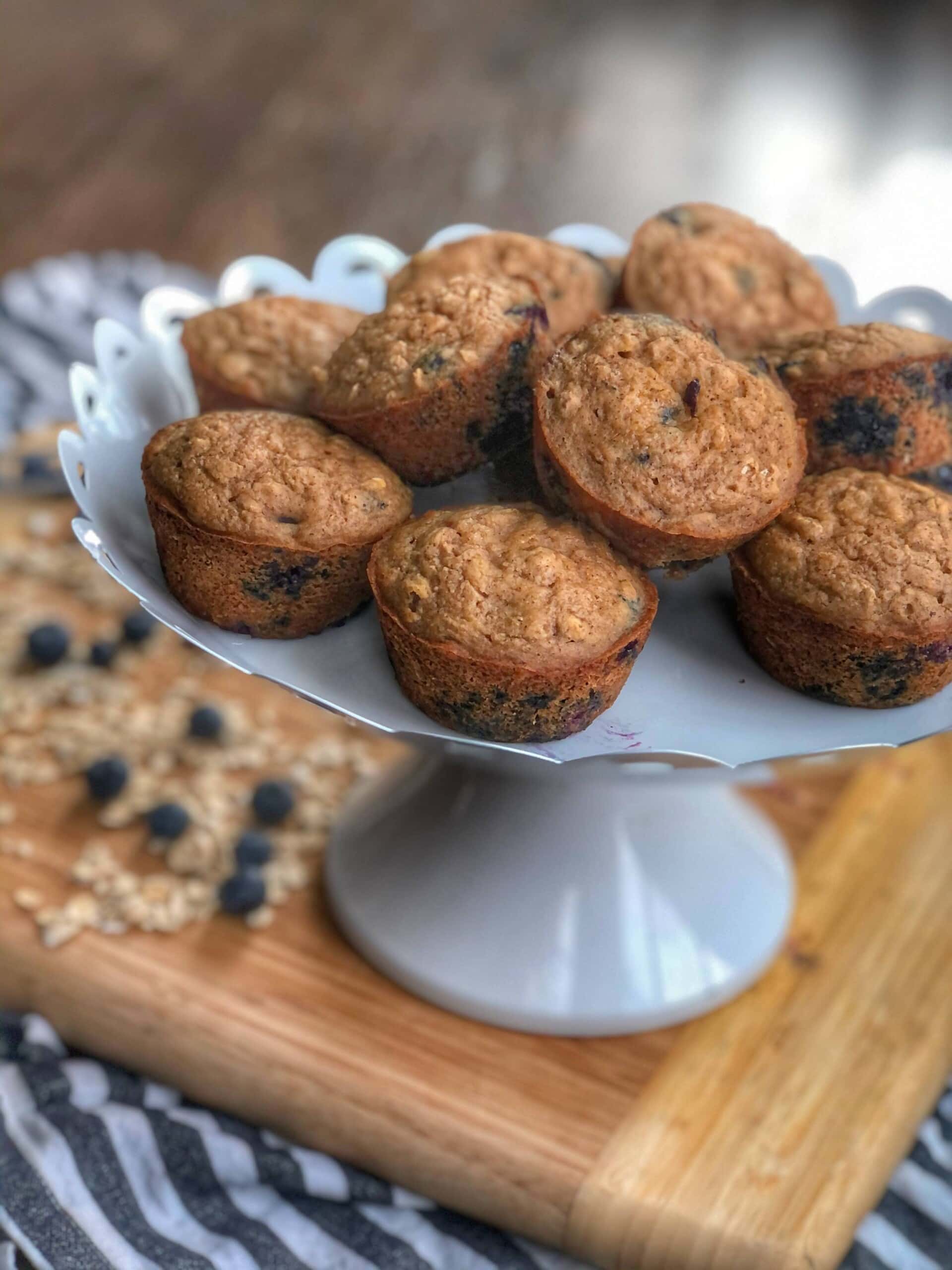 For me, the easiest and most ideal breakfast is coffee and muffin to go. Sometimes changing your lifestyle and adopting a healthier diet can seem really daunting. One of the scariest parts to grasp is the feeling of not "being able" to eat quick and easy meals, like a muffin and coffee for breakfast anymore. I am here to prove you wrong.
These muffins cook in only 15 minutes, and the recipe yields twelve full-size muffins. They are made with all real ingredients and are subtly sweet, and super moist inside. I'll show you how to make them here!
What's in this recipe?
The main ingredients used in this recipe include:
self-rising flour
baking soda
baking powder
old fashioned oats
almond milk
an egg
brown sugar
unsweetened applesauce
vanilla extract
cinnamon
blueberries
As you can see, the ingredients don't include anything extravagant. In fact, you probably have most of this at home already. Maybe not the fresh blueberries, but that's easy enough!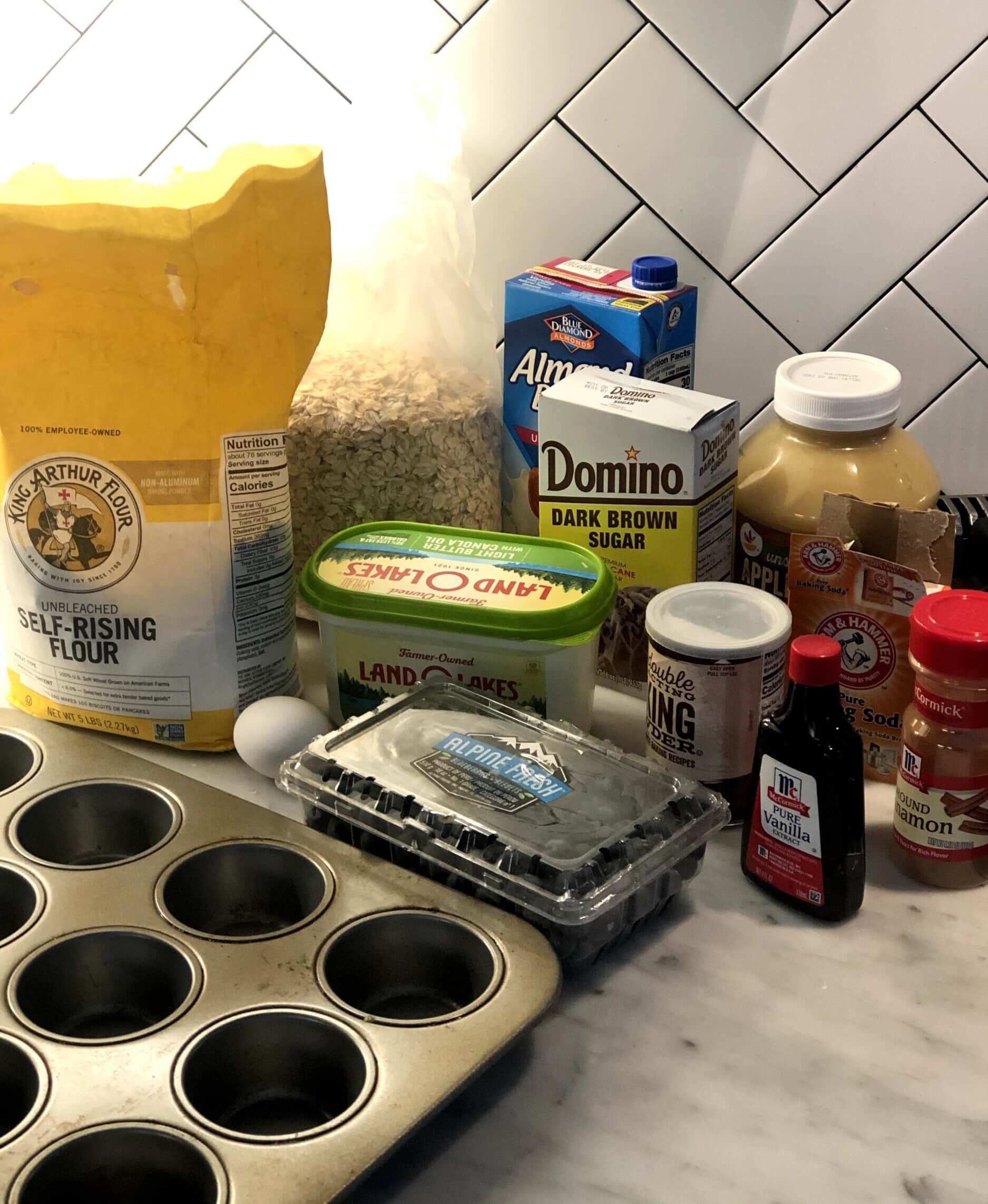 Can I use frozen blueberries?
I wouldn't, only because they hold a lot more water than fresh blueberries. Even if you thaw them completely, they will be mushier and wetter than fresh blueberries, and will change the texture of the muffins because of the excess moisture.
Sweetening a recipe without a ton of sugar
Creating sweet recipes that are lower in calories and points than traditional recipes can be tricky. After being on my health and wellness journey for three years, and after lots of trial and error, I have finally figured out what works best for me. Many people use sugar replacements to bring the calories and points down on recipes; but they just aren't my thing. In the beginning of this journey, I tried them all – I couldn't do it. Not only can I not tolerate the aftertaste, but they actually affect me physically. My recipes never use them as a result.
To sweeten my recipes, I use real sugar… just less of it. In this particular recipe, I use brown sugar. I also use unsweetened applesauce. Unsweetened applesauce is a great way to sweeten recipes in a healthier way – made from just apples, it is also a great replacement for oil in baking, believe it or not! Just make sure to read the label; the only ingredients should be apples.
Can I use sugar replacements?
You can do whatever you like! For me personally, I prefer to keep it the real deal here. This recipe is still so low calorie and low point using real ingredients that for me, I would keep it as is and enjoy!
How to make blueberry oat muffins
This recipe couldn't be easier. First, you are going to preheat your oven to 375F.
Next, add your dry ingredients to a mixing bowl. This is going to be your flour, oats, baking powder, baking soda, and cinnamon.
Now, add your wet ingredients to a separate mixing bowl. This is going to be your milk, unsweetened applesauce, egg, vanilla extract, brown sugar, and melted butter.
Now, combine the wet ingredients and the dry ingredients; the best way to do this is to add the dry ingredients into the bowl that has the wet ingredients. Fold in your blueberries.
Next, spray a standard muffin pan (with 12 openings) with cooking spray, and fill each opening with 1/4 cup of the batter. Bake for 15 minutes.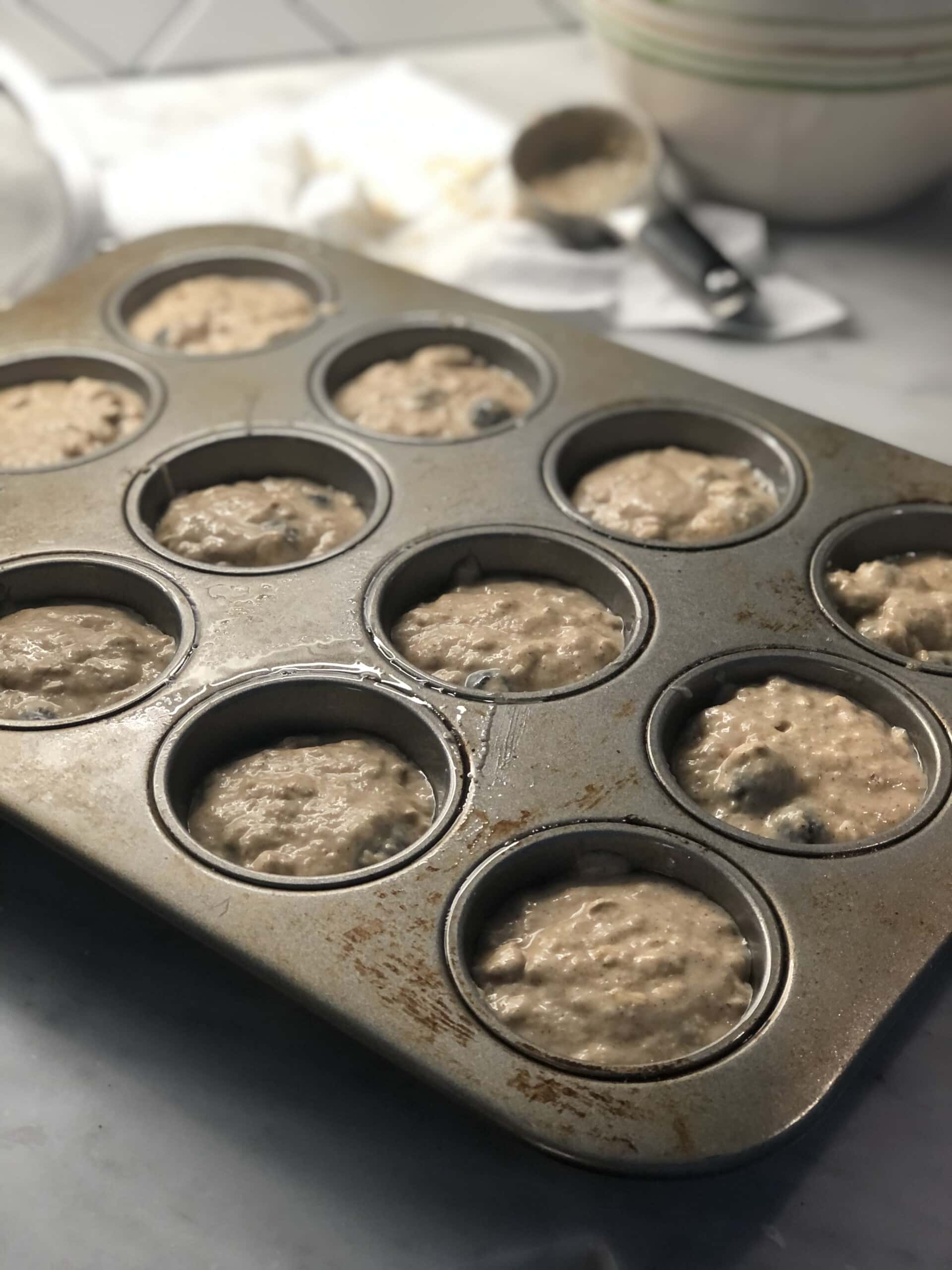 And there you have it: homemade blueberry oat muffins: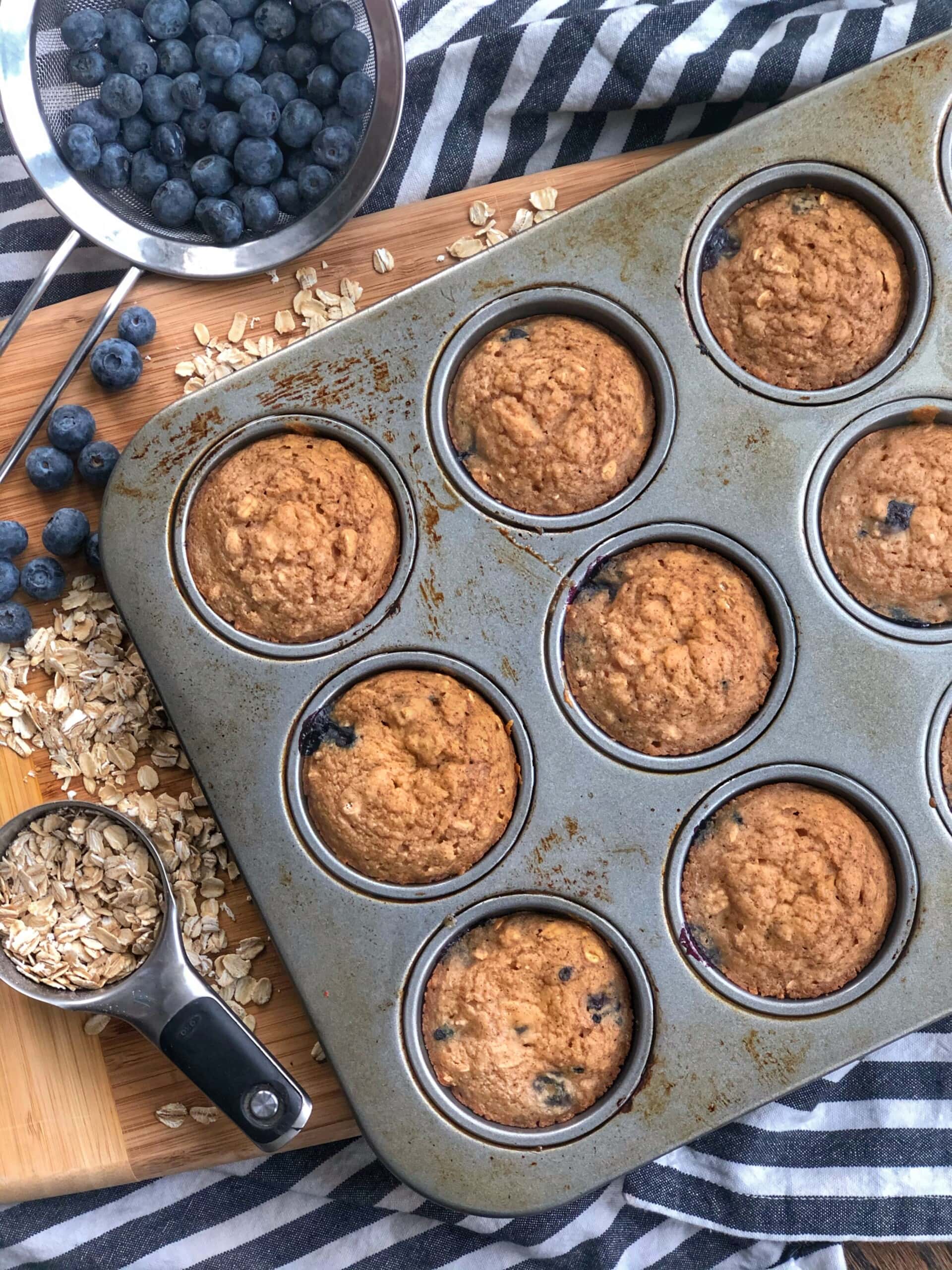 Storing Blueberry Oat Muffins
These will last for a day or two on the counter at room temperature. After that, I suggest placing them in an air-tight storage container or freezer bag and keeping them in the fridge. If you store them in the fridge, you can microwave them or toast them before eating. These will last for about a week in the fridge when stored this way.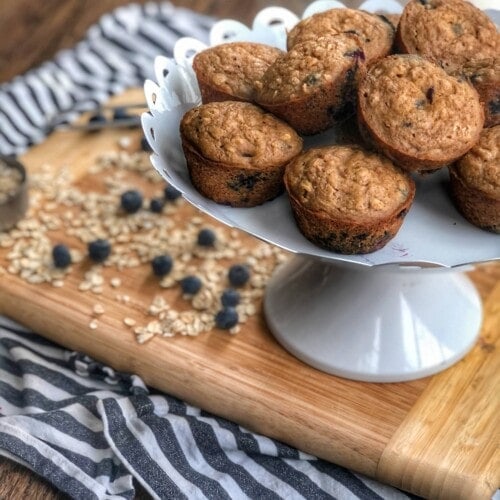 Blueberry Oat Muffins
These moist, classic blueberry muffins make for the perfect for breakfast on the go or nutritious sweet snack.
print
pin
rate
Ingredients
1 ¼

cup

self rising flour

¾

cup

oats

1

tsp

baking powder

1

tsp

baking soda

1

tsp

cinnamon

1

cup

unsweetened applesauce

½

cup

unsweetened almond or cashew milk

,

can substitute skim

1

egg

¼

cup

brown sugar

½

tsp

vanilla extract

1

tablespoon

light butter

,

melted

1

cup

fresh blueberries
Instructions
Preheat the oven to 375F.

Combine dry ingredients and wet ingredients in separate bowls, and then stir together.

Fold in the blueberries.

Spray a muffin pan with cooking spray (you can also use liners, but still make sure to spray).

Pour the batter in 1/4 cup portions into each opening of the muffin pan.
Nutrition
Serving:
1
g
|
Calories:
113
kcal
|
Carbohydrates:
22
g
|
Protein:
3
g
|
Fat:
2
g
|
Saturated Fat:
1
g
|
Cholesterol:
15
mg
|
Sodium:
148
mg
|
Potassium:
67
mg
|
Fiber:
1
g
|
Sugar:
8
g
|
Vitamin A:
52
IU
|
Vitamin C:
1
mg
|
Calcium:
45
mg
|
Iron:
1
mg